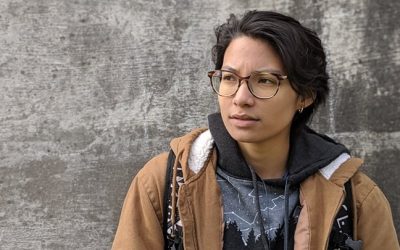 When Taneeta Taljit first walked through the double doors of the emergency department at the Ottawa Hospital's General Campus, she was 18.
"My case manager, at this point, felt it was probably safer for me to be under more intensive care. So she escorted me to the hospital." With her case manager from the Canadian Mental Health Association at her side, Taljit went through the intial triage process quickly.
After Taljit was triaged, she was assessed by a nurse, priorized and finally moved through the hospital's winding hallways, guided by small purple dots lining the floor.
"They bring you to a small holding area. You're in a room and there are no windows, you share walls with a bunch of other people, there's one communal bathroom, and there's nothing to do," she said.
"I don't know if there's an official name for it. We just called it limbo."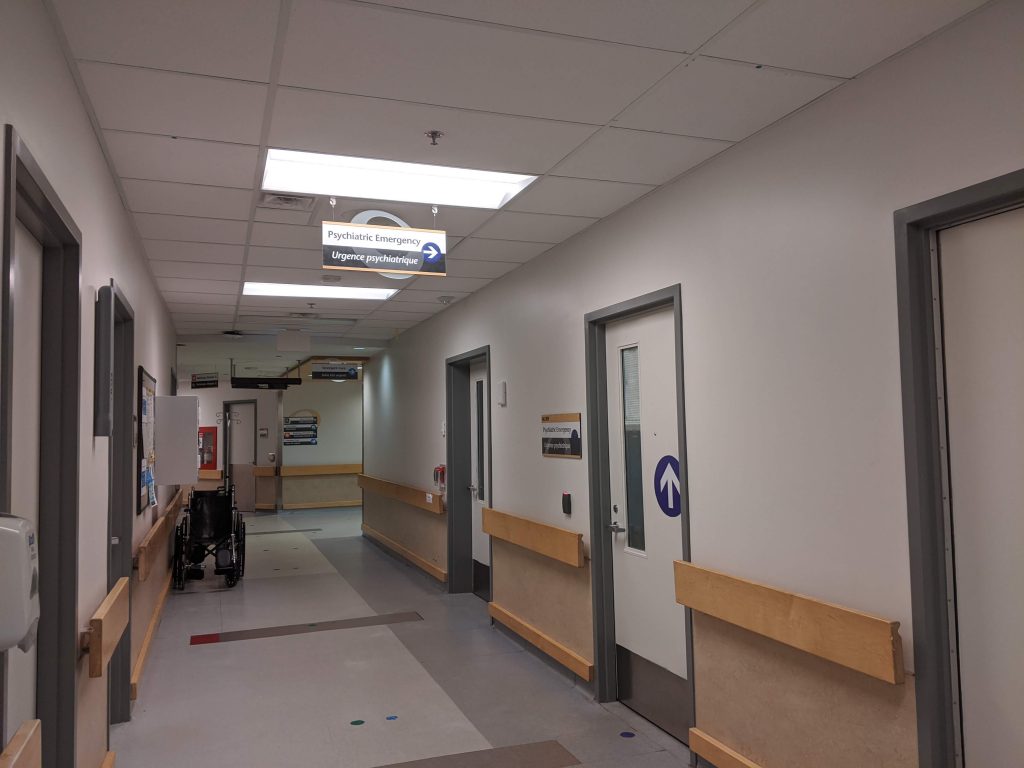 Following the dots
That was in 2016. Not much has changed since.
In fact, in 2019, emergency room wait times in Ontario have reached a record high.
The Ottawa Hospital is struggling with these wait times. The General Campus ranked as having the longest emergency room wait times in the province, according to data from Health Quality Ontario.
Mental health patients are uniquely affected by the increased strain on hospital space and capacity, waiting longer to receive adequate psychiatric care.
Further, these patients face being dismissed as seeking medication or attention. Hospitals, too, may not have proper response mechanisms for their specific circumstances, which can lead to neglect and, occasionally, unnecessary harm.
The "limbo" to which Taljit was sent in 2016 is dedicated to Psychiatric Emergency Services. The windowless rooms and lack of activities are part of an effort to ensure the area is secure and offers low stimulation for patients.
For many patients, though, it feels more like a cell.
Taljit has seen the ins-and-outs of many psychiatric facilities in Ottawa. Still, she said her worst experience dealing with the system was with the Psychiatric Emergency Department.
In the windowless room, Taljit said she was handcuffed and pinned to the ground after suffering from a panic attack. She waited for about 48 hours in the Psychiatric Emergency area before she was seen by a psychiatrist, assessed and admitted to hospital.
Taljit, though, had the benefit of a qualified case manager advocating on her behalf to the hospital that she needed intensive care.
"Some people I've known have been there for 76 hours, some for two weeks, it all depends on how many beds are available," Taljit said.
Entering the system when she was 16, Taljit is still navigating it six years later.
Before she turned 18, she was a patient in the Youth Inpatient Program at The Royal, Ottawa's dedicated mental health hospital. In more recent years, she's been admitted to the separate Ottawa Hospital through specialized programs.
Emptying the beds
Between its two campuses, the Ottawa Hospital has 87 beds dedicated to psychiatric patients.
These beds are supposed to be occupied by short-term patients. Taljit stayed 16 days, a little over the hospital's declared average of 11 to 13 days.
Patients with more complex mental health needs are supposed to move to specialized long-term psychiatric facilities. In Ottawa, that's The Royal.
But The Royal, too, is strained.
"The Royal is generally full, at 98 per cent," said George Weber, who served as president of The Royal for 11 years. "The World Hospital Association would say that no hospital should be at more than 85 per cent, because you have to have surge capacity. There's no surge capacity at the Royal."
Without capacity at The Royal, hospitals are keeping patients longer in their own psychiatric units. This, in turn, puts pressure on emergency rooms. There, patients spend days waiting or are sent home.
The issue, though, is not as simple as providing additional funding to emergency rooms.
"When someone is having a major issue and can't find help anywhere else, the emergency room becomes a default," said Weber. "But emergency rooms are not the best place for mental health patients."
Tim Simboli, executive director of the Canadian Mental Health Association's Ottawa branch, agrees. "When we hear about the government wanting to loosen the pressure on our hospitals," he said, "what we need to do is to invest in some tangible alternatives and have more community based services, more things which you can access before it becomes really urgent."
Finding the funding
In any given year, one in five people in Canada will experience a mental health problem. Only about seven per cent of health care funding went towards mental health in the 2016 Ontario budget.
"The funding for mental illness has just never been there compared to physical ailments," said Weber. "It's always been treated as the long lost brother of the health-care system."
Emergency room wait times affect everyone, but for patients suffering from mental illness, the challenges experienced are especially telling. The extensive wait times in emergency rooms are reflective of a system-wide lack of funding and capacity which ripples through the various layers of mental health services in the province.
Without change, people will continue to turn to emergency rooms and attempt to navigate the same complex system that Taljit has been working through.
"When you go through these systems, you're not seen as an individual person. You're seen as a product of your diagnosis," she said. "So I guess the last thing I want to add is that there's just a lot of things that need to be patched up."
This article first appeared on the website cusjc.ca/yow/
---
More Stories