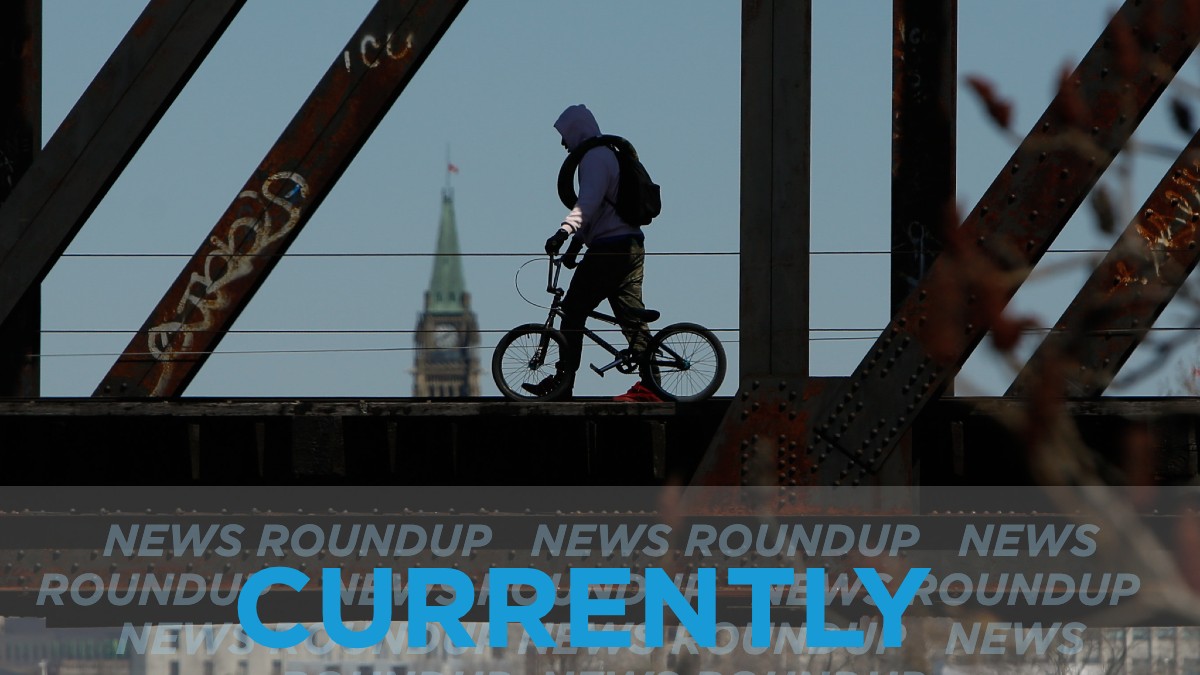 Have your umbrella ready today. According to Environment Canada, there is a chance of showers this afternoon and evening after a mix of sun and cloud this morning.. The high is expected reach 29ºC with a low tonight of 15ºC.
About 60 people protested mandatory masks in front of Ottawa City Hall on Sunday. In the event called March to Unmask, the protesters had many different reasons for marching. Some were skeptical of the decision-making process for mandatory masks, while others viewed it as a human rights issue and some were generally skeptical of the government. The crowd was full of unmasked faces as they carried signs reading "Hugs Over Masks" and "I Exempt Myself." The Ottawa Citizen has more. 
For the second day in a row the number of confirmed COVID-19 cases in Ottawa reached double digits and Ottawa Public Health (OPH) says the rise is related to young people, CBC reports. There were 16 new cases on Sunday, following 19 on Saturday. The Chief Medical Officer Dr. Vera Etches announced Sunday that more than four of 10 new cases are people under 30. Ottawa currently has 98 active cases of COVID-19, which is almost double the number of active cases from 48 this time last week. Etches said this recent increase comes from social gatherings in private, in-door dwellings. 
Witnesses report being in a state of shock after the fatal glacier bus rollover which is still under investigation. "It's still surreal for all of us. We're probably all still in shock as to what happened and that's why it hasn't hit that it could have been us," Angela Bye said, a visitor who took the tour earlier in the day. Three people were killed and another 14 people suffered life-threatening injuries when a tourist-filled glacier bus rolled over on its way to Athabasca Glacier in Jasper National Park. Twenty-seven people were on board the bus and Alberta Health Services said 24 patients were air-lifted to Edmonton, Grande Prairie, Calgary and Banff. The company that runs the tours announced it has paused the tour operations until the active RCMP investigation is finished. CTV News has more.
Foreign Affairs François-Philippe Champagne says the black boxes from a Ukraninan Airlines plane mistakenly shot down by Iran's armed forces earlier this year, are now in Paris, Global News reports. Champagne also said the black boxes are scheduled to be taken for analysis today by the French civil aviation authority. Representatives from the Transportation Safety Board of Canada are to be there.
Universities across New Brunswick are creating plans for early move-in dates to accommodate a 14-day self-isolation for students coming from outside Atlantic Canada. One such school is Mount Allison University in Sackville. It will stagger move-in days for students living on campus. Students from outside Atlantic Canada will move-in Aug. 14 or 15, followed by new Atlantic Canadian students on Sept. 3 or 4. Returning students from Atlantic Canada follow on Sept. 6 or 7. Those arriving from outside Atlantic Canada will be shuttled directly to Sackville and provided meals while they self-isolate with plans being made for the students to spend time outside. Other schools formulating such plans include St. Thomas University, Crandall University, and l'Universite de Moncton. The Toronto Star has more. 
---
More Stories