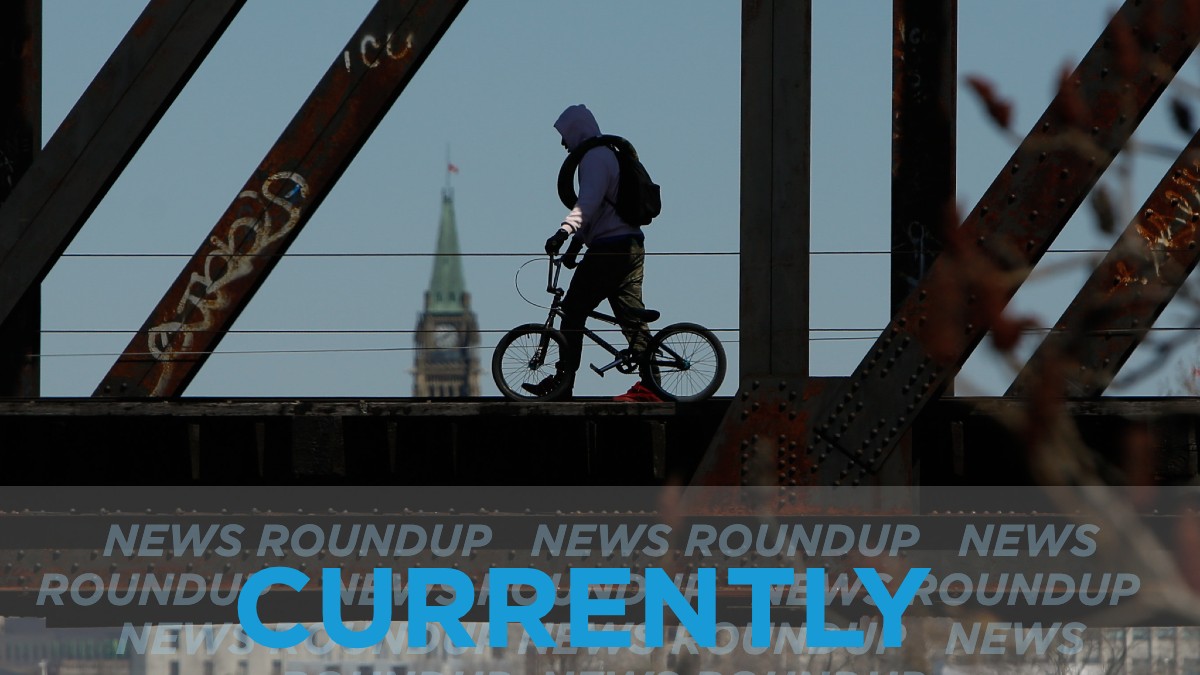 Be prepared for showers today, Environment Canada says. The high will reach 27ºC with showers expected to begin later this morning and continuing through the day. There is the risk of a thunderstorm this afternoon and evening. Cloudy skies will persist overnight as the low reaches 16ºC.
Ontario's pediatric hospitals recommend masks be worn by high school students along with daily screening, physical distancing and frequent hand-washing for students to safely return to class full-time in September. This updated document of recommendations from Toronto's Sick Kids hospital was also written by specialists from CHEO and other pediatric hospitals. It was published on the eve of the revelation of Ontario's plan for back to school by Education Minister Stephen Lecce today. The document also recommends masks for middle school students when they cannot physically distance but not for younger students, saying it could harm their ability to learn and socialize. The Ottawa Citizen has more. 
Ottawa Tourism is giving out $100 Visa gift cards to those who stay for at least two nights in a hotel in the capital, CBC reports. The cards are awarded upon check-in as long as the booking is made before Sept. 30 and the stay occurs before the end of the calendar year. Ottawa Tourism hopes this would encourage locals as well as those within driving distance of the capital to stay in hotels and spend the money on restaurants and attractions in the Ottawa region. "Tourism was one of the first hit sectors of the pandemic, and will take the longest to recover," said Catherine Callary, the vice-president of destination development for Ottawa Tourism. 
Opposition MPs demand Prime Minister Justin Trudeau and his chief of staff Katie Telford tell the whole truth about the WE Charity fiasco before Commons finance committee this afternoon. "The House of Commons will vote in September to recall him for another round of testimony, if he doesn't give exhaustive answers," said Tory MP Pierre Poilievre. NDP Leader Jagmeet Singh said during a press conference yesterday that the goal of his caucus is getting to the bottom of this and figuring out next steps. CTV News reports that it is likely Trudeau will reiterate that the recommendation to use WE Charity came from the public service and that he should have removed himself from the decision.
Ethics Commissioner Mario Dion has that the scope of the ethics inquiry into the WE controversy will now include an investigation into the actions of Finance Minister Bill Morneau, Global News reports. The inquiry is trying to determine whether choosing WE Charity to oversee the  Canada Student Service Grant was a conflict of interest for the federal government. In the letter, which was addressed to NDP MP Charlie Angus, Dion said Angus had inquired about the investigation looking into Morneau for failing to disclose previous travel gifts from the charity. The investigation has expanded to include the section of the Conflict of Interest Act that prohibits gifts that can be seen as a way to influence public office holder in their duties. 
B.C. Education Minister Rob Fleming said in-person full-time class will resume in September for most students from kindergarten to Grade 12. Measures having been put in place at the recommendation of the province's health officer Dr. Bonnie Henry including the implementation of learning groups. For those in elementary grades, the capacity is 60 students per group. As for secondary school, up to 120 students will be acceptable. The difference in numbers is because it is harder for younger students to wash their hands frequently and physically distance, Henry said. As well, the government is spending $45.6 million on safety measures such as cleaning, hygiene stations and masks. A recent poll found that 48 per cent of B.C. parents are still undecided regarding sending their kids to school in the fall. CBC has more.