Ottawa city council is set to consider guidelines for protecting birds, almost 15 years after Toronto and Vancouver adopted their own.
"The City of Ottawa has their own design guidelines that are now in the draft form," said Anouk Hoedeman of Safe Wings Ottawa, a local initiative aimed at reducing bird mortality from window collisions. Hoedeman and her organization has been spearheading the Ottawa push for more stringent standards. The guidelines will govern such things as landscaping, siting and building design and lighting. The public can comment on the proposal until Friday.
The progress in the city comes one year after the release of the latest, staggering scientific evidence showing just how devastating the built environment is for North American bird populations.
The 2019 State of the Birds Report by the North American Bird Conservation Initiative, a group of government agencies and advocacy groups allied to protect birds, showed a 30-per-cent decline in overall bird populations across North America over the past 50 years.
"NABCI partners have developed strategies to reduce the anthropogenic (or human-caused)
threats to birds beyond habitat loss," the report states, "with proposals for addressing feral cat colonies on public lands, reducing collisions through bird-friendly building codes, and transitioning to green energy through bird-friendly wind and solar energy development."
In Canada, the NABCI initiative showed severe population declines — about 50 per cent — among grassland species, shorebirds and "aerial insectivores," birds such as barn swallows that feed mainly by catching bugs in flight.
Meanwhile, the Canadian numbers also offered proof that conservation efforts can make a difference, with once-devastated populations of waterfowl and birds of prey continuing to show signs of recovery.
It's estimated that more than a billion birds die every year as a result of human activity, with collisions being the second highest human-related cause of death. Pet cats, the top threat to birds, are also exacting a colossal toll.
"That's billion with a 'B,'" said Hoedeman. "Birds colliding with glass is a huge problem."
"We estimated that this kills about a quarter of a million birds per year in the Ottawa area — just based on what scientists know about the average number of collisions per building per year, and the number of buildings that there are in Ottawa."
Hoedeman said Safe Wings has been working for years on getting the city to develop bird-friendly design guidelines to help make new developments safer for birds. The main initiative focuses on using less glass to help minimize the risk of collision.
"Birds don't understand glass. They don't understand reflection because it's not something that they would encounter in nature, so they didn't evolve for this," said Hoedeman.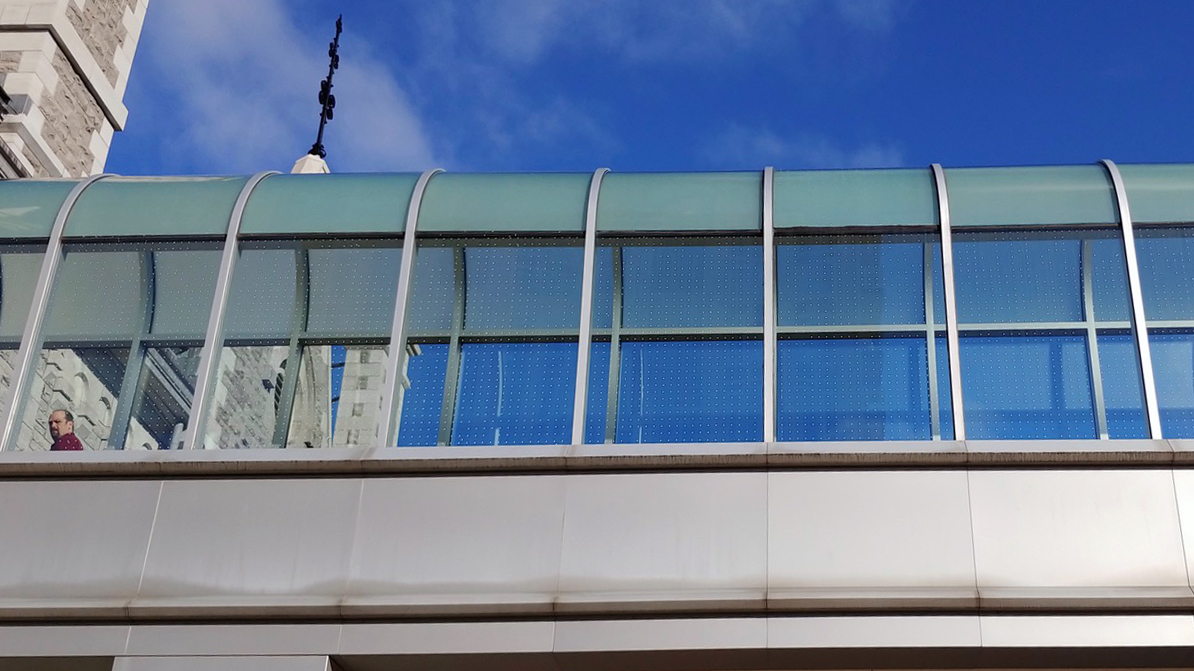 Many major cities across North America have been implementing bird-friendly guidelines for infrastructure, including New York and Chicago, with Ottawa the most recent to push a draft through city council. In all three cities, the drafts took more than a decade of lobbying to be accepted.
Hoedeman said builders and architects "just don't see that it's a problem that needs to be dealt with" when it comes to the lack of protection for birds in new developments.
"But we hear an awful lot about sustainability these days in green buildings. And we like to say if a building kills birds, it's not sustainable."
The National Capital Commission has adopted a strategy that takes birds into account as "they are now making bird-friendly design mandatory in any of their new buildings and in major retrofit projects."
Feather Friendly, a Canadian manufacturer, has developed an adhesive window tape that creates a pattern on glass that keeps birds from hitting windows. It's a cheap solution that doesn't block light or require less glass or expensive design changes.
"There were a lot of people that were not pleased because it was going to cost people money. In the new buildings that were developed, they needed to take into consideration the guidelines," said Paul Groleau, the vice-president of Feather Friendly.
The implementation of bird-friendly products, such as Feather Friendly's adhesive window tape, is "very cost-effective. … They can last 12 to 15 years or longer," said Groleau.
Cost-effective solutions have been implemented at buildings around the capital, including City Hall, the National Arts Centre and Place Bell on Elgin Street, one of the tallest buildings downtown.
The glass-enclosed walkway at City Hall has been the cause of many bird deaths over the years involving flocks of Bohemian waxwings that feed on berry-laden trees in the area slam into the structure. At one point, city officials covered the skywalk with brown paper as a temporary measure to avoid bird strikes.
But the structure has since been fitted with dotted, bird-friendly tape to help the creatures avoid hitting the glass.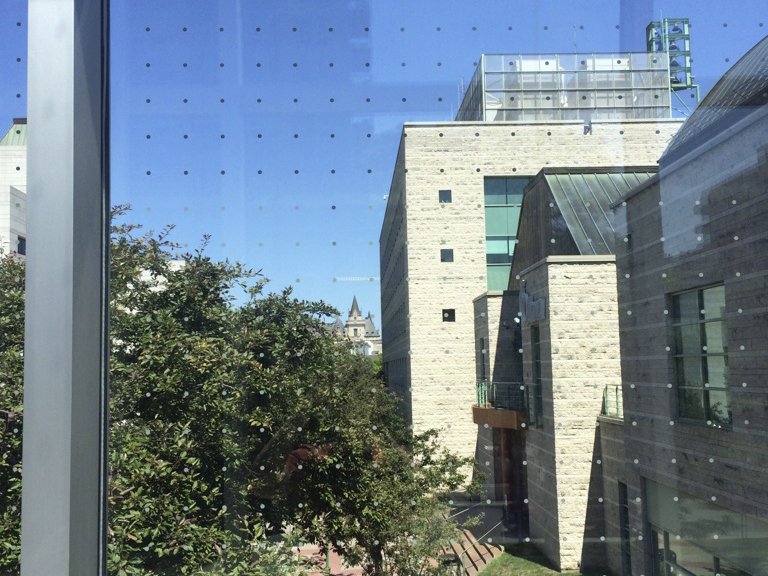 Hoedeman said people tend to associate high rises and tall buildings with bird collisions but "most collisions actually occur at low rise buildings" such as those found at business parks or in residential neighbourhoods.
"Based on studies, high rises are responsible for fewer than one per cent of collisions, the rest is all low-rise buildings."
As people continue to spend more time in their homes during the pandemic, awareness and concern wildlife in our urban spaces is growing.
"There are a lot of people who are at home and they're noticing things and reaching out to us and asking, 'A bird hit my window, what can I do?' So every window we help make safer for birds is great," said Patty McLaughlin from the Ottawa Valley Wild Bird Care Centre.
McLaughlin said there are many sustainable products available to help prevent window collisions for residents concerned about the city's bird populations.
And if stopping bird collisions isn't enough to convince, it's worth remembering that bird watchers visiting U.S. municipalities and parks generated $7.4 billion in economic activity in 2018 alone, according to the NABCI report, although there is no comparable Canadian data.
Groleau said that COVID-19 restrictions have forced many to face the reality of bird strikes and look into what they can do to help.
"Our DIY sales during the pandemic absolutely exploded," said Groleau. "I hate that it took the pandemic and something so devastating to make people realize that bird collisions are a major issue and that this was more (of a concern) for residents."
Experts say as the increase in public awareness of birds colliding with glass helped push cities into action.
"There's more awareness, I think," said Hoedeman, "and so there's growing acceptance that this is a problem that we have to deal with."