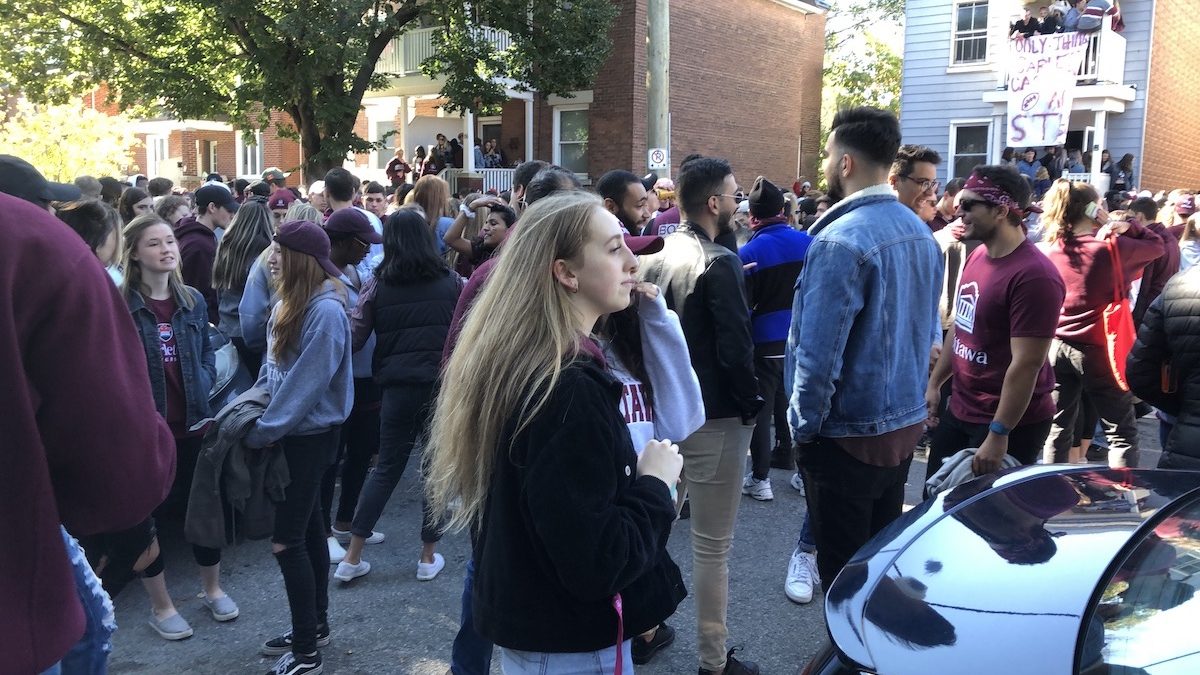 In its annual effort to balance the interests of partying university students and other Ottawa residents, there was increased police presence in several downtown neighbourhoods during this year's Panda Game on Oct. 5 between the Carleton and uOttawa football teams.
Throughout the day, police were concentrated in Sandy Hill, Old Ottawa South and the Glebe, places where students began gathering before the noon kickoff at Lansdowne Park's TD Place stadium.
Specific areas targeted included Canal Woods Terrace just east of Bronson Avenue, where a Carleton University block party had been organized by students. Police were also present at the uOttawa Student Union's tailgate party in the parking lot of the Sandy Hill Arena and at a student-run party on Russell Avenue.
The increased presence this year stemmed from concerns voiced last year about Panda festivities getting out of hand.
A year ago, on Oct. 10, community association Action Sandy Hill emailed then-Ottawa police chief, Charles Bordeleau, asking how the police intended to prevent the "illegal occupation of a block of Russell Avenue" for Panda Game festivities in the future. ASH leaders said that police had been ineffective in preventing and controlling the party during Panda Game 2018.
Bordeleau responded to Action Sandy Hill by promising to step up police scrutiny of Panda partying in 2019.
"We are concerned with the growth of this event and will be taking actions to ensure responsible parties including educational institutions, event organizers, property owners and tenants are informed of their responsibilities," Bordeleau said in his email. "These actions will inform and assist our planning for next year."
Ottawa Police spokesperson Const. Amy Gagnon said the goal of the police during the Panda Game was twofold.
"First of all, we wanted to ensure not only the safety of those participating, but the safety of the neighbourhoods in which events were taking place. And secondly, our presence was to act as a deterrent for any criminal activity," she said.
Will Mulvihill, a second-year Carleton student, attended the block party on Canal Woods Terrace. He said he noticed the police presence was larger this year.
"(The police) were sort of pushing everybody off roads onto the sidewalk and off of people's lawns. It was a little more crowded and a little more hectic. They were cracking down on open alcohol," he said.
Mulvihill said having so many police ruined the dynamic of the party.
"Nobody was like jumping off porches and stuff like they did last year. It was a little interesting."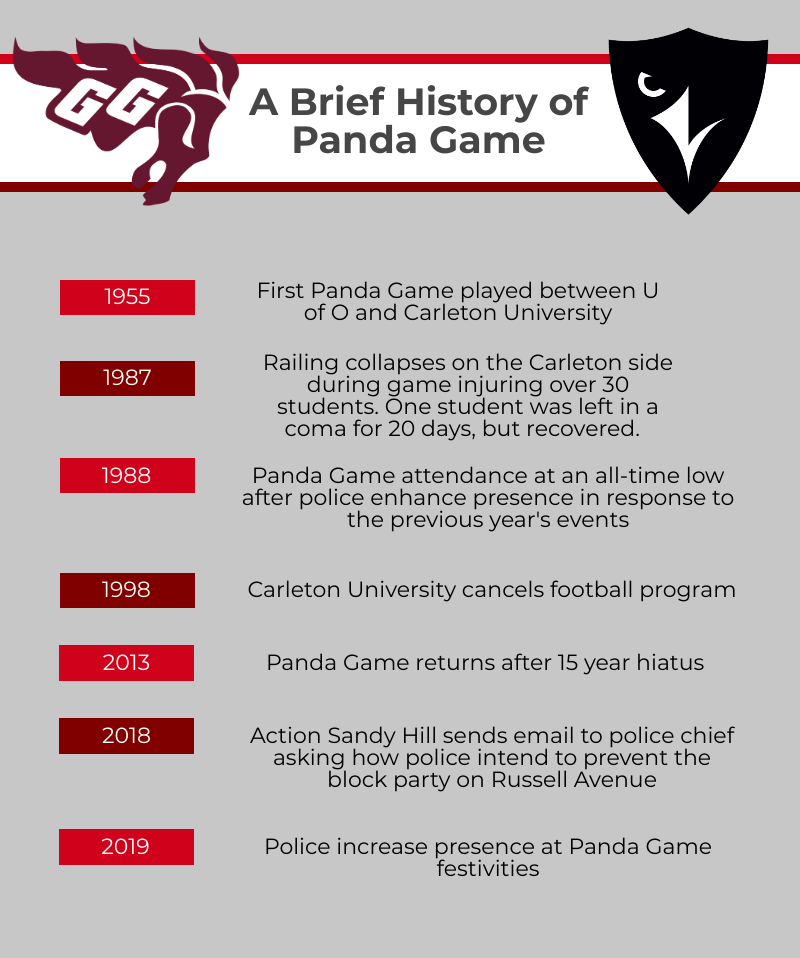 UOttawa student Maggie Mackenzie attended the party on Russell Avenue. She said while the street was less busy this year, she noticed more police.
"I think (the police) picked up on the crowd," Mackenzie said. "They knew that it was going to be pretty big on Russell, so I think they are trying not to make it a thing like it is at different schools like Queen's. They're trying to kill it."
On March 20, 2018, Kingston police enacted the Nuisance Party Bylaw as a response to rowdy St. Patrick's Day parties. The bylaw allows officers to declare large social gatherings nuisance parties. Those charged under the bylaw have to appear before a justice of the peace.
About 200 police officers were deployed each day during Queen's homecoming weekend last October. Police laid 85 charges during that weekend — three of those were under the new bylaw. This was a decrease from Queen's homecoming weekend in 2017, when police issued 330 charges.
Jen Cox lives with her husband and six-month-old son on Russell Avenue. On Panda Game Day, Cox woke up at 8 a.m. to blaring music from her neighbour's party.
"We were actually pretty hopeful — like we figured, OK, they're just having a party and it's not like a crazy party," she said.
But by 10:30 a.m., Cox said, the crowd got too big. The police stopped trying to push people off Russell Avenue and tried to contain the crowd instead.
"One of our elderly neighbours came home in the middle of this and the police had to escort her car through for her to actually be able to get to their house," Cox said.
Although she was keeping a watch on her property, Cox said incidents still occurred.
"We had a couple of people (who) jumped over both layers of our fencing to go pee back there, and we had one of those individuals arrested."
Cox said she thinks the police did a good job containing the party.
"From our perspective, it was smaller," Cox said. "We worked with the police and we worked with basically all the stakeholders all year long to try to actually prevent this party from happening in the first place."
Cox said she told police that on the side of the street where the party was happening, only two of the eight houses are inhabited by students.
In a tweet from Oct. 8, police said they poured out more than 1,600 alcoholic drinks and issued 42 charges under the Ontario Liquor Licence Act during Panda Game festivities.
Gagnon said police deemed Panda Game to be a success this year, as there were no major incidents.
"Increased police presence was a success and it will continue to be part of something we look at going forward."
---
More Stories