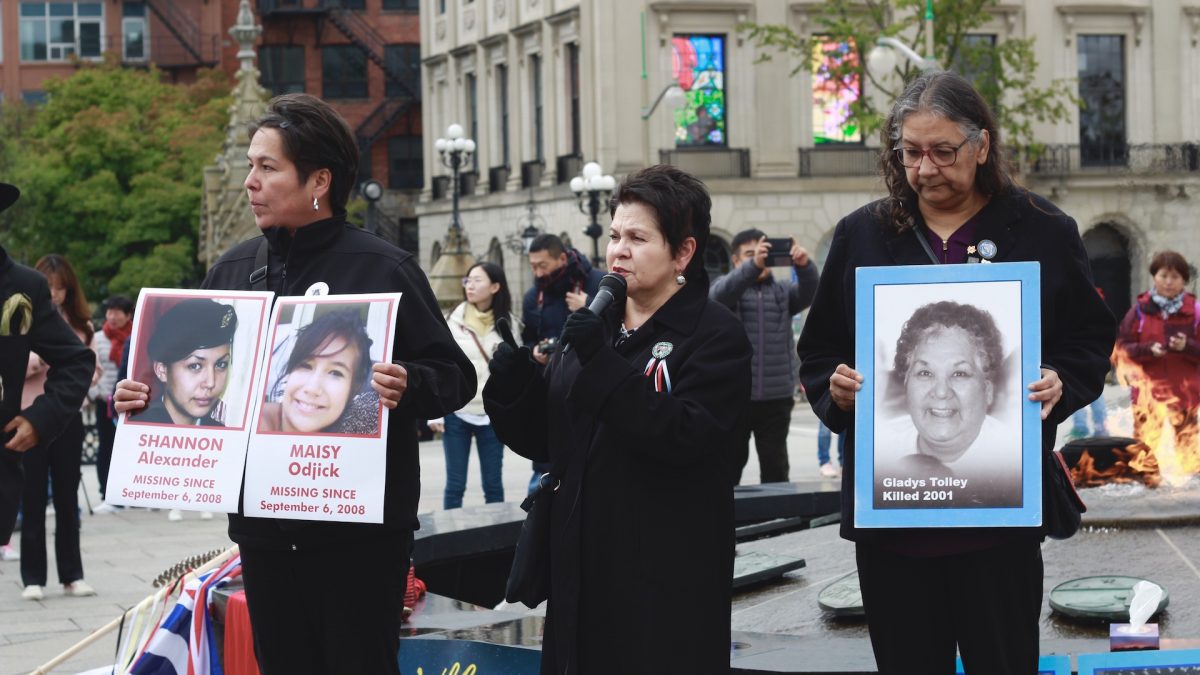 Members of Ottawa's Indigenous community recently came together for a Parliament Hill vigil to honour missing and murdered women and girls — and to demand that the Canadian government reopen closed cases.
Investigations of violence inflicted on Indigenous women and girls have been ongoing, yet many of those affected by the brutality against their family members are left without answers.
This was the 14th vigil hosted by Families of Sisters in Spirit. It took place on Oct. 4. and the public was invited to gather and listen to the stories of Indigenous people grappling with past tragedies — but still pushing for answers.
Families of Sisters in Spirit is an Ottawa-based not-for-profit volunteer organization led by families of missing and murdered Indigenous women and girls, advocating for the advancement of the closed and unsolved cases of the victims.
Bridget Tolley, co-founder of FSIS, is a member of the Algonquin community of Kitigan Zibi Anishinabeg near Maniwaki, Que., about 100 kilometres north of Ottawa. She has been fighting for her mother's closed case to be reopened since 2001, the year her mother was struck and killed by a Quebec police cruiser.
Although it has been almost two decades since her mother's death, Tolley is adamant on not letting her be forgotten. She advocates not only for her mother, but for every Indigenous woman and girl who has died or gone missing in uncertain circumstances.
Tolley says she was not immediately informed that her mother's case was declared closed just three months after her death, which was ruled accidental.
"They did us wrong in the way they investigated our cases, and we are calling for the truth," Tolley said.
As a crowd gathered around the Centennial Flame on Parliament Hill, members of the Indigenous community held posters with photos of their lost family members, with messages such as "We won't forget you" and "Love, rage, solidarity".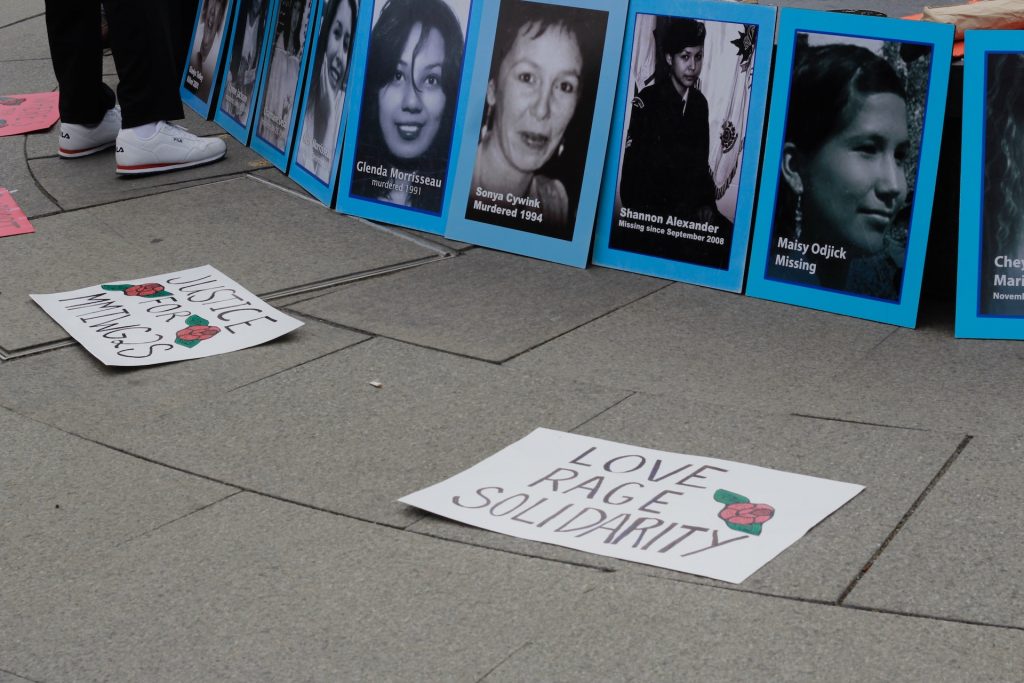 Around the flame were propped up posters with the faces of Indigenous women and girls and details about their unsolved murders and disappearances.
Others with similar experiences as Tolley told their stories. One was Laurie Odjick, whose 16-year-old daughter Maisy disappeared with her friend Shannon Alexander after the two attended a school dance in the Maniwaki area.
"You see someone missing on Facebook every day, and we have to live with that, every day," said Odjick.
While the two-volume, June 2018 report of the National Inquiry into Missing and Murdered Indigenous Women and Girls called for legal and social change to resolve what has affected Indigenous nations across Canada, FSIS and the broader Indigenous community believe much more can be done.
The report stated that no reliable estimate on the number of missing and murdered women could be determined, as a result of the lack of a database on these women until 2010.
"Inquiries just sit on a shelf; things need to be done," said Odjick.
Claudette Commanda, also a member of the Kitigan Zibi Anishinabeg community, is a professor at the University of Ottawa and teaches courses on various First Nations issues.
She says the vigil not only raises awareness of the tragedies Indigenous women and girls have experienced, but also questions the Canadian government's mishandling of many of these cases.
Leonard Findlay, a professor at the University of Saskatchewan, says the use of the term "genocide" is justified to describe the "systemic racism aiming at the elimination and assimilation of Canada's First Peoples".
Like Tolley, Commanda and the people who gathered to honour the women and girls with unsolved cases, Findlay believes Canada can do more for Indigenous peoples.
He says that the Canadian government needs to listen to the Indigenous people fighting to have their cases solved, and to work with them to move beyond a problematic past and into a collaborative future.
A powerful moment of silence was held at the vigil.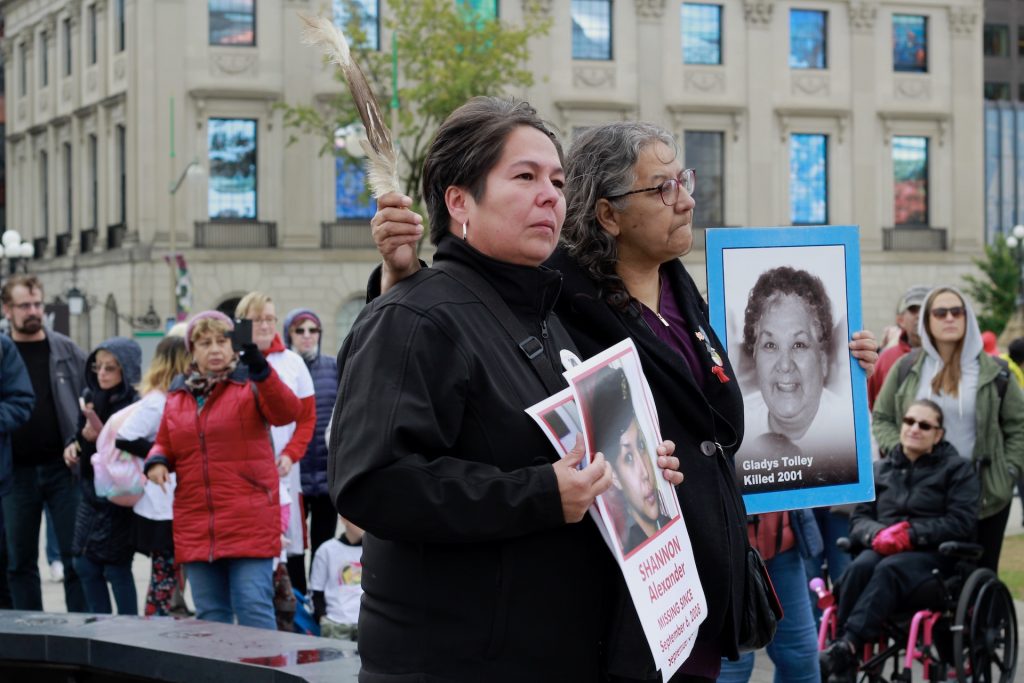 "Studies, commissions and inquiries are not going to change anything. The minds and actions of the government need to change," Commanda said in a speech that closed the vigil ceremonies.
"We are not going away," said Tolley. "We are going to make sure all these women get justice or are found. Find the missing. Solve the unsolved and reopen our cases."
---
More Stories