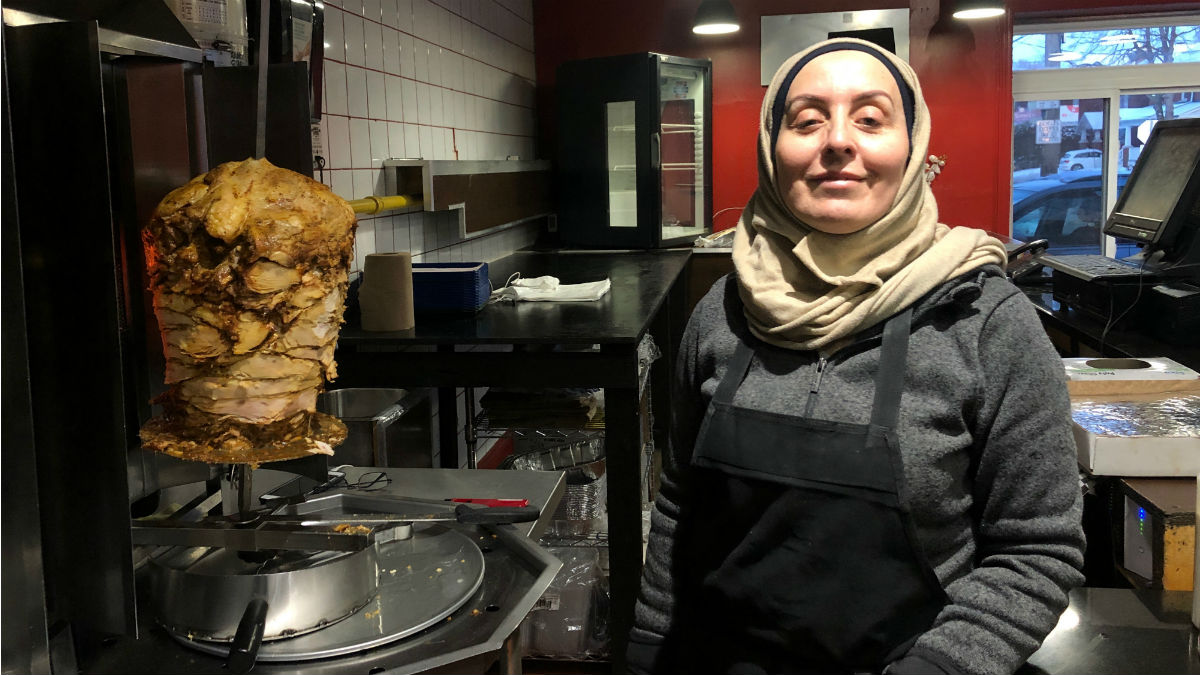 Behind the proud owner and head cook at Mama's Kitchen stands a fridge full of vegetables, pots full of soup and a juicy chicken shawarma rotisserie.
With quality ingredients and an emphasis on serving 'homecooked' food, Siham Chikhmous wants to stand out in the busy Ottawa shawarma scene in the city she now calls home. Chikhmous, with her family, came here as part of the wave of Syrian refugees welcomed into the counrty.
Her restaurant opened in Ottawa South on Dec. 21, after operating for a year on Lees Avenue on the other side of the Rideau Canal. The new location on on Sunnyside and Seneca is a step up in size. Chikhmous said she loves the room and the community.
"This location is so much better. First of all, the neighbourhood, there are really kind people. Second, of course, as a business, it is close to Carleton," she said. 
An architectural engineer by trade, Chikhmous also has a master's degree in business administration and last year took business management as well.
"When you attract people, you have to attract people with something different. It's made with love, fresh food," she said.
Born in Syria, Chikhmous moved to Abu Dhabi in 2000 before fleeing to Canada and ultimately claiming refugee status.
"Because of the situation in Syria, Abu Dhabi started to fire people," she said. "Every single engineer lost their job. Then I realized I had this opportunity to be in Canada and then I claimed as a refugee, I had no choice."
Chikhmous became sick for two days after eating a tainted shawarma when she first came to Canada. That is when the idea for Mama's Kitchen was born, she said.
"Sometimes people ask you, 'what was the idea that helped you start your business?' and for me, it was the bad shawarma," Chikhmous said. "That's when I knew I had to serve something different."
Humza Haroon is an electrical engineering student at Carleton, first tried Mama's Kitchen in December. He has been coming back weekly ever since in part because Mama's shawarma for him is a cut above other Ottawa restaurants, he said.
"The shawarma is different," said Haroon, who was ordering a chicken shawarma. "I lived in Saudi Arabia and the shawarma there is different than what they usually make here in Ottawa."
Haroon said he appreciates the homecooked taste and the authenticity in the dishes Chikhmous makes. Homemade soup, falafel and Chikhmous' Mama's Special are just a few of the offering on the menu at Mama's Kitchen. 
"It's authentic, as if you are back at home," Haroon said.
This is due to the fact that everything is made in-house, Chikhmous said.
A big reason people, especially students, like shawarmas so much is because the sandwich encompasses all the good things in comfort food, said Ottawa-based food blogger Amanda Jeysing. 
"You have that greasy, sort of carb-y meal, but it's very flavourful because you have potatoes, you have hummus," she said. "There's all these different textures and then you have that cooling salad that comes with it." 
Comfort food attracts customers from all walks of life, said Jeysing.
"There are a lot of reasons people eat [comfort] food," Jeysing said. "Even if you're making a lot of money and can afford to eat better, there are foods that you eat because they're nostalgic," she said.
Chikhmous is hoping to spread the pride she has for her heritage through the food that she makes, she said.
"I am making food not only for Syrian people, but for everybody."
Not only does Ottawa have a big Middle Eastern cuisine scene, it is budget friendly food, said Jeysing.
"It's more food for the prices you're paying in Ottawa, generally," she said. "I find the food here is pretty expensive for the portions."
Visitors looking for Ottawa's best quality and convenient food should probably try shawarma, as it is not something that you would have to go out of your way for, said Jeysing.
"I'm supportive of it because I really want to support migrant businesses," she said. "Trying to support locally owned business by people of colour, so it's really great to see."
Mama's Kitchen is literally family run. Chikhmous' daughters often work in the kitchen and originally helped come up with the restaurant's menu. As students at Carleton, they missed their mother's traditional homecooked food, said Chikhmous.
"It is Mama's Kitchen because it is like homecooked food, it's really like your mama's kitchen. I am the mama," said Chikhmous.
https://create.piktochart.com/output/43688371-mama-s-kitchen
---
More Stories