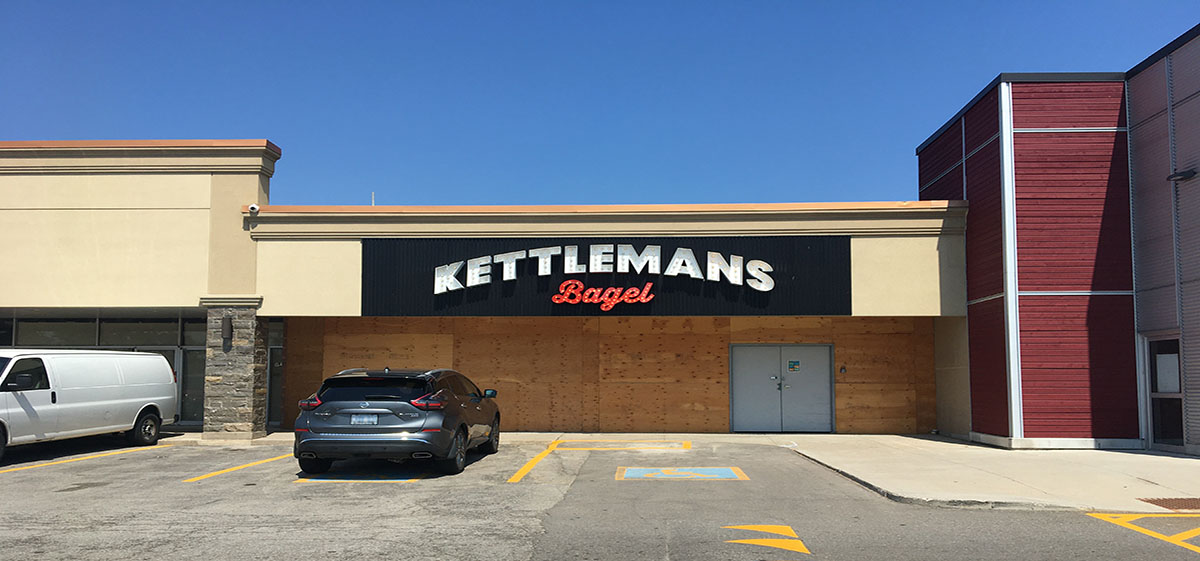 Toronto will soon experience the pleasure of a well made bagel when Kettleman's moves outside Ottawa for the first time to invade the Six with a location expected to open in the next two months.
The restaurant had announced in May 2019 it would open a location in Toronto later that year.
That opening was delayed and then further complicated by pandemic regulations. But in May of this year, the company tweeted they were aiming to open in the next few months.
"We're expanding to our first location in Toronto, in Etobicoke, on Brown's Line in the Alderwoods Plaza. We're pretty excited about that," said Chris Saracino, director of communications at Kettleman's Bagel Company.
"In terms of the status, obviously everything kind of slowed down because of COVID, but we're back up and running and we're anticipating being open fairly soon. I would say at some point within the next 60 days."
The new location is close to where the Gardiner Expressway turns into the QEW and near the southern end of the 427. The plaza has seen a surge in interest, especially since the opening of a Farm Boy grocery store.
"There's a confluence of four or five different factors related to location and this just seemed to serve as a good one. We're right next to a Farm Boy. Farm Boy carries our product on a wholesale basis, which is great, and they move quite a few of them," Saracino said.
It takes a great deal of work to prepare a location to be a Kettleman's, according to Saracino. "Keep in mind these ovens are turning out, literally, thousands of bagels a day, 24 hours a day. There's constant activity going on in our ovens."
But all the work will likely be worth it, based on the response to the Toronto expansion.
"We've been getting an overwhelming response of people excited about our location in Etobicoke opening. Way more than we anticipated. I would venture to say that we get probably about 10 – either comments on social or direct emails or contact us form submissions – [a day] asking when the Alderwoods Plaza location is going to be open," Saracino said.
Natalie Zahrebelny is one Torontonian looking forward to the new location.
"Oh my god, I'm so excited! I can't wait. I think it's great that a business from Ottawa is coming here, especially since I did my undergrad there and they have good bagels. It's coming here so I can have that experience again," said Zahrebelny, who graduated from Carleton in 2019 after studying biology and psychology.
Fond memories
She has fond memories of going to Kettleman's in the Glebe.
"My friends and I would go either late at night after going out or just as a hangout spot to do work."
She lives close to the new location in Toronto and is ready to take advantage of that proximity.
"I think it's a good location because it's close to me! I already go to the Farm Boy, so after going grocery shopping I could pick up some bagels and get a little taste of Ottawa, to remind me of my undergrad."
There's excitement amongst her friends from university, as well, some of whom now live in Toronto and miss the Ottawa institution.
"I know a couple of people who are back in Toronto and all of them are sending me the link like, 'Oh my gosh, Kettleman's is coming to Toronto, they're going to open soon, how cool!'"
---
More Stories