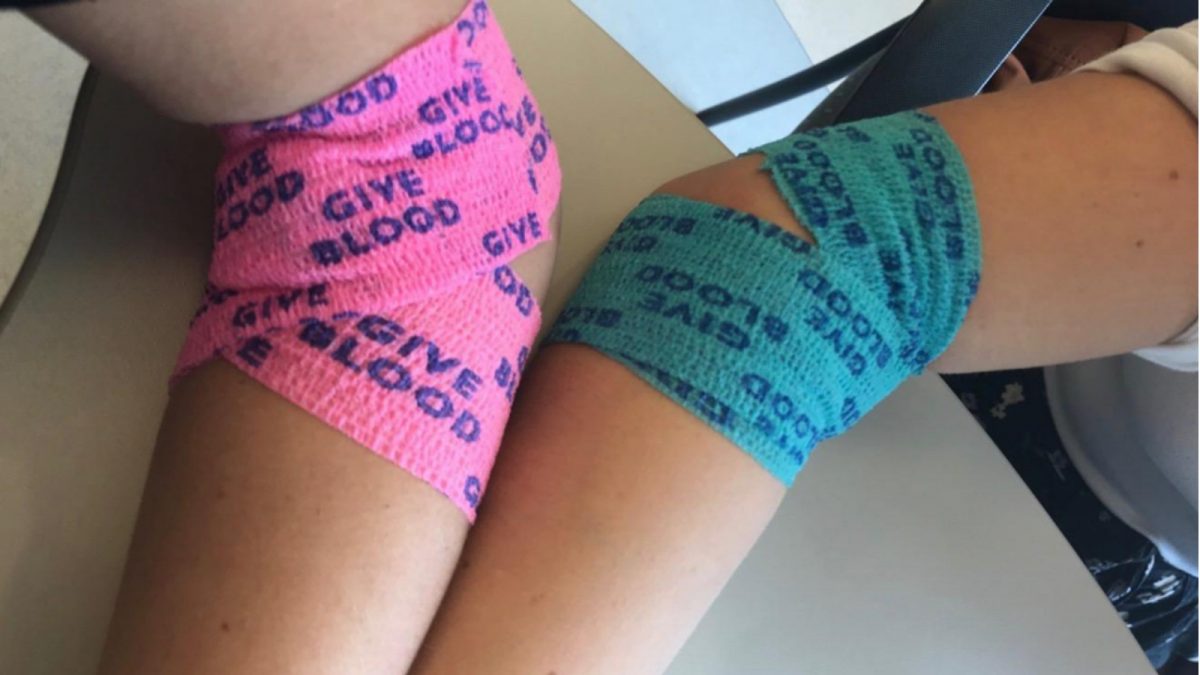 Pam Medjesi cuddled up on her couch watching television alongside her husband. Her thumb idly scrolled through social media as she split her attention between the two screens. That Jan. 11 was just an ordinary, comfortable Friday afternoon.

That same afternoon, an OC Transpo bus on route to Kanata collided with a shelter at Westboro station, killing three and injuring 23 people.

When Medjesi saw the shocking news on Twitter, she felt helpless. She needed to do something, she said.

"Sort of feeling that post-accident guilt, survivor's guilt if you will, on a very small scale," Medjesi said.

For Medjesi, making an appointment to donate blood just made sense.

"I couldn't come up with a reason not to except for fear, and that finally wasn't good enough anymore."

From the Las Vegas shooting in 2017, to the Humboldt Broncos bus crash, to the Westboro crash, community tragedies are often the catalyst that drives hesitant first-time donors, like Medjesi, into blood donation clinics.

In Canada, this motivation may be desperately needed. Canadian Blood Services, a not-for-profit that provides blood, plasma among other lifesaving materials, says 52 per cent of people say they or a family member have needed blood or blood products in their lifetime, yet its 2016 annual report said less than four per cent of the eligible Canadian population donates blood.
While Canadian Blood Services are grateful for the surge in donations following a tragedy, what they really want to see is those people turning their moment of generosity into a lifelong practice.

Glenna Gosewich, Ottawa territory manager of donor recruitment at Canadian Blood Services, said 100,000 new donors are needed in Canada every year to meet blood supply demand. Finding these donors, though, can be challenging.

"We obviously don't want a tragedy like that to take place, but it does help us find new donors," said Gosewich.

While some days Ottawa blood donor clinics may reach 80 per cent or more of their collection targets, Gosewich said they reached 100 per cent or more in the days following the crash.

"With things like these we get a lot of first time donors, who've been thinking about donating, make it happen, and our goal is to make them become regular donors. That's really what we need, is for people to donate once, twice, three times a year."

Gosewich said the service encourages repeat donors by acknowledging milestones. First-time donors receive a card and pin to show they've registered. Afterward, phone calls of thanks and encouragement to return are regularly made, and as donors hit higher donation numbers, plaques and certificates are mailed out.

Ottawa Rabbi Reuven Bulka remembers the first time he donated blood like it was yesterday. A colleague of his was completing a PhD in the psychology of blood donation when he began questioning why he'd never donated himself.

A few days later, he said he heard on the news the Canadian Red Cross, which managed Canada's blood donations until 1998, was short on blood.

"I was in the car, and I was listening to this and thought, 'What the heck, I better go,'" he said.

Fifty years and more than 300 blood donations later, Bulka has donated countless blood, platelets and plasma respectively. He is also the chair of the Trillium Gift of Life Network, which is responsible for organ and tissue donation in Ontario.

He said he considers Canada's low amount of blood donors a colossal disappointment.

Bulka and others are racking their brains to figure out why one in two Canadians are eligible to give blood, yet only one in 60 actually donate, according to the Canadian Blood Services.

"It's not all bad, because people are not getting up in the morning and saying, 'I'm not going to give blood.' It's just that they get caught up in so many other things," Bulka said.

"These horrible events, these terrible tragedies, they somehow or another jostle people out of complacency."

Bulka said this is because people experience feelings of helplessness after something like this happens.

Following the Westboro crash, the Distress Centre of Ottawa and Region received a 10 per cent increase of calls from their usual volume — producing up to two calls per hour.

"It affects people because we're humans and we have hearts," said its spokesperson Leslie Scott. "We all have feelings inside of us that are cause for upset when something like this happens."

Bulka said giving blood can help those not directly affected by tragedy cope with their feelings of helplessness.

"It doesn't bring back the dead, but it at least shows that even in death the person is still remembered," Bulka said.

Kassia Skorzewska, a student at Carleton University, said she was driven to donate blood following the crash, but was already a registered donor. She said she takes issue with those who choose to only donate after tragedy.

"They're pushed to donate blood while they could just donate blood regularly instead," Skorzewska said.

Similarly, while Gosewich ensures every blood donation is appreciated by Canadian Blood Services, the real hope is that those who fill lines in times of need won't disappear once the headlines do.

"A leukemia patient can need eight units of blood a week. So if you know that you're helping that patient instead of the patient who would have needed it for emergency surgery, you're making an enormous difference," Gosewich said.

"I don't know what more somebody can do for their community, for society, other than saving a life."

Dr. Alan Tinmouth of the Ottawa Hospital said 18 patients were admitted following the crash, and while post-tragedy donations are appreciated, they aren't necessarily essential.

"Generally when an event like that happens there's a good reserve or stock of blood," said Tinmouth, head of general hematology and transfusion medicine at the hospital's research institute.

Tinmouth said older reserves of blood are used first because of limited shelf life. Red blood cells last for about 56 days, while platelets can only be stored for two weeks.

Additionally, because donations need to be tested for infections like HIV and hepatitis C, Tinmouth said it can take up to three days for donated units of blood to become available for transfusions.

"It's still important to have people donate, even knowing that it's very unlikely any donations they give is going directly to the trauma victims," said Tinmouth.

He said donations given after tragedies help replace lowered hospital blood supply, but stresses the importance of sustainable donation to support transfusions year-round.

"Even if it increases our numbers a little bit to five or six per cent of Canadians donating blood, that's going to be a huge advantage to our system," said Tinmouth.

Medjesi, who already signed up for another blood drive in June, plans to join that pool of regular donors.

When the bus operating on route 269 to Kanata crashed at Westboro station, she was safe at home, but as it turns out, anything but helpless.