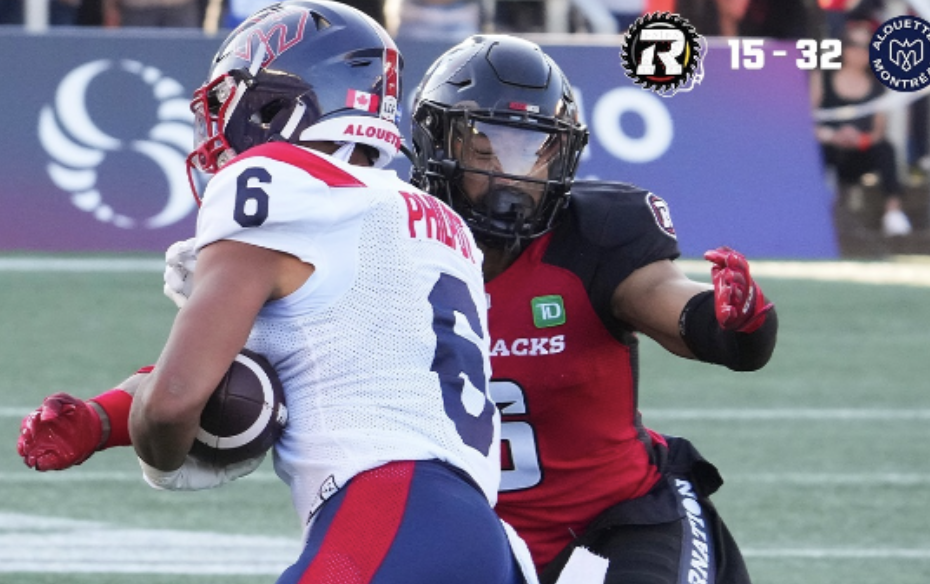 Alouettes 32 – Redblacks 15 
Six turnovers, a pick six and a punt return touchdown conceded, five sacks allowed and two interceptions thrown by quarterback Dustin Crum all in a game the Redblacks had to win in to keep their very slim playoff hopes alive.
That's a tough pill to swallow.
Three of the turnovers — both interceptions — and a Crum fumble were catastrophic as they occurred deep in Montreal territory and took possible points off the board.
"We got down there a couple times and we were in the score zone, and we turned the ball over, which is a little disappointing," Redblacks head coach Bob Dyce said post-match. "I think those kinds of things, it'll turn the tide."
The Redblacks fell to 4-11 on the season and are all but eliminated from post-season contention after the Alouettes and Tiger-Cats clinched playoff spots on Saturday.
If they win out, the Saskatchewan Roughriders lose their last three games and both the Calgary Stampeders and Edmonton Elks win less than two of their final three games, the Redblacks can sneak into the playoffs as the West Division wildcard, but given how Ottawa has played this year, winning out is improbable.
Ottawa is 1-8 in their last nine games after starting the season 3-3 and are 0-7 against divisional opponents. Many of those division games were close, but that is still unacceptable.
The Redblacks offence was lifeless and couldn't solve Montreal's explosive blitz; Crum was under pressure all game and as a result didn't have time to find his receivers downfield.
Ottawa was kept off the scoreboard until the fourth quarter. All 15 of their points were too little, too late.
Crum completed 25 of 34 passes for 247 yards and added three carries for 35 yards, but was disappointed with the mistakes he made and the game's result. He took blame for his mistakes.
"A lot of that offensively kind of falls on my shoulders. Obviously, the quarterback is a leader of the unit. And you have to kind of keep everyone on the same page and take care of the ball and that's something I didn't do tonight. So, like I said, definitely a lot of that on me," Crum said.
When asked about what went wrong, Crum pointed to a multitde of things.
"Different details, different areas, whether it was communication or just execution, just different things that we definitely have to clean up offensively," Crum said. "I felt like special teams and defensively we played a pretty solid game" he added.
Ottawa's defence held its own in the first half, and trailed on 15-0 at half. However, the defence wasn't perfect and took a while to warm up.
The Als' first possession looked smooth and meticulous. They engineered a six-play (three runs, three passes), 80-yard drive that concluded with running back William Stanback using his speed and agility to cut to the outside and bolt untouched for a 24-yard TD.
The Redblacks' defence stiffened after that, only allowing one TD for the rest of the first half while recording three sacks and putting considerable pressure on Montreal's QB Cody Fajardo.
The offence showed some sparks but ultimately couldn't consistently move the ball enough to find the endzone and made too many costly mistakes. When you lose the turnover battle, you won't win many games.
The offence was much better in the second half.
"I don't have an explanation for the slow start," Dyce said. "It was slow in some regards, but, you know, we were down there in the score zone and we made a couple errors. In this type of game, when you're fighting for your life, you can't have those turnovers when you're when you're in that proximity of the goal line."
Ottawa's fate was sealed near the end of the third quarter when Crum, on the Alouettes' eight-yard line, was intercepted by Alouettes' safety Marc-Antoine Dequoy and returned 108 yards for a touchdown.
What could've been a one-score game at 15-7, became a three-touchdown deficit, 22-0.
The determined Redblacks showed some fight and a defensive pass interference penalty, set up Ottawa at the Als' one-yard line, resulted in a Tyrrell Pigrome rushing touchdown to cut the score to 22-7.
After a Montreal field goal, the Redblacks offence stalled again because of another turnover. Montreal sent a blitz on second and moderate, Crum was sacked, he fumbled and former Redblack Shawn Lemon scooped up the ball and took it 30 yards to the house to extend the Als' lead to 32-7.
Devonte Williams salvaged his 25-rush yard performance with a four yard rush touchdown with 4:41 left in the game.
Even though Crum was pulled in the final two minutes, it's certainly not because he played poorly, Dyce said.
"With the score what it was, we wanted to get Nick some opportunities," Dyce said. "Dustin did take some hits out there. … He's a good good competitor and I didn't feel that he was doing anything wrong."
"If I felt that he was struggling or anything like that, then I would have considered it, but I didn't consider it at all before that."
The Redblacks will have to learn from their mistakes and quickly move on from this tough loss. They visit Montreal on Thanksgiving Monday before travelling to Toronto to face the 12-2 Argos on Oct. 14. They end the season two weeks later, at home against Toronto.
---
More Stories