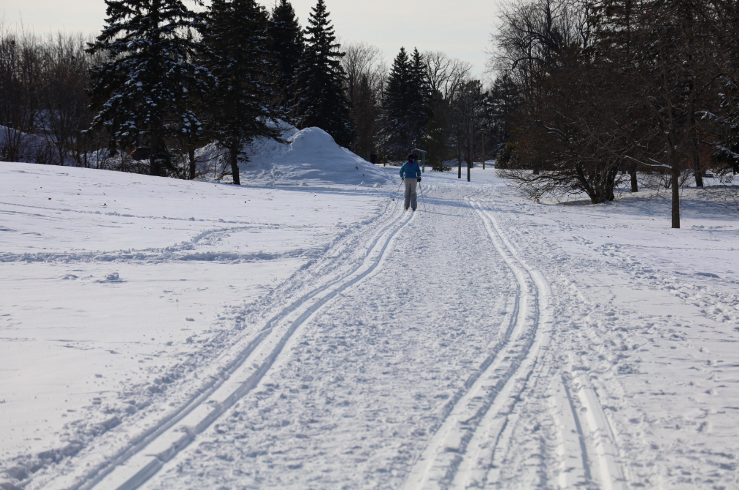 As Ottawa residents continue to weather the pandemic winter, volunteers with the Britannia Winter Trail Organization in the city's west end have been working hard to provide a recreational outlet to help maintain the community's mental and physical health.
Dedicated to maintaining and improving six kilometres of natural trails in the Britannia Bay neighbourhood, BWTO officials say the outdoor amenity provides a safe environment for community members to leave their homes and get some much-needed exercise through the winter months.
Dave Stibbe, a founding member of the organization, says it is more important than ever this year to have the trails accessible and open to the public.
"Most of our community is stuck inside at home, and many of the pastimes they enjoyed are no longer available to them. But these trails are free, they're outdoors, and they're a way for people to safely be in nature."
Following the Boxing Day lockdown, the group noticed an increase in foot traffic and other trail activity as people began making use of the variety of options available.
Multi-use trails
"These trails are multi-use, so they're not exclusively limited to any outdoor hobby. This means dog walkers, snowshoers, skiers and fat bikers can all be on the trail and it doesn't limit what equipment you need to enjoy them."
Stibbe said he believes that as the organization has received more funding and attention throughout the pandemic, it will encourage other Ottawa residents to take advantage of the city's urban forest.
"We've received a huge amount of government support — more than we have in a long time — and that's partially because we provide a service that our community can benefit from now. But I think it's starting to show what a benefit green space is … We're very fortunate in Ottawa to have a greenbelt such as this."
The Britannia Winter Trail Organization said it would maintain the space as long as it can until spring weather arrives.
"It's important that we keep these trails clean," said Stibbe. "It's important that we keep them flat and accessible because, for a lot of people, it's becoming more and more of a way to cope with this pandemic."