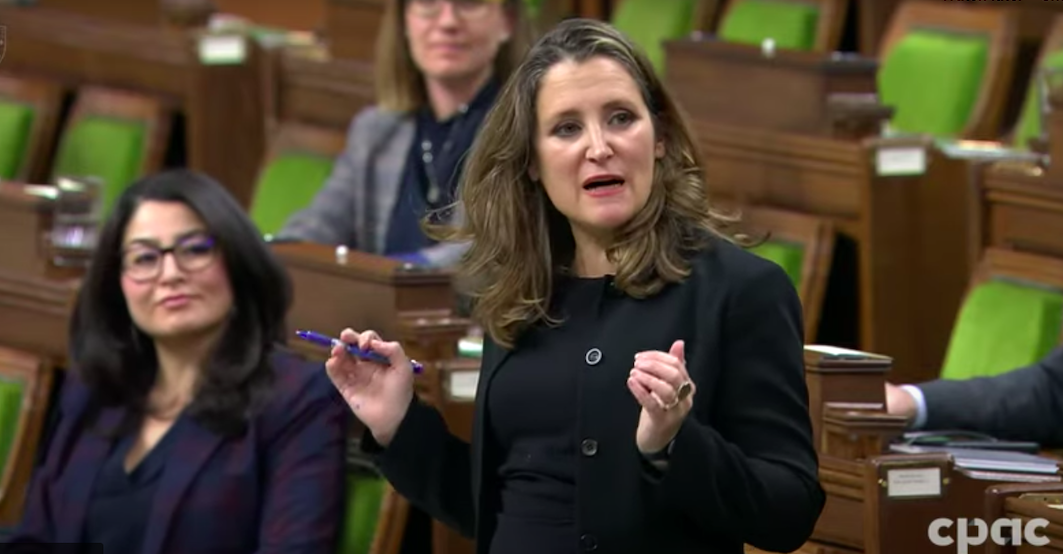 The Canadian Students' Federation says the federal Liberal government's fall economic statement fails to adequately address the financial and psychological impacts of the COVID-19 pandemic on young Canadians.
"Students left the Fall Economic Statement distraught with no significant relief measures announced for the post-secondary education sector," the CFS said in a statement issued after the government's post-pandemic economic blueprint was delivered this week by Deputy Prime Minister and Finance Minister Chrystia Freeland.  
Freeland did announce an extension on the elimination of federal interest on student loans through 2021-22. And the government also announced it will spend $447.5 million over the next two years to create an additional 40,000 summer job placements for students. 
Another $575.3 million, over a two year period, is to be allocated toward the Youth Employment and Skills Strategy to help young people who were left unemployed as a result of the pandemic.
Freeland's statement laid out the government's strategy for various measures to help Canadians through a second wave of the pandemic and foster a national economic recovery.
Stimulus promised
The statement updated and expanded on the government's September throne speech.  
Overall, Freeland announced that the government will spend up to $100 billion in a post-pandemic recovery stimulus over the course of three to four years after the pandemic. 
Freeland also stated that the government's priority remains addressing the pandemic and protecting the health and safety of Canadians.
"Our government's plan is focused on fighting this pandemic, supporting Canadians and ensuring that once the virus is defeated we can invest in growth and jobs for everyone," Freeland announced on Monday.
But the CFS has detailed several missed opportunities to help bring relief to college and university students.
"Although members of Parliament unanimously voted to extend the moratorium on federal student loan payments just last week, the government has, instead, decided to only pause interest collected on the federal portion of student loans," the CFS stated. "International students were also left out of relief plans despite vocal calls to expand financial support and permits for graduate students."
According to CFS, students are concerned about program eligibility and lack of immediate financial support.
"We urge the government to show compassion for students and recent graduates to avoid a mental health crisis," said Nicole Brayannis, national deputy chairperson of the CFS. "Students are facing emotional hardship from social isolation, the loss of loved ones, and a serious disruption to their day-to-day lives. Worrying about affording to pay back a student loan while buying groceries or paying rent, shouldn't be a problem, but it is."
A report recently released by the CFS also highlighted frustration over shortfalls in government support for students.
In response to the fall economic update, the CFS called on the government for more tangible action to support post-secondary students and recent graduates in its relief plans. 
"As the country continues to face the second wave of the COVID-19 pandemic, students and recent graduates from coast to coast to coast are alarmed by the government's inaction," said Brandon Amyot of Don't Forget Students, a petition seeking greater student support in federal relief plans.
"I've been hearing from students and recent graduates who are still not getting the help they need," said NDP MP Laurel Collins. "It's time for the government to live up to their promises and start listening to students."