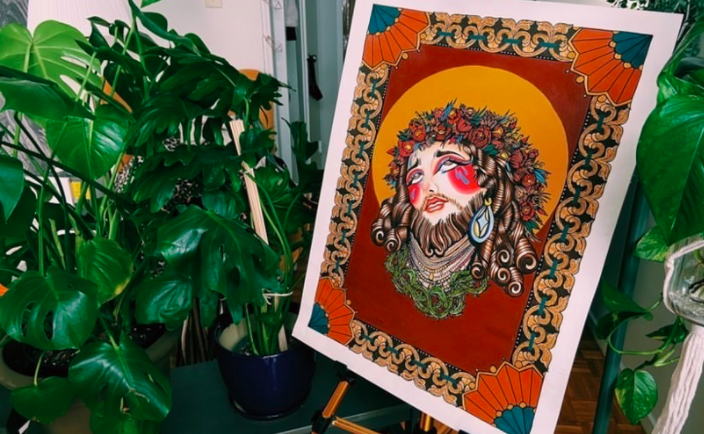 A painting of a drag queen who looks like Jesus — titled Shezus — is the latest work by American artist Anna Gale since her recent move to Ottawa.
The Americana-style portrait was completed in early March and prints of the mixed media work were released online for sale at the end of the month.
Gale, who also works as a tattoo artist, said she was tattooing a friend earlier in the pandemic when she had the idea.
"He was trying to tell me this idea that he had for a back piece … a drag queen that looked like Jesus," she said. "His birthday came up and I painted the whole thing … But I got so much feedback on social media that pushed me to make an online store."
Gale had been living in Beijing for five years, working as a tattoo artist. She moved to Ottawa with her girlfriend last year and has since been trying to find her niche in her local art community.
She said Shezus was a way to begin selling her work online and to gain her footing as an artist in Canada.
The painting was printed with Shoebox Studio, a boutique Ottawa print shop.
Sam Hopkins, owner of Shoebox Studio, said Gale opted for giclée and canvas prints, which show the texture of the original painting.
"Really what a giclée print is, is an inkjet print printed on acid-free material and using specifically pigment-based ink versus something like dye-based inks. It creates a really stable image, an image that's UV resistant," Hopkins said.
Hopkins says a giclée print can last 95 years without showing any signs of aging or discolouration.
As for the painting, Hopkins said he loves Gale's work.
"It's pushing an envelope, it's a little bit edgy. (It) could upset some people," Hopkins said. "I think it's lovely."
Gale said it was not her goal to offend.
"When I first started painting … I was a little worried that it would be offensive," she said. "I'm finding out that some people on the internet are offended. But the whole thing is that it's not Jesus. It's just Shezus. It's a characterization of someone dressed up as someone else," Gale said.
Rather, Shezus was a positive way of expressing her identity as a queer woman.
"You can walk around and see these photos of this man (Jesus), and he's glowing," she said. "It would be cool to have a glowing, transgender woman in the house and have it be my religious figure."
Her girlfriend, Jessica Giang, said Gale's art has shifted significantly since the couple met in Beijing.
"She was doing, like, pen drawings like ink drawings . . . When we got together, I was expecting that was the kind of art that I was going to see," said Giang. "It kind of shifted more into like a tattoo style . . . I guess maybe it has something to do with where you are at the time and what you're feeling."
For Gale, painting Shezus was like "unlocking another layer" of her art through exploring vibrant themes.
"It's vibrant, it's colourful, it's supposed to be happy."
---
More Stories