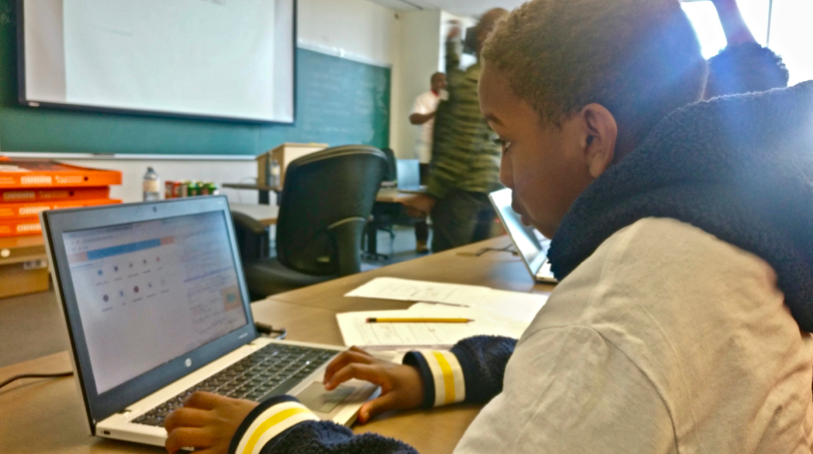 "Angle bracket, exclamation point, doctype, HTML, angle bracket."
In a classroom at Carleton University, 11-year-old Abdeck Ahmed read aloud the elements from a block of text on his laptop. On this Saturday in November, the room was filled by nearly 20 children under the age of 12
Abdeck was reading a computer code he has just learned to write. After he mentioned the closing angle bracket, another boy shot his hand in the air to read out a different line of code to the volunteer instructor transcribing on the blackboard.
The children were at an event held by Black Boys Code, a national non-profit organization that aims to get more boys of colour interested in the technology industry.
The Carleton event was the group's first in Ottawa.
According to Innovate Inclusion, which raises awareness about underrepresentation in technology and entrepreneurship, there is a lack of diversity in the industry.
Bryan Johnson, founder of Vancouver-based Black Boys Code, said he's trying to turn that around.
"One of the things Black Boys Code hopes to do, is to help fill that pipeline," said Johnson.
A similar organization with the same mandate, Black Girls Code, was launched in the U.S. in 2011.
Johnson worked for more than 20 years in the tech industry as a manager with UPS and Aeroplan Canada. But as a black man, he said, he felt like a rarity.
"Every conference room I walked into, I was the only black person in the room," said Johnson.
In 2015, while between jobs, Johnson began working towards getting more black people into tech firms. He registered Black Boys Code in British Columbia and has been working full-time ever since as the organization's founder and CEO.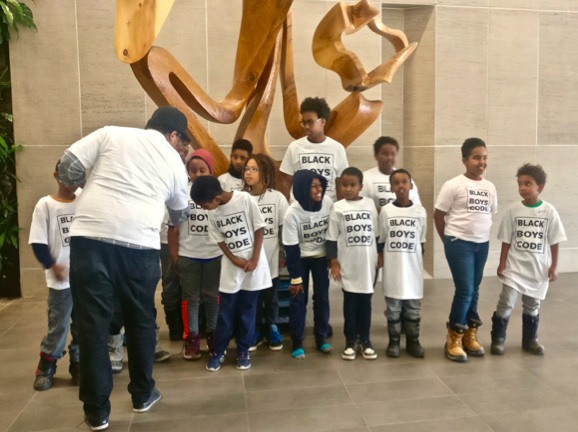 In September, Black Boys Code was granted CanCode funding through the federal department of Innovation, Science and Economic Development. The funds are expected to help the organization expand its activities to seven more cities for a total of 11 chapters.
Ottawa became one of those cities when the Carleton University workshop was held. It was organized by a team of local volunteers, all working in the capital's thriving high-tech industry.
"I want to make sure that as technology progresses, my two sons can say, 'I see myself in this growing community'," said Thomas Cumberbatch, CEO of an Ottawa-based communication firm and head of the Black Boys Code chapter in Ottawa.
Cumberbatch grew up in Ottawa near the corner of St. Laurent Boulevard and Donald Street, and says he was missed out on programs like Black Boys Code when he was a kid.
Now, he said, he is trying to be a role model for black boys growing up in and around the same neighbourhood — and trying to empower them through education.
"What I want them to understand is, their existence as human beings does not revolve around their colour, but around the skills they have," said Cumberbatch.
The organization is still too young to have had any of its trainees attend university, but Johnson said he's hopeful many will pursue high-tech degrees and careers.
But he adds that it's not all about steering students into coding. Primarily, he said, he just wants to open kids' eyes to the opportunities they have.
"They look at media and see black sport stars and rappers. There is nothing wrong with that, but their chances of becoming successful in those fields are very small," he said. "However, we show them that in the technology fields, they are capable of doing anything they want to."
He added: "We tell them they are capable of doing anything. A lot of young black boys don't hear that enough, but we tell them."
In the classroom, between discussions about angle brackets and cryptic lines of type, dreams are taking shape.
"When I am older, I'm going to make something like Microsoft or Apple or Samsung," said Abdeck.
Why? "Because," he said, "you get rich from it."
---
More Stories