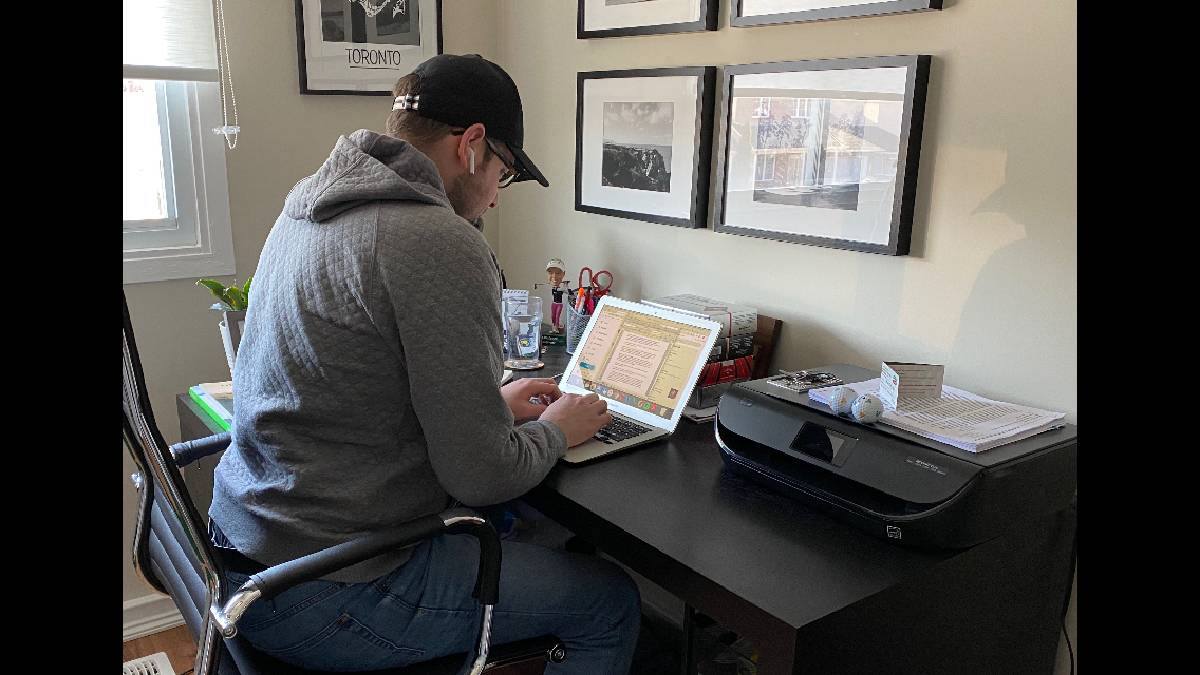 COVID-19 has closed down many sectors of society including professional and amateur sport.
For the athletes that's meant long days without competition. For those who make a living reporting on games the possibility of sports returning soon seems to diminish every day. And that's a huge problem for those journalists.
The NBA, the NHL, the OHL and major league baseball have suspended their seasons. Major League Soccer and the Canadian Football League are also shuttered for the time being. Major events including the NCAA's March Madness, The Masters and other important events on the annual sports calendar have been postponed or cancelled.
What's a sports reporter to do?
For freelance writer Adam Stanley, the first course of action was self-isolating for 14 days.
Stanley was in Jacksonville, Florida to cover the lead-up and the first day of The Players PGA championship that started and ended after one day on March 12.
"There was a lot that happened in a very short amount of time that week," said Stanley.
Like many sports, golf has been put on pause. While Stanley said he was worried in the initial onslaught of virtually all sports being put on hold, but now he feels there is a path forward for people like himself.
"For a few days in there I was very concerned," said Stanley. "Now it seems like for me as a writer, I'm going to have the opportunity to continue to work and cover golf, just in a very different capacity."
New opportunities include the ever-changing scope of COVID-19, looking back on past events and looking forward once there is a path.
Like Stanley, Ottawa Citizen hockey writer Ken Warren was in the middle of it all when news was breaking virtually every hour a couple weeks ago.
Warren was in southern California following the Ottawa Senators when news broke of the NHL suspending its season.
Since arriving back home, Warren has had a few sports stories to write concerning COVID-19, including one about two Senators testing positive for the virus.
However, as the weeks turn into months without hockey, Warren sees the possibility of being reassigned to other beats.
"Newsrooms are small enough as it is," said Warren. "If you're going to move resources to where you can use them best, it's possible."
Even when hockey returns, there are some wondering if the pandemic could have lost-lasting effects on how sports journalists go about their job.
A few days before the suspension of the season, the NHL issued guidelines for safety that including closing off media access to locker rooms.
Warren said the initial decision to close off the locker room was smart considering the unknowns then. However, he said he would be disappointed if the policy stayed in place when hockey returned.
"It changes the way we do things," Warren said about the ban on locker room access. "Not every day, but features are gone when you can't sit down in dressing rooms and talk to players.
"I'd be disappointed if it didn't go back to the way it was, but I think it is possible the NHL might see this as an opportunity to keep media out of the dressing rooms."
TSN 1200's Ian Mendes also says having access to locker rooms is crucial to the job.
"From our perspective, it's everything," said Mendes. "To be able to go to a player and sit down … I can't tell you how invaluable that is for gaining information, gaining perspective and more importantly, gaining trust with the athlete."
In the short-term, Mendes does not see the lack of daily games to talk about as a huge burden.
"I've never been a person who's focused on games and results," said Mendes. "I've always been a big picture, big issues guy."
The Drive, the four-hour afternoon radio show Mendes hosts, has added a theme to each day of the week to help keep engagement up with listeners. Themes include Trivia Tuesday, Top Ten Thursdays and Film Friday, where the hosts discuss a sports-themed movie.
In the meantime, away from their jobs, Stanley, Warren and Mendes all say they are happy to be healthy and are finding ways to pass the time.
Whether it is through indoor family exercise or converting the dining table into a ping pong table, all stressed the importance of staying healthy and social distancing.
---
More Stories