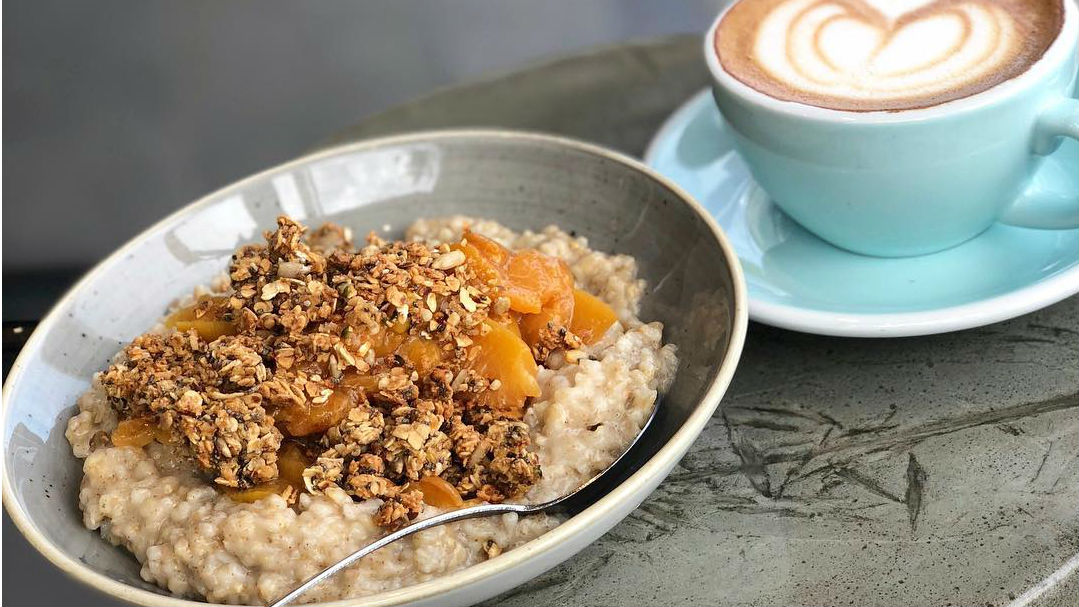 By Nicole Babb
Name: Oat Couture
Location:1154 Bank St.
Hours: 7 a.m. – 8 p.m. daily
Prices: $7 small bowl – $14 large bowl
Accessibility: Small step to front door
When you think about oatmeal, you probably picture a bowl of gooey, bland breakfast food, but Brian Montgomery, the owner of Oat Couture, is putting a flavourful twist on this classic comfort dish.
His whimsical café, which opened almost seven months ago, is in Old Ottawa South. This neighbourhood is becoming somewhat of a café haven with places such as Starbucks, Black Squirrel and Happy Goat Coffee Company nearby. However, Oat Couture's unique menu and stunning aesthetic set it apart.
The Instagram-worthy interior has brick and pine panel walls, benches with fuzzy pillows and two hanging rattan chairs in the front window. The music playing in the café contributes to the hipster vibe, with playlists consisting of folk bands such as The Lumineers and Mumford & Sons.
It is the perfect place to enjoy a comforting bowl of oatmeal while relaxing with friends or studying for finals.
The café is busiest on weekends and is mostly home to university students, probably thanks to the free Wi-Fi. However, if you want to use your laptop, make sure it's fully charged as there are only a few outlets available. Seating is also limited, so make sure you get there early.
On top of a creative atmosphere and menu, the name of this café is also imaginative.
"Haute couture means high fashion in French, but the H is silent, so we went with Oat Couture as a play on words," said Montgomery.
Montgomery said he decided to open a café because he has always been interested in diving into the food industry.
He originally wanted to open a restaurant that served breakfast bowls because he found a lack of healthy, quick food options in Ottawa. This idea later spiraled into the first oatmeal themed café in the city.
"I felt the marketplace had reached a point where oatmeal deserved a day in the sun. People love oatmeal, and a lot of people have oatmeal before they go off on their day," said Montgomery.
After coming up with this creative idea, Montgomery enlisted the help of chef Ben Baird, who used to work at the Urban Pear, to help create the unique menu. The café offers 18 different bowls of oatmeal that range from sweet and fruity to savory and surprising. There is also the option to create your own bowl by choosing any three toppings.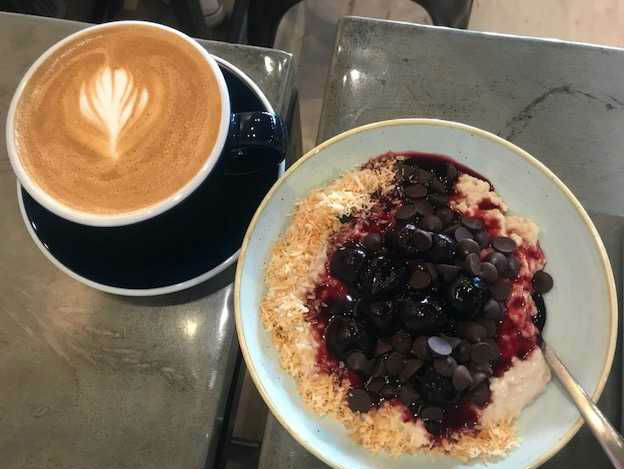 On my first visit to the café, I ordered the Valentine which consisted of creamy, warm oatmeal topped with sweet dark cherries, shredded coconut, chocolate chips and light vanilla cream to stir in.
The barista was friendly and efficient, quickly taking my order and bringing me a picturesque bowl of gooey oats and crunchy toppings. The cherries added a nice splash of colour to the most flavourful bowl of oatmeal I've ever had. However, by the time I got to the end of the medium-sized bowl I felt as though I'd had enough sugar for a week. If you order from the sweet menu, I recommend getting a small because the portions are quite large.
On my second visit to the café, I ordered one of the most popular savoury bowls called Hangover. This dish consisted of aged cheddar, sweet apples, crispy bacon, caramelized onions, lemon juice, and maple syrup. The bacon flavor seeped into the oatmeal creating a delicious smoky taste throughout the whole bowl. The crispy apples and bacon balanced out the soft oats, making a perfect breakfast on a cold, fall morning.
Besides oatmeal, the café also offers tea and coffee as well as oat-based smoothies, cookies, muffins and even dog treats for your furry friends. Beer, wine and scotched-based cocktails will also be available soon, pending liquor license approval.
All the ingredients at the café are locally sourced. The oats are steel cut and gluten-free, and there are bowls without meat or dairy products for vegan or vegetarian customers.
This charming café is a must-try for anyone who isn't allergic to oats.
People in other cities can look forward to trying these unique dishes of oatmeal soon, as Montgomery is hoping to expand his business west in the future.
---
More Stories