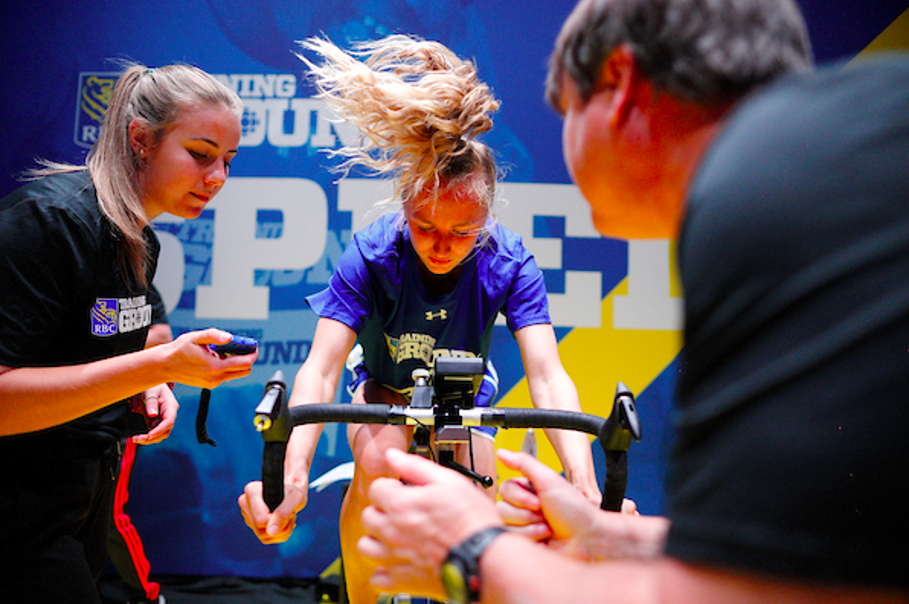 When Lucy Hempstead was a kid, she drew the Olympic rings on her body as the physical mark of a lifelong dream. Today the 20 year old Ottawa area cyclist has her sights firmly set on racing in the 2024 Summer Games in Paris.
But along the way, she recently broke the Guinness World Record for the longest distance covered by a woman on a stationary bike in 24 hours. Her ride also raised $7,000 in support of mental health. It's all part of the way Hempstead rolls.
If you had asked her as a child what sport in which she'd like to compete in the Olympics, it would have been one of her two loves: running or soccer.
"I literally learned to ride a bike at 11 with training wheels in a park up my street and then just never thought about it again," Hempstead recalled.
Hempstead gave up soccer and pursued running full time, but a battle with a severe eating disorder and multiple stress fractures forced her to re-evaluate.
Sports had been a part of Hempstead's life ever since her Grade 2 teacher convinced her to sign up for cross-country running.
"My Grade 2 teacher, Mrs. Khan, was like, 'You need friends and cross country is starting and you should do it.' So, I did it. I signed up and I instantly fell in love with it," Hempstead said.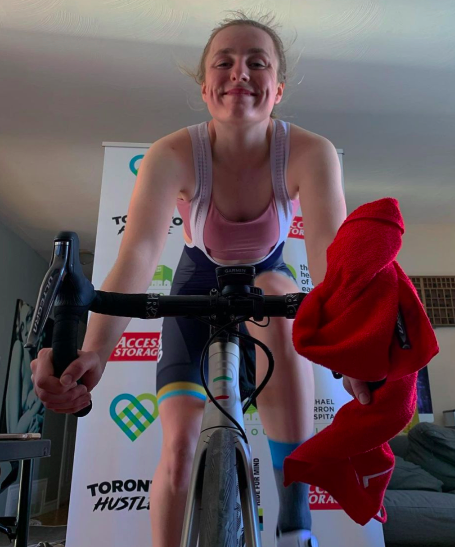 In middle school, Hempstead joined the Ottawa Lions Track and Field Club, and in Grade 9 she began competing in the 400-metre hurdles.
"Once you start doing distance hurdles, and if you're good at it right away, not a lot of people do it — so you kind of have an advantage," she said.
From there, Hempstead's training intensified and landed her on national podiums as well as the University of Ottawa's track and field team. It was also around this time that her mental health began deteriorating rapidly.
"Depression and anxiety got super, super prevalent and I developed a horrible eating disorder through track," Hempstead said. "My coach, at one point, was like, 'You need to go off the pill, you don't look like yourself, you need to lose some weight.' "
Hempstead struggled with anorexia and bulimia. That caused her to become underweight and develop stress fractures. Things got so bad that she had to stop running.
Making the transition
It was Hempstead's mom who helped her regain her passion for sport in a healthier way.
"My mom signed me up for RBC Training Ground and that came at a great time because I was feeling really burnt out in track," Hempstead said. "I felt I wasn't getting anywhere, and I had already done what I could do."
In 2019, after recovering from her injuries, Hempstead joined the thousands of young athletes seeking funding through RBC's talent identification program, which is designed to scout Olympic potential.
During the try-out, Cycling Canada took notice of Hempstead and put her to work in a velodrome. At the end of the program, she was one of 30 finalists to win a two-year contract for funding.
With this financial support, Hempstead gained access to athlete development resources — including her cycling coach, Shawn Clarke, who also got her a job at The Cyclery on Bank Street.
"Through the shop I made connections, and that's how I met the people that wanted to put me on Toronto Hustle (Hempstead's cycling team), and then here we are riding 24 hours," Hempstead said of her March fundraising odyssey.
Before competitive cycling, Hempstead had only depended on a bike for commuting or the occasional spin class. Now, she's counting on it to carry her to her Olympic dreams.
"I wake up so excited to ride my bike and so excited to do workouts because it's what I love doing," Hempstead said. "I forgot what it's like to totally love a sport."
Clarke said she has "gobbled up" everything he's assigned her for training and that it doesn't feel like work coaching an athlete like Hempstead.
"She does everything I tell her or more," Clarke said. "If I talk about a specific race that I think is really cool, she'll go and research it and she'll know who's won it the last six years."
A painful performance
One week after setting her Guinness record, Hempstead recounted her 24-hour ride and the days following it over a video call from her home in Ottawa. Her face cringed as she described the pain she had endured. 
"The next morning, I was just so sore. If I touched my stomach, it was sore," Hempstead said. "My quads were the worst, it was insane. They felt swollen, they were so sore."
Even with this intense physical discomfort, Hempstead said the mental exhaustion she felt after 24 hours on the bike was even greater.
"Mentally I was just out of it. I was coming off of a high — like the highest high ever — and then just crashing and being like, 'I can't talk to anyone anymore,' " she said.
When asked about Hempstead's record, Clarke said he knew she could break the previous record of 680 kilometres. What impressed him the most was the additional 132 km she added to set the new record of 812 km. 
"It was never really a question if she could break it. It was just: How much more could she do after?" Clarke said.
A champion on and off the bike
Ethan Sittlington met Hempstead in September 2020 when they rode from Toronto to Ottawa as teammates during Toronto Hustle's Capital to Capital ride. Since then, Sittlington said, he's gained a lifelong friend.
"She brings so much to the table. She has her own battles, but the way she's dealt with everything shows how much of a warrior she is," he said. "She's probably the best friend I've ever had."
Currently, Hempstead is looking forward to proving what she's capable of in an upcoming series of time trials and gravel races.
Sittlington said he has no doubt that Hempstead will accomplish whatever she sets her mind to.
"I think what she's already accomplished in her career of cycling for only a year and a half speaks volumes," Sittlington said. "I've been cycling for six years now and it's still crazy to me to think someone can ride for 24 hours."
The same sentiment was expressed by Clarke, who said he sees Hempstead heading for a "steep trajectory" of improvement once races start to open up again post-pandemic.
"For sure she'll have a career as a professional at some point. How high she goes is kind of up to her," Clarke said. "The Olympics and world championships in a few years definitely aren't out of reach."
---
More Stories