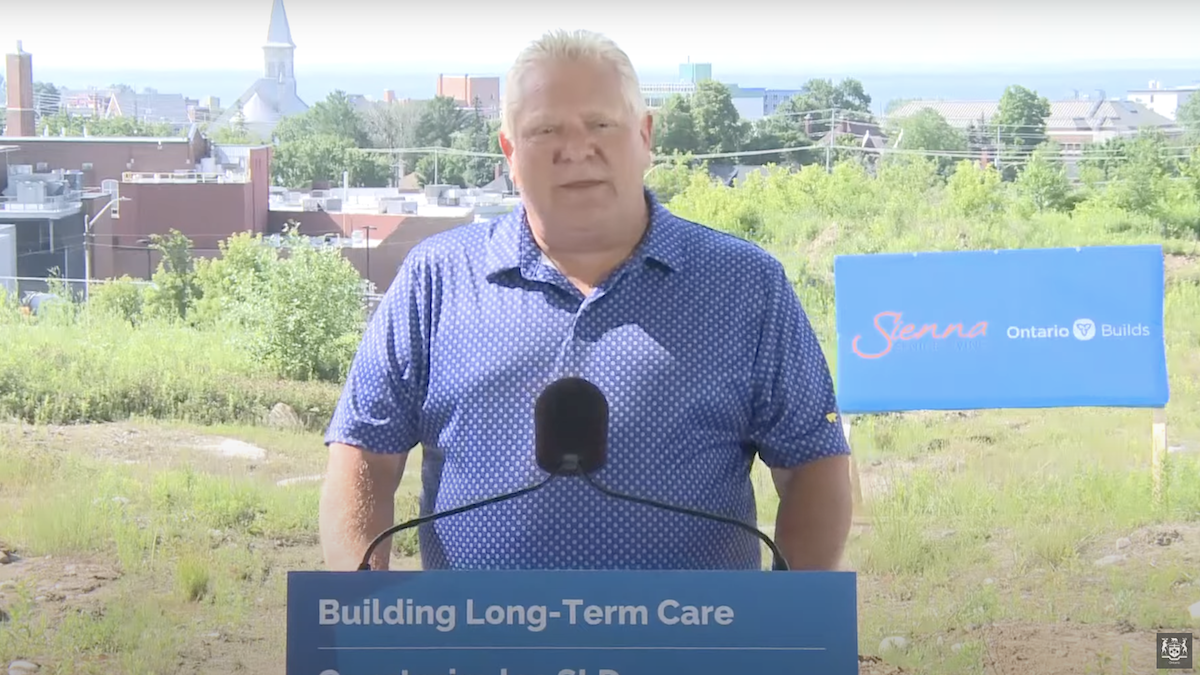 Ontario government officials gathered in the empty lot of what used to be the old St. Joseph's McLaren Hospital site overlooking downtown North Bay to break ground on one of the province's newly announced long-term care projects.
"We are going to build the nicest long-term care home this town has ever seen," said Premier Doug Ford.

Water's Edge Care Community, a long-term care home in North Bay, will be redeveloped and expanded in the new location to provide 160 spaces, 12 more than in the previous location.
The project is part of Ontario's $2.68 billion 10-year plan to create 30,000 new long-term care spaces. The new facility is expected to open in spring 2023.
"Thanks [to] the relentless dedication and commitment of the team members, and government support, there has not been a single resident case of COVID-19 at Water's Edge throughout the entire pandemic," said Nitin Jain, president and CEO of Sienna Senior Living, as he kicked off the day's announcements.

The Ford government's priorization of long-term care comes after a series of harrowing COVID-19 outbreaks in care facilities across the province. There have been 22,000 COVID-19 cases amongst residents and staff since April 24, 2020, and 3,971 residents and 10 staff have died.


Last Tuesday, during his first appearance as the minister of long-term care, Rod Phillips apologized for the COVID-19 crisis in the province's care system.

"I think that anyone who has read the long-term care commission report can't miss the clear conclusion: successive governments, including this one, failed residents, they failed families and they failed our staff," he said.
"On behalf of both past governments and the current government, I apologize for that. I think that's a necessary step, so that we can take the action we need to do now to move forward."

The Ontario COVID-19 Long-Term Care Commission report, released on April 30, found the ministry had "no plan" to protect residents from a pandemic.
The commission pointed to a lack of personal protective equipment, staff shortages, and outdated infrastructure in homes that would not allow for proper isolation of infected residents, as an explanation for the severity of the outbreaks in Ontario.
"The long-term care workforce was stretched to the limit long before COVID-19 struck," read the report. "Several reports had called for additional staff to care for a population that suffered from more dementia and other complex medical issues than in prior generations."
"And yet, there was no plan to provide a surge of workers to replace those who inevitably could not or would not come to work in a pandemic. In most of the homes badly hit by COVID-19, the staffing collapsed."
The province has now committed $4.9 billion over four years to hire more than 27,000 staff for long-term care facilities, including personal support workers, registered nurses, and support staff.
A local reporter said to the premier during a question and answer session, "let's pay these people" in reference to the stated intention to train new long-term care workers.
"Training them is great, but there has to be a reason for them to show up," Campaigne said.

Doug Ford said he "agrees 100 per cent" and committed to maintaining the temporary $3 per hour wage increase for long-term care workers that is set to expire on Aug. 23. 
Ford said it's "a guarantee" but shared no further details, and according to Global News, his office has declined to elaborate further.
---
More Stories