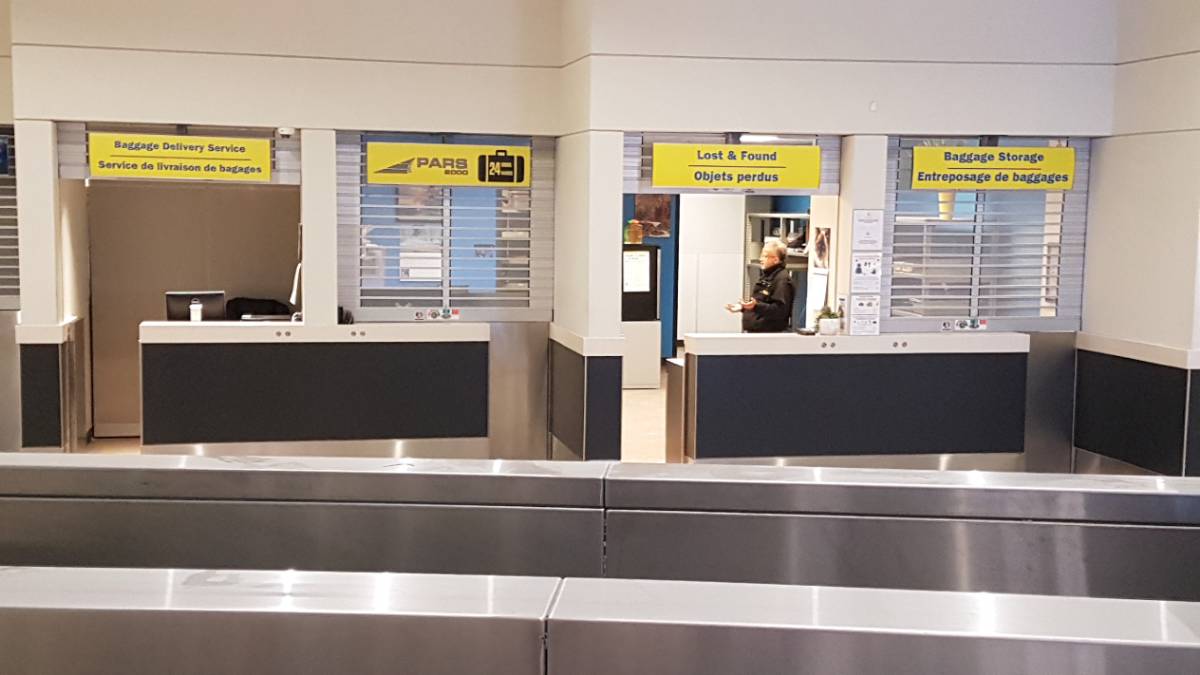 As COVID-19 restrictions continue to hammer the aviation industry, many businesses that depend on Ottawa's Macdonald-Cartier International Airport have closed and those that are open are hopeful they'll be able to just hang on until air travel returns. But the situation is bleak.
"The airport is really basically empty – it's a ghost town," said Saied Moghadam, general manager of PARS 2000, a transportation and storage service that operates out of the airport.
"It's so quiet that the PA system is the only comfort in hearing voices."
Moghadam said his company has reduced its workforce from 52 employees to eight and they have shortened their regular hours for the first time since opening in 1982. Instead of being open 24 hours daily, it is now open from 4 a.m. to 11 p.m.
The COVID-19 pandemic has cut passenger numbers by 90 per cent at the airport, according to Coleman Swartz, the director of commercial development with the Ottawa International Airport Authority. 
The businesses and the airport authority are left collaborating on a balance between health regulations and avoiding bankruptcy. Some concessions adjusted hours and reduced staff while others are closed indefinitely.
PARS 2000's revenue from winter coat checks has taken a huge hit. He said the service normally earns about $8,000 per month during the winter but that has virtually disappeared this year. 
Fewer flights and customers can have harsher effects on local concessions while chains like Tim Hortons or Starbucks have more "fat on the bone," said Marnix Groot, an airport consultant and founder of Airporthistory.org.
According to Swartz, the business owners, or concessionaires, generally pay the airport a fixed fee and a share of their revenue. And Groot says while the revenue share is lower during pandemic restrictions, the minimum payment is often harder to reach for smaller companies. 
Financial support
The Ottawa International Airport Authority, the non-profit corporation leasing the airport land from Transport Canada, collaborates with the concessionaires on a case-by-case basis to decide how to support the businesses during the pandemic, said Swartz. The financial support might include deferring amounts owed or suspending minimum rent payments.
"We want people to survive," he said. "We don't want to insist that people pay us every single dollar they owe us just because the lease says so only to have them go bankrupt."
The authority also updates the concessionaires on passenger numbers while recommending which locations should stay open based on regulations and best practices, said Swartz.
As airports and concessions navigate the current health and safety protocols, they will also face the challenge of rebounding from what Swartz and Groot both called the most significant event in aviation history, eclipsing even events such as the 2008 financial crisis, the aftermath of 9/11, and the 1970s energy crisis.
"They were all glitches on the radar screen, so to speak, compared to what's happening now," said Groot.
But while it could be at least three years before the Ottawa airport returns to its 2019 traffic level of around 5.1 million passengers, Swartz is cautiously optimistic.
"We think international travel's going to be quiet for a little while but we think there should be a domestic rebound," he said. Ottawa could also see a quicker rebound in leisure and business travel from government employees and other businesses, he said.
A survey in July, before the second wave, found that about a third of Canadians would travel by plane, without a vaccine, within their own province while 30 per cent said they would travel by plane to another province.
Moghadam is hopeful that there is pent-up demand that could see business and leisure travel return quickly. He added he does not believe business people will continue negotiating and signing contracts over video calls.
"They still are going to travel, going to stay at hotels, press the flesh and get deals done," said Moghadam.
"I know people want to fly, that's for sure," said Moghadam. "Once the travel restrictions are removed, we're going to see people going to all parts of the world."
---
More Stories