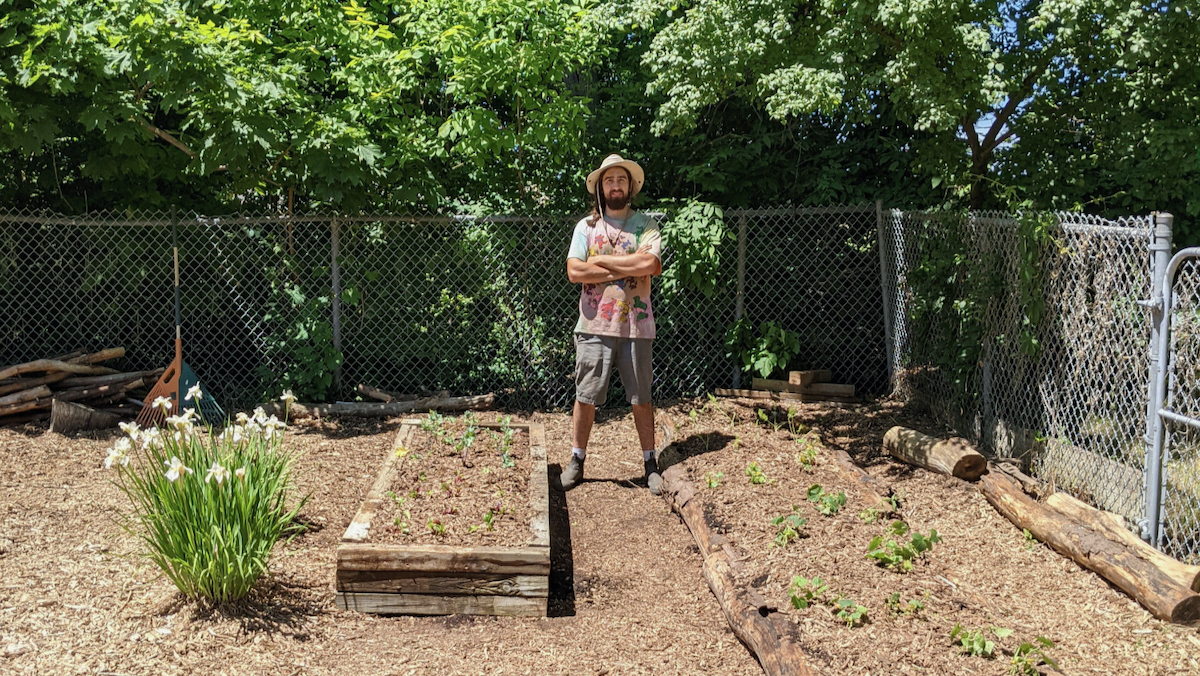 The David Suzuki Future Ground prize will be awarded for the first time in Ontario on June 16. Throughout the month of April, the foundation received more than 130 applicants and narrowed it down to 15 finalists.
The finalists will all join a live meeting with David Suzuki to present their projects. The grand prize is $5,000 and an opportunity to meet Suzuki. Community members can also vote for projects about which they're passionate. The votes count towards one of two prizes: the People's Choice award and the Youth Prize, both with $2,500 awards.
One of the finalists is "Ajashki" which means soil in Algonquin. The purpose of the project is to promote access for youth leaders to Indigenous languages and cultural practices related to gardening. Capital Current reporter Rachel Morgan spoke to one of the project heads, Kayoki Whiteduck, while he was tending his own garden, to learn about the initiative.
Where did the idea for this project come from?
It came from two things. One, my support circles at the First Unitarian, they wanted to have some sort of project like this going. But also, I've always liked the idea of teaching people how to grow their own food. I think that's one of the key solutions to climate change. Our two ideas met. When we got together, we kind of both brainstormed and came up with this project.
What is the main scope of the project?
I'd say to teach people how to grow their own food or produce their own food and live a healthier lifestyle connected to the land in that way.
How many of you are there working on this project then?
There are two main leads. That's me and another person from my community named Jazzmin. And then our support circle is, oh, boy, there are about three to four core people in our support circle that helped us with everything. But there are probably almost a dozen other people who help in various ways.
What does a typical day on the project look like?
Well, because of COVID, everything is not going as fast as we would like. But when we're fully functional, we're hoping to do two days a week with two different groups of participants for about six hours a day. Three to four hours of it being straight learning about gardening, and another two hours of various activities. All of our participants are Indigenous youth so we also want to have traditional aspects to it as well, so that they can learn about their cultures. But right now, we're actually just getting our participants now to come. I think we're starting with them sometime in late June. It's going to start slow, maybe two to three hours a day, being gardening, and then hopefully to 12-hour weeks.
What made you decide to apply for the David Suzuki Future Ground Prize?
We were looking for funding for our project so we can take it bigger. Eventually we want to increase the size of our project and have more participants. Our projects fit the criteria when we were told about it, so we decided to apply.
If the project wins, what the money mean?
Most likely to start out the projects. We have a little bit of funding here and there, but we'd like a large chunk of funding so we could start. We're starting off a very small project; we only have one bed in the ground right now. We're looking to eventually expand to different areas, not just growing in our place right now. Urban agriculture is what we're trying to teach. We're running a few programs at places that we're going to partner with to have gardens everywhere. Our mission is to have gardens across the city that we work on and take care of with the youth. To get to that end goal, we would been building more gardens and need agricultural supplies: seed, soil, building materials, watering, those kinds of things.
What has been your favourite part about working on this project?
I love gardening. I'm doing it as we speak. I think part of my mission in life is to get people to grow their own food. I feel like it's really important. It should be taught in school. Once COVID is not such a big threat any more and we actually have the participants, I know I'm going to be able to teach what I love to do to other people for the benefit of not just the people involved, but the whole planet in my eyes.
---
More Stories