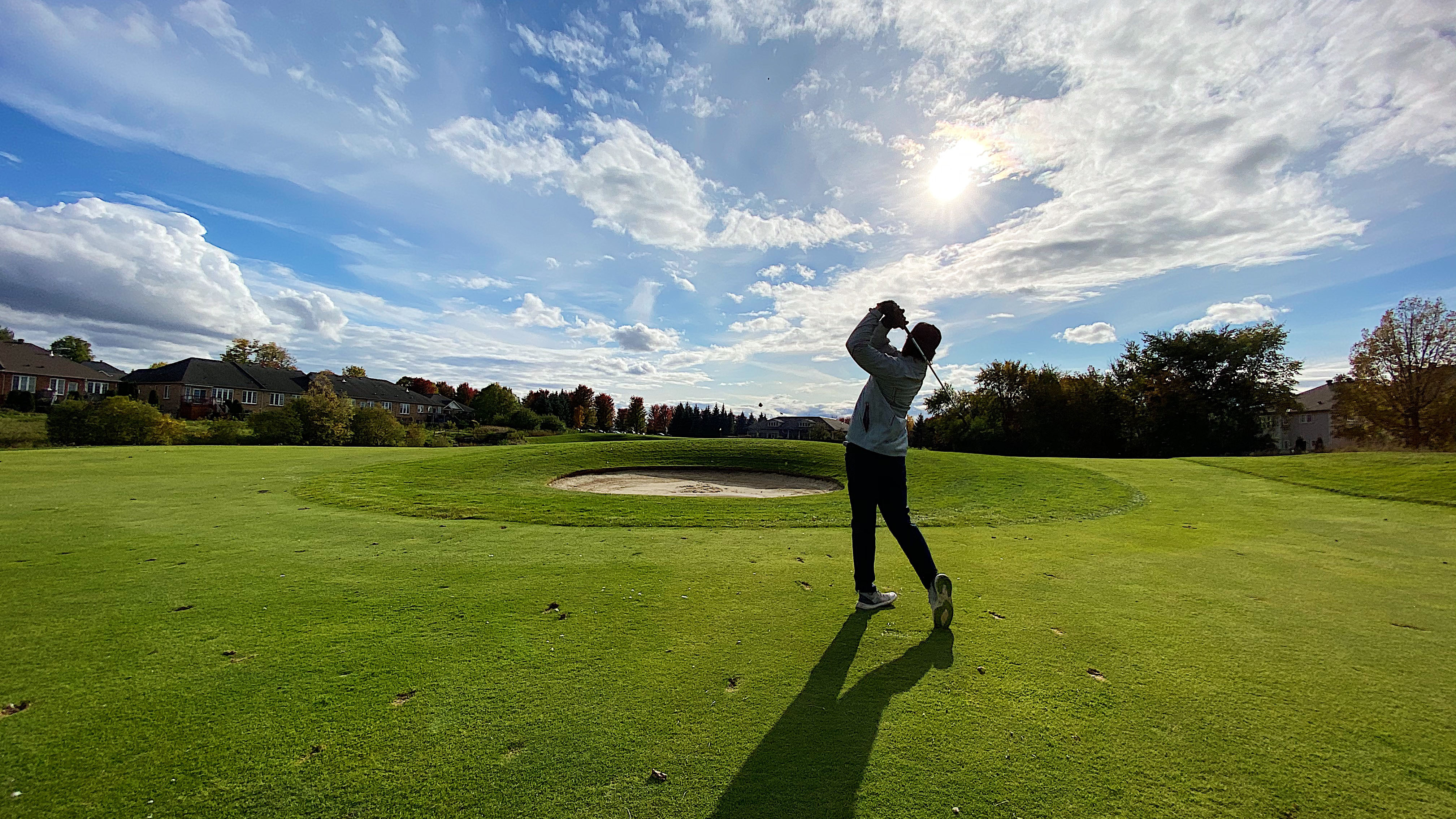 While many businesses have struggled because of COVID-19, Ottawa's golf clubs have in some ways benefited from the public health crisis as they became the go-to recreational outlet for thousands this past the summer. That has been underlined with the Oct. 9 lockdown of team sports in Ontario because of the pandemic's second wave —
An individual game played outdoors, where social distancing is easily accomplished, has been golf's main edge over other sporting activities.
This success story, however, has not played out across the board, as some clubs have lost revenue from other income streams.
The golf season got off to a late start, as the Ontario government did not lift restrictions to reopen golf courses across the province until May 16, a few weeks after the normal start date. Nonetheless, booking an available tee time was difficult at times this summer, as clubs across Ottawa experienced record high numbers of daily golfers throughout the season.
"We were pretty much the only sport people were allowed to do for the majority of the summer, so we were packed every day from open to close," said Joe Warner, director of golf at Stonebridge Golf Club in Nepean.
New visitors
Stonebridge was one of many area clubs experiencing an influx in new daily visitors because of COVID. It's not that they were getting record numbers of new members, but newcomers to the course and others trying the sport for the first time this season were playing a lot more — which was a pattern across the board.
Warner reported that during August, Stonebridge had hosted more than 20,000 rounds of golf, in comparison to an average 16,500 over the same month in other years.
"Throughout the entire season our play has been up about 20 per cent," said Warner.
Ryan Sherwood, assistant manager at Emerald Links Golf and Country Club in the south Ottawa community of Greely, also reported a 20-per-cent increase in golfers during the week, with weekends up 25 per cent.
Sherwood believes the combination of regular golfers using the sport as their recreational getaway, and the influx of new golfers trying the sport played a key role in the club's success this season.
"The biggest change we've seen is the increase in casual walk-ins of new golfers filling tee times that we had trouble filling in the past," said Sherwood.
Danielle Nadon, manager at Loch March Golf and Country Club in west-end Carp, reported a similar increase in business. "I've been a member of the PGA for 40 years and I've never seen an interest in golf like it's been this season, and I think it's been everywhere — not just at Loch March."
According to Nadon, more than 200 golfers a day have been teeing off at Loch March since they opened this season, with last season's numbers averaging around 140.
"It's without a doubt been one of our best seasons in the number of rounds that we've had at the golf course," said Nadon.
Social distancing, which is a natural aspect of golf — even when players are in groups in four — has meant that the protocols around the game did not need any significant adjustments. That has been key to the industry's overall success during the pandemic.
However, golf courses have implemented certain safety measures. Masks must be worn at all times in pro shops where fees are paid and equipment, supplies and snacks are typically purchased. Seats in enclosed golf carts are typically separated by a plastic sheet hanging from the roof. Sand trap rakes have been removed from courses to prevent multiple players from touching the same object, and for the same reason no-touch ball retrievers have been added at each hole.
Mental health benefits
The benefits to mental health that golfing has offered players during these unprecedented, stressful times may have been the main reason that regular golfers and newcomers to the sport played record numbers of rounds this summer.
Dave Kalil, a PGA professional and golf teacher since 1995, said he believes the popularity of golf this season was because of the escape it could offer from the stresses of the pandemic.
"You can't stay cooped up, so playing golf definitely played a role in helping out with overall mental health," said Kalil.
Kalil offers private golf lessons at the Ottawa Hunt and Golf Club and was teaching up to 10 people a day this summer. Numbers are typically closer to five.
"It's a way to get away from everything and feel like life is somewhat normal while you're on the golf course. You can concentrate on one shot at a time, and just enjoy the atmosphere and challenge of each shot."
Stonebridge member Laurna Lashley said she's been golfing three to four times a week the entire season as a way to handle the stresses of the pandemic.
"It's really become my social life during this time. We can chat freely as we go through the course, and just enjoy the days," said Lashley.
While the record numbers of customers have been a boon for Ottawa's golf courses, many clubs that offer extra amenities such as restaurants, wedding venues, banquets, tournaments, prom events and corporate gatherings have suffered major losses.
And the late start to the season meant that golf clubs across Ontario lost an average of 19 days of business in the early part of the year. While the clubs were shuttered as "non-essential" businesses for almost three weeks, the costs of running a club were still adding up, and there were also investments required for personal protection products for staff and other expenditures.
COVID consequences
Darin McCorriston, president of TMSI — which owns and manages four area golf courses, including eQuinelle in Kemptville, Amberwood in Stittsville, Thunderbird near Carp and Les Vieux-Moulins in Gatineau — said the company has experienced COVID impacts at all of its properties.
"As a sport, golf has had an extremely successful year, but there were expenses to go along with that, as well," he said.
Thunderbird Sports Centre has recorded one of its most successful seasons in terms of golf rounds in the last decade, according to McCorriston.
For clubs such as eQuinelle, however, because it's high-ranking course that typically attracts full booking, the pandemic's positive impacts were not as great.
"On a profit and loss sheet, golf has obviously been up this year, but it completely depends on the type of product you own or manage," said McCorriston.
Clubs such as Thunderbird were able to thrive during COVID because their operating and amenity costs are a lot lower than at clubs such as eQuinelle.
To illustrate, while both courses' tee times were fully booked, and both experienced a drop in the food and beverage sector by 70 per cent, Thunderbird was able to increase its course use from 60 per cent to 90 per cent, while eQuinelle had to close amenities such as its restaurant, lay off staff such as wedding planners, and lost all the money that was invested into wedding and special golf events for the summer.
Bottom line
Greg Robertson, superintendent of the Stittsville Golf Course, said its bottom line is actually very similar to last year. Even though the tee times saw a significant increase, the staffing and sanitization demands were higher, events were cancelled, and the food and beverage revenue took a large hit.
"We are dealing with higher volumes of golfers but the added obstacles of ensuring that everyone can golf safely and the lower traffic through the restaurants probably countered that," said Robertson.
Although next season still remains uncertain during COVID times, some club owners and managers — such as Sherwood and McCorriston — don't believe that the boost in golfers this year will be just a one-off. Instead, they are optimistic that there will be a decent carry over effect into next season.
"I think that at least 50 per cent of the traffic that we've had is that new demographic of golfers that have tried the sport out for the first time, and I do think we will see similar numbers next year," said Sherwood.