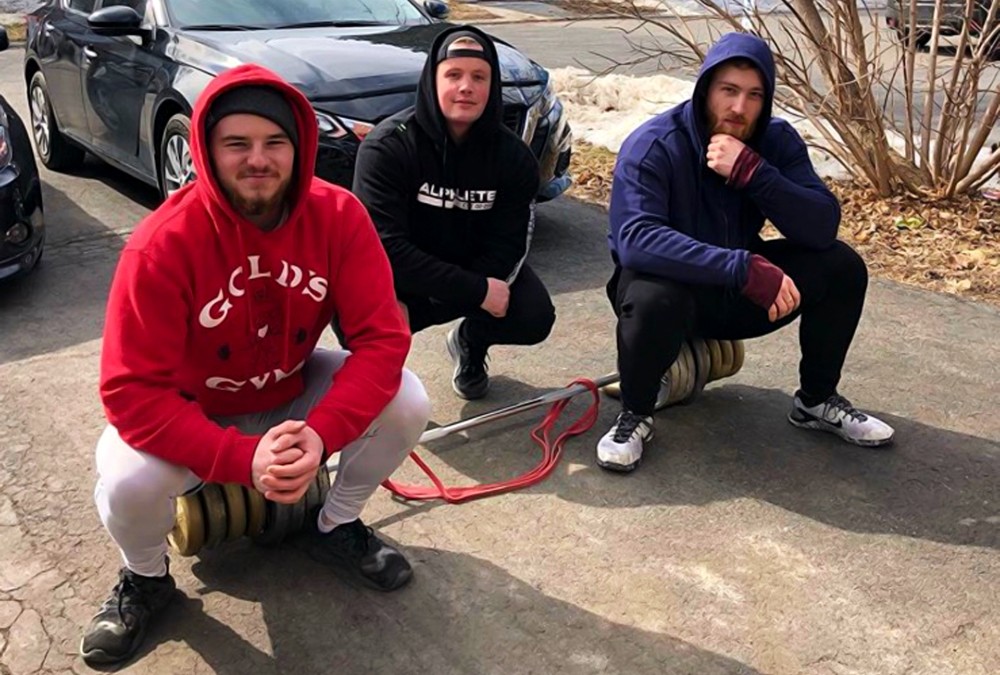 Gyms in Ottawa are among the facilities forced to close by Ontario's shutdown of non-essential businesses, leaving exercise enthusiasts looking for alternative ways of staying in shape.
Travis Moriarty, 20, is part of a new group of fitness lovers who responded to the gym closures by filling a driveway with a bench press, exercise mats and more than 100 kilograms of weights.
"When this thing happened we all freaked out a little bit," says Moriarty, who's been consistently going to the gym for more than four years. "We're trying to maintain as much progress as possible." 
Although the group's equipment doesn't quite meet the standards of a conventional gym, it hasn't stopped members from getting the results they want. To make weight-lifting more challenging, Moriarty and his friends dangle kettlebells from both ends of a steel bar stacked with plates of weight.
While the group is getting together five to six times a week at one of the member's houses, Moriarty says everyone is disinfecting the equipment after each use and limiting the workout group to three people. 
"We're still trying to do physical things and not go completely insane," Moriarty says. "Personally, If I don't exercise for a few days, it drains on me mentally."
According to a recent Participaction report, "adults living in Canada should be moving more and sitting less. Doing more physical activity in the moderate- and vigorous-intensity zones is associated with greater fitness and health benefits." However, Statistics Canada data shows that only 18 per cent of men and 13 per cent of women aged 18 to 39 met physical activity guidelines in 2017.
Jason Ingham, a personal trainer at GoodLife Fitness, says exercise is critical to maintaining positive mental health.
"The number one thing is it's an easy way to defuse anxiety," Ingham says. "I feel like people being cooped up inside can kind of trigger that a little bit and (exercise) is a good way to channel that."
GoodLife closed its facilities on March 16. Ingham says he's still checking in with clients using video calls and sending them workouts electronically.
Ingham says his clients are in need of "guidance along the way," now that it's tougher for them to stay active.
Myles Anderson, 23, says he was devastated when the gyms closed. He explained exercising took up most of his daily activity because he's laid off work during the winters. "It's honestly the worst," Anderson says. "You don't really notice how much it sucks until you're not able to work out."
But, Anderson managed to create an improvised fitness spot after he dusted off old weights from his work at Rebel Tents.
Although the makeshift gym is a 35-minute drive from his house, Anderson says he's grateful to have a place to exercise.
"I'm lucky compared to a lot of people who aren't able to workout at all," Anderson says. "It's a really good feeling that I'm able to work out as much as I can."
Ingham says social distancing offers an opportunity for people to live life at a slower pace and focus on personal development. 
"Whether it's sitting down to read a book, or taking a hot bath, general meditation," Ingham says. "These are easy ways to get out of your own head and sort of examine your feelings a little bit and not be controlled by them."