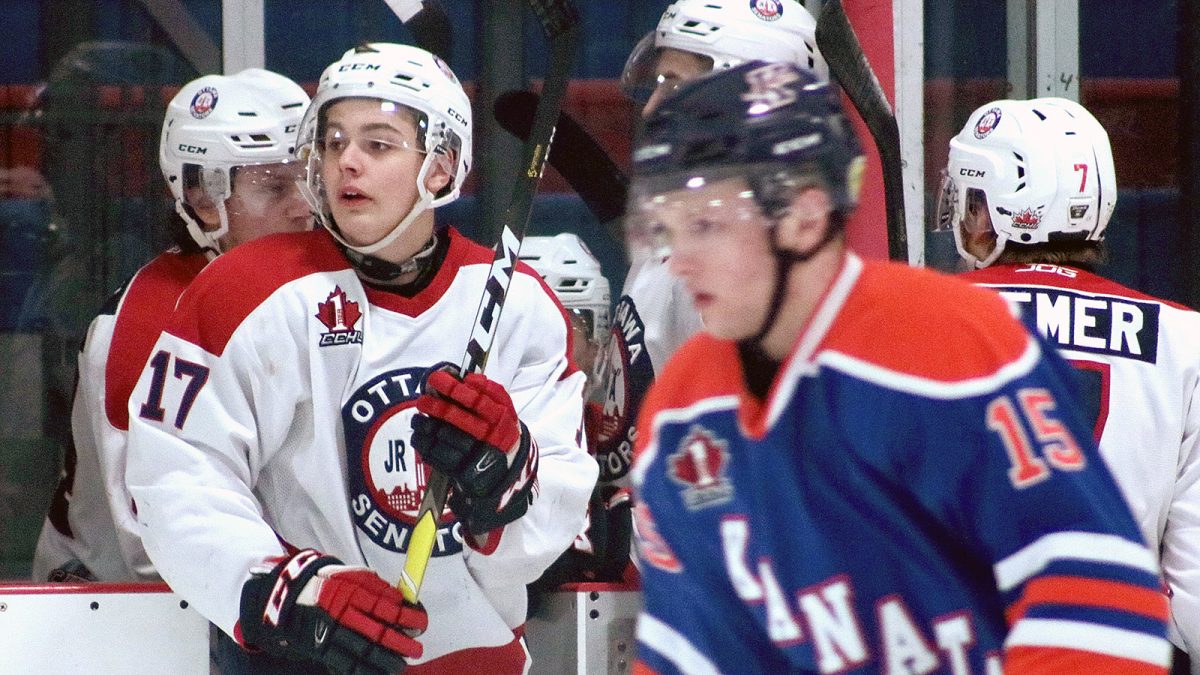 Every time Ottawa Jr. Senators volunteer Rose Courchaine sings "Jackson" by Johnny Cash before a game, the team's star rookie scores. Or so she says.

So on Mar. 9, as the Jr. Senators were getting ready to take on the Kanata Lasers, Courchaine sang the iconic tune to herself before taking her place at the gate, where she ushered players onto the ice with a smile and a fist bump. Kyle Jackson was the last one to pass.
At 16, Jackson is younger than everyone else on the ice by more than a year. There's a good chance he's also better. The North Bay Battalion prospect and 2021 NHL Draft hopeful is spending the season with the Ottawa Jr. Senators in the Central Canada Hockey League, and what a season it' has become.
"He's definitely the top rookie in the league," said Jr. Senators head coach Martin Dagenais. "I don't think there's anyone close to him right now."

League officials agree. "Jacko" has already won the CCHL's rookie of the year award. He leads the league in rookie scoring and is 16th overall, despite most of his peers are two to four years older. He now plays on what would be considered the Jr. Sens' top line, with two 20-year-olds who are top-10 in league scoring.
Release | @OttawaJrSens Kyle Jackson named 2018-19 @TheCCHL Rookie of the Year

📷 https://t.co/ijdDBvZ7QI
Graphic: Mark Kelly

More | https://t.co/FjUwRntKJb pic.twitter.com/0i6G4bmgii

— CCHL (@TheCCHL) March 11, 2019
Team captain and linemate Darcy Walsh has spent four years in the CCHL and says his young wingman is "the best 16-year-old I've ever seen in this league."

Despite his skills and bright future, Jackson still does his rookie duties for the team. After the buzzer sounds to end the warm-up, he stoops over to load the team's pucks into a milk crate. There's no glamour in being a young star in this league.
The CCHL is Junior 'A', one level under Major Junior leagues like the Ontario Hockey League, where the Ottawa 67's play. While many OHL players are drafted by NHL teams, CCHL players hope to win scholarships to American colleges; others simply have nowhere else to play. On occasion, young players who aren't quite ready to play in the OHL are loaned to CCHL teams to develop until they're ready, which is what the North Bay Battalion have done by sending Jackson to the Jr. Sens this season.
North Bay draws around 2,300 fans to their games, only around 160 line the bleachers for the Jr. Sens' game against Kanata. At OHL intermissions, contest winners compete in on-ice challenges. Intermissions at Jim Durrell Recreation Centre are less polished; it takes all of 15 minutes for the Zamboni driver to pilot the vehicle around the ice.
Early in the second period, the Ottawa Jr. Senators are locked in a goalless tie with the Kanata Lasers and Jackson's line is hunting the puck in the offensive zone. Jr. Sens captain Darcy Walsh threads a pass under a Kanata defender's stick and Jackson receives it in the slot, all alone with Lasers' goalie Gabriel Carriere. Jackson moves to his left, faking forehand, and quickly pulls the puck the other direction to his backhand. The goalie bites. With a flick of his wrist, Jackson sends a shot sailing over Carriere's outstretched glove for the game's first goal. People in the crowd jump to their feet.
Jackson downplays his contribution on the goal. "It was a great play by Walshy."
Despite the glowing reviews and current success on the ice, this season hasn't been easy for Jackson. He struggled at the start and faced heavy scrutiny from his coach.
"We were really, really hard on him in December," said Dagenais, who doubted his star's ability to execute under pressure. "I told him, 'I think if the playoffs were to start today, you'd be a healthy scratch.'"
Jackson took the meeting as a learning point. "Looking back now it was a very good thing," he said. "It just motivated me and ever since then everything's gone uphill and hopefully he's [Dagenais] changed his mind."
Jackson is a quiet presence on the bench, but he's answered the coach's challenge with his play, and others have noticed too. Jackson is expected to play full time in the OHL with the Battalion next season and will be eligible for the 2021 NHL Draft. Dagenais believes he has a good shot.

"I think he can be a kid that will be drafted into the NHL," said Dagenais. "I'd be surprised if he doesn't get drafted."

"The last four games he was [in North Bay]," said Dagenais, "he was playing on their top line. They feel he could be a top six guy for them right now, that's how fast he's progressed."

There are several reasons Jackson has improved so quickly, one of them being his size. His eliteprospects page updated last year has him listed at 5-foot 11, 143 pounds. He laughs at that; he's obviously grown since then. His coach says he's around 6'2" right now, and he has to crane his neck to make eye contact when talking to Jackson.

Jackson says he feels confidence is a big factor too.
"At the start of the year I don't think my confidence was as high, but as I started to play in this league and get used to the strength and speed it helped a lot and built my confidence," he said. "Once I started playing, it kept rolling and everything was going my way."

Confidence doesn't mean a swollen ego though, said Walsh. "He's very humble and he's a beauty."

Dagenais compares Jackson to veteran NHL player Ben Pouliot, a former CCHLer who made it big. "He was so big and if you put him with big players he could produce," he said. "Similar in body type, but just the moves they can make with their hands."
Pouliot had 42 points in 45 games played with the Hawkesbury Hawks in 2003-04, Jackson put up 54 points in 51 games this season.

The final buzzer confirms a 3-1 victory for the Jr. Senators, moving the team up to second place in the league. Though captain Walsh assisted on Jackson's goal, he still insists "there's not much you can help him with."

Rose Courchaine will probably keep singing some Johnny Cash though, just in case.
Related story: Tye Felhaber is making his last shot with Ottawa 67's one for the record books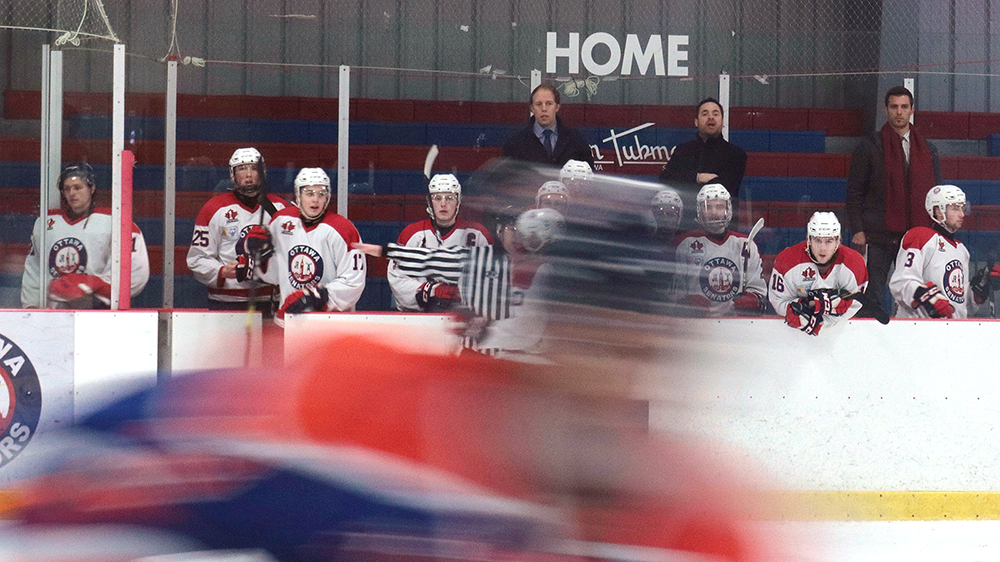 ---
More Stories