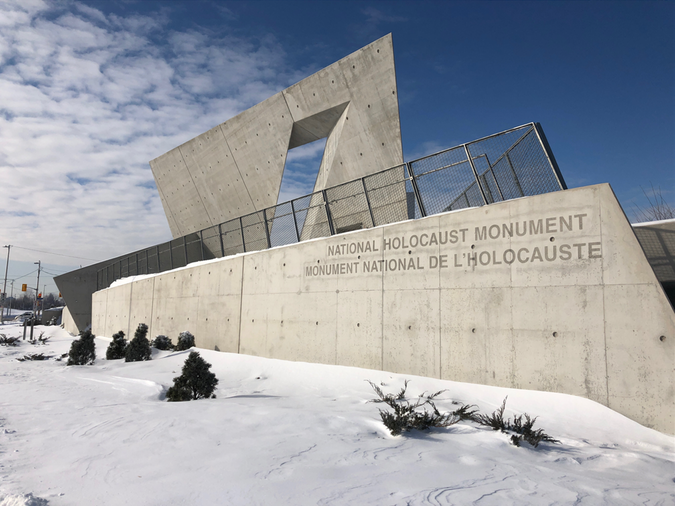 In the wake of vandalism at the National Holocaust Monument, some Jewish community members are calling for more security at religious institutions.
Ottawa Police have confirmed that eggs were smashed into the side of the memorial, which is dedicated to the six million Jews who were systematically killed by the Nazi regime in Germany during the Second World War.  
In response to a spike in reported hate crimes, the Ottawa Police have reinstated a specialized hate crime section. This was done ironically just days before the incident at the Holocaust memorial. There had been a growing number of incidents: 110 reports of hate-related incidents in 2019, up from 104 in 2018 and 95 in 2017. Ottawa Police said in a statement that relaunching the hate crimes unit "will further enhance changes it made to its online reporting system that make it easier for residents to report hate-motivated incidents."
Mina Cohn, the Director for the Centre for Holocaust Education and Scholarship at Carleton University, said in an email she was pleased that Ottawa Police had re-engaged its hate crime response.
"Fighting anti-Semitism is not only the responsibility of the Jewish community, everyone who is concerned with democracy and human rights should stand up against anti-Semitism," she said. 
Martin Sampson, vice president communications and marketing at the Centre for Israel and Jewish Affairs, said there will be no formal initiative taken by the Jewish community in response to the vandalism at the memorial.
"The Jewish community is used to this," he said. "We are a resilient community and what we remind our community members is that we must remain vigilant, but we must press on with Jewish life. So, we recommend no change in behaviour." 
The National Capital Commission has responsibility for monuments. The National Holocaust Monument is closely monitored by security while ensuring "a respectful experience for visitors," said Sophia Benjelloun, strategic communications advisor at the NCC. 
Within the memorial, there are six security cameras. The monument is also routinely checked by Ottawa Police, according to an officer stationed outside. 
"The NCC has worked with the Ottawa Police Service since the onset of this incident and has increased patrolling," Benjelloun said.
Benjelloun indicated they do not have records of a similar incident at the monument.
Ran Ukashi of B'nai Brith Canada said more security at Jewish institutions is unfortunately necessary. 
"When you go to synagogues and Jewish institutions around Europe and Latin America and elsewhere in the world, it's a foregone conclusion that those kinds of investments are absolutely necessary," he said.
Some governments do help with security subsidies and funding to an extent for community programs and other programing institutions, said Ukashi.
"We have seen the consequences of not having enough security protection," he said.
"We certainly need more of that though, given the disproportionate threat faced by Jewish communal institutions. That's an unfortunate reality but that currently is a reality we have to face."
Statistics Canada's most recent hate crime report indicates that Judaism remains the most frequently targeted religion, with an incident taking place roughly every 24 hours in 2018. 
Incidents tabulated by B'nai Brith range from vandalism, harassment to violence. They saw 2,041 instances occur in Canada in 2018 according to the group's annual audit. It was the first time that there have been more than 2,000 incidents since 1982.
"As a general rule, the Jewish community is extremely sensitive to and vigilant about these types of behaviours," said Sampson.
Cohn, who is a child of Holocaust survivors, said the defacement of the monument left her both "horrified and troubled."
Ukashi said that while the vandalism is hurtful and painful, it is important not to despair.
"Anti-Semitism still is a marginal phenomenon in Canada despite the fact that Jews are disproportionately affected by hate crimes," he said. 
Ottawa Police declined to comment on the status of the investigation. They say they are looking for a Caucasian male, 20-25 years old, five feet 10 inches to six feet tall based on images from a surveillance camera outside of the memorial. 
https://create.piktochart.com/output/44174248-hate
---
More Stories