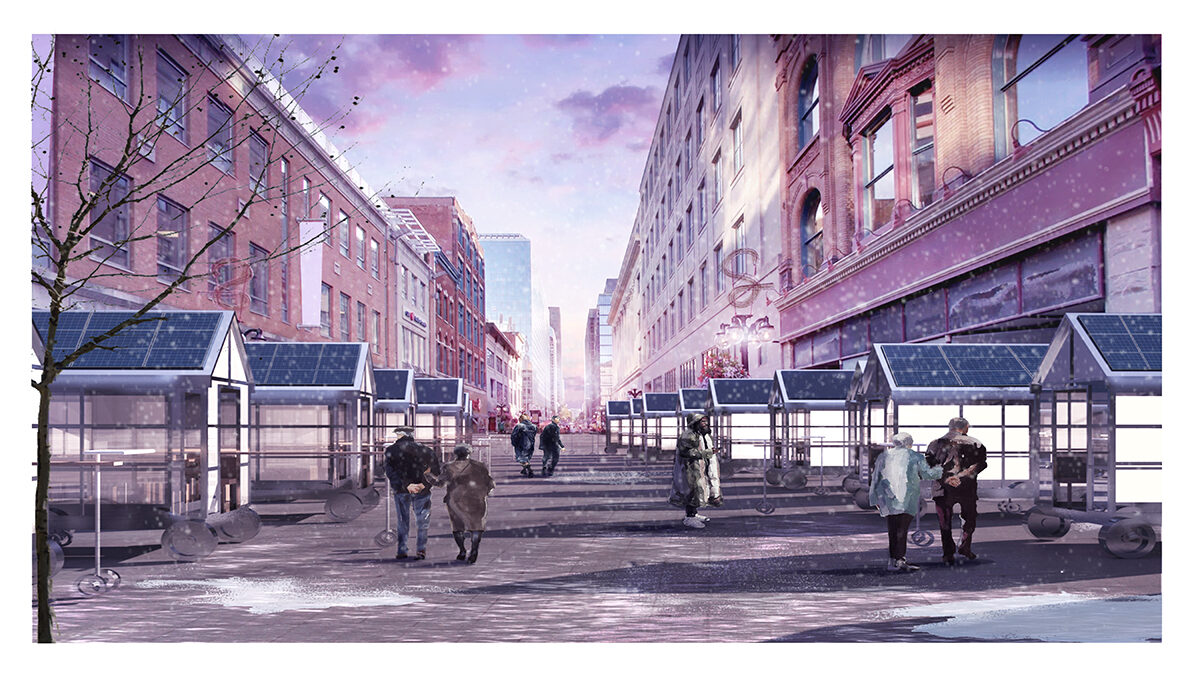 Although indoor dining restrictions have been lifted in Ontario, many people are still not comfortable sitting with strangers under the same roof without a mask.
Researchers from the Azrieli School of Architecture and Urbanism at Carleton University came up with solutions whereby outdoor dining can be made permanent in Ottawa year-round, ensuring a future for socially distant dining and a greater degree of safety from COVID-19.
Shelby Hagerman and Rehab Salama, recent graduates from the School of Architecture and Urbanism, were involved in the project.
"We tried to have a range of ideas that could get the public [thinking] about dining and how we can transform our public spaces," said Salama.
The students and their professor Jill Stoner have published a design handbook titled "Dinner in the street: Dining safely and socially in the pandemic city and beyond."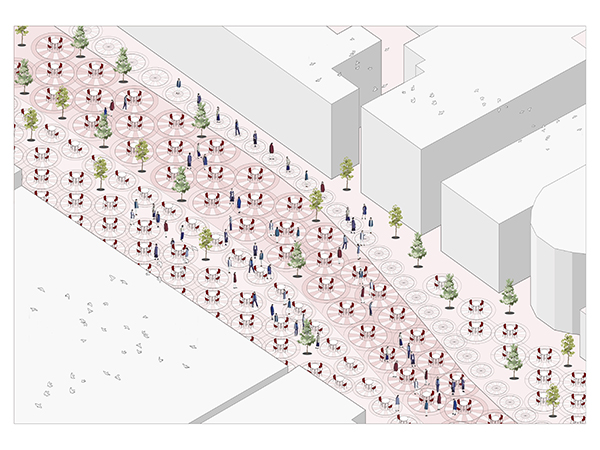 The ideas they suggest range from closing traffic permanently in some streets, to planting wheat fields or vegetable gardens in others, to having robotic serving birds and seating stuffed animals on empty chairs to maintain social distancing rules.
Hagerman said that although the project began in April 2020 as a reaction to the changing COVID-19 restrictions placed on restaurant spaces, they tried to imagine what the dining experience could look like beyond the pandemic.
She said restaurant owners they talked to as part of the research, anticipated that customer behaviour might change post-pandemic. For example, some guests might remain reluctant about indoor dining, Hagerman said, based on her interview with the owners.  
Dining outdoors year-round
In the handbook, the researchers reimagined six of Ottawa-area restaurant destinations – George and York streets, cul-de-sacs west of Preston Street, Daly and Argyle avenues and on Hazel Street.
They proposed permanently closing George and York streets in the Byward Market to vehicle traffic, repaving the streets with patterns to ensure physical distancing, revamping restaurant interiors to make room for storefront kitchens, providing public washrooms and offering seasonal storage for tables and chairs.
In winter, the researchers suggested use of mobile cabins or tents with various capacity sizes.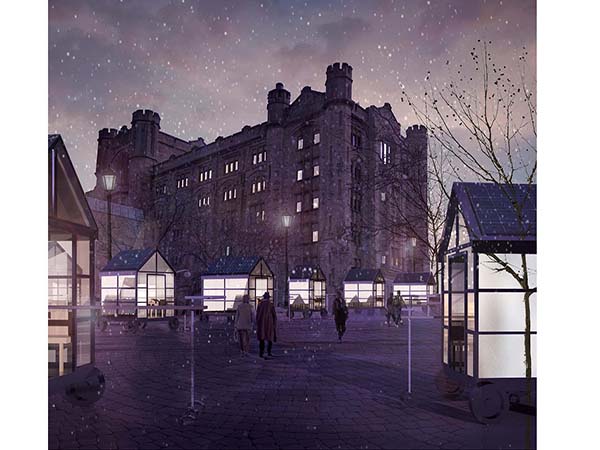 "The winter months were kind of a really big question for us," said Salama. "Especially approaching winter, we were kind of worried or kind of wondering about what the future dining would look like in these months where you can't have patio dining."
Salama said their winter cabins and tents were inspired by what people were doing around the world.
But they also paid attention to localizing the solutions to suit Ottawa, added Hagerman.
Ilon Tyan, director of marketing at Dreammind Group that owns the Byward Market eatery Moscow Tea Room, expressed skepticism about the winter cabins.
In an email to Capital Current, Tyan wrote: "I think it would be fun for tourists, but it would not be something that will get a regular Ottawa resident out of the house on a regular basis."
About the proposal to permanently close traffic on George Street, right around the corner of Moscow Tea Room, Tyan wrote: "I think it would be [a] great space provided it doesn't create traffic congestion [or] difficulty [in] parking and driving through the Market; as much as it can be a draw it can easily become a deterrent for potential diners."
"There are always people who will complain about the traffic and the parking in the Market, unfortunately, and it's always going to be difficult," Hagerman said.
She noted that many parts of the Byward Market have been closed to traffic this summer and the last "more so than usual" to facilitate the opening of patios.
"Our project wants to really just encourage some of these visions, or some of these may be small adaptations that were found during the pandemic, and sort of push them forward into the future," Hagerman said.