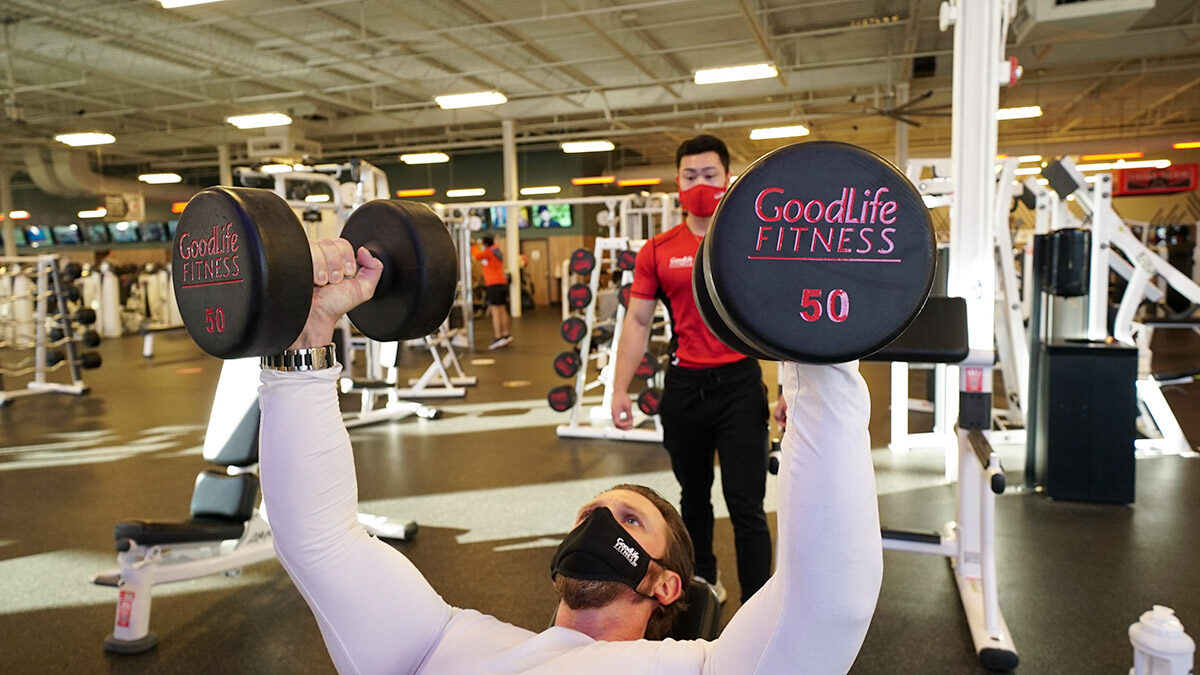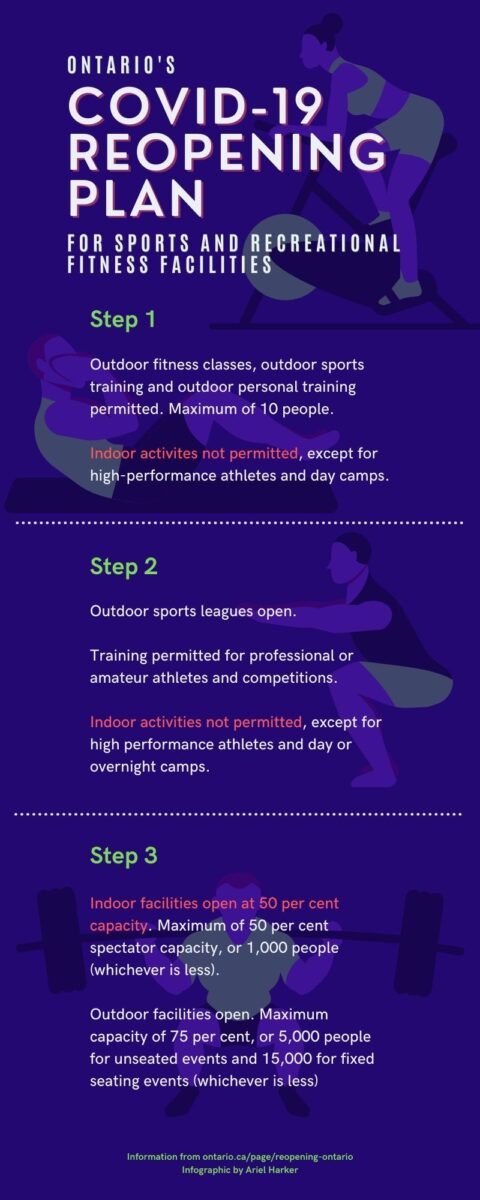 After months of sitting empty, gyms in Ontario can open again on Friday as the province moves into Step 3 of its plan.
Reopening was moved up almost a week early from its original target of July 21.
In Step 3, indoor sports and recreational fitness facilities can open at 50 per cent capacity. Indoor fitness classes and personal training are also permitted with a maximum capacity of 50 per cent.
With reduced capacity and new safety measures, one local fitness expert says things in the gym are very different from March 2020.
"It's almost like trying to learn how to run a new business," said Everett Sloan, the owner of Crossfit Bytown.
Sloan says he's feeling good about the reopening but thinks the transition to 50 per cent capacity is abrupt. His gym's fire code capacity is 64 people, meaning he's allowed 32 people inside – but Sloan said he can't fit more than 10 or 12 because of physical distancing requirements.
The earlier-than-anticipated opening also came as a surprise.
"Honestly, it's probably hurting us more," said Sloan. He had planned to open on July 21. Knowing they'd be busy at the end of July, many of his staff have taken time off. When the opening got pushed up a week, suddenly half his staff was unavailable.
"It's been a long road for fitness professionals," said Joe Allan, the GoodLife Fitness manager for the Ottawa, Kingston, Belleville and Peterborough region. GoodLife Fitness employs more than 8,000 people in Ontario, he said, and they've been eagerly awaiting the return to gyms.
"Our focus now is to strike an important balance between providing the safest club environment and really an exceptional experience for our members and associates," said Allan.
The 50 per cent capacity permitted under Step 3 is the largest since the pandemic began, said Allan.
"To kind of put it in perspective, most of our clubs and locations are 25,000 square feet or more," said Allan. That will allow ample space to physically distance, he said.
"We don't anticipate any wait times to get into the club," said Allan. "We're excited that members will have the freedom to walk in and work out whenever it's convenient for them."
Making gyms safe
In March of 2020, Crossfit Bytown had about 250 members, said Sloan. During the pandemic, more people dropped off during each lockdown, as it got harder to keep people motivated, or members moved because of job changes. As of last month, about 40 per cent of their pre-pandemic membership remained.
To complicate matters, at the end of February, Crossfit Bytown was evicted by its landlord, who wanted to take advantage of the booming housing market and tear the building down to build condos.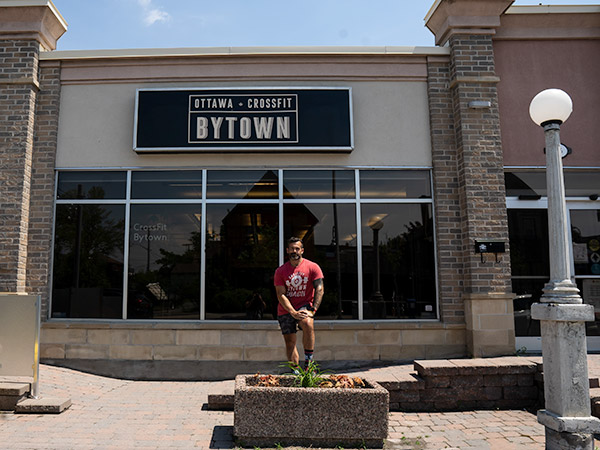 "We kind of took advantage of the bad situation and built the perfect COVID gym," said Sloan.
Their new location at 255 Preston St. has sealed walls and floors that can be cleaned without worrying about water damage, said Sloan, and the building has an HVAC system with a UV light filter. Air quality analyzers provide visual feedback.
Sloan also has rapid COVID-19 kits to test staff three times a week, and face shields for the coaches. He got an electrostatic spray gun to disinfect equipment quickly.
"It wasn't the best time to be spending all that money for the renovations, but we didn't really have a choice and it ended up being a better situation," he said.
"Our teams are well prepared, we're trained, and our clubs are cleaner than they've ever been," said Allan. "We're using hospital grade cleaning solutions."
Masks will be a hot topic, said Allan. People are asked to wear masks at all times they're able to. Masks are mandatory on entry and exit, in change rooms, and moving between stations.
"I think everyone has a different level of comfort with the most recent public health guidance," he said. "We're asking our members just to be mindful, considerate of one another."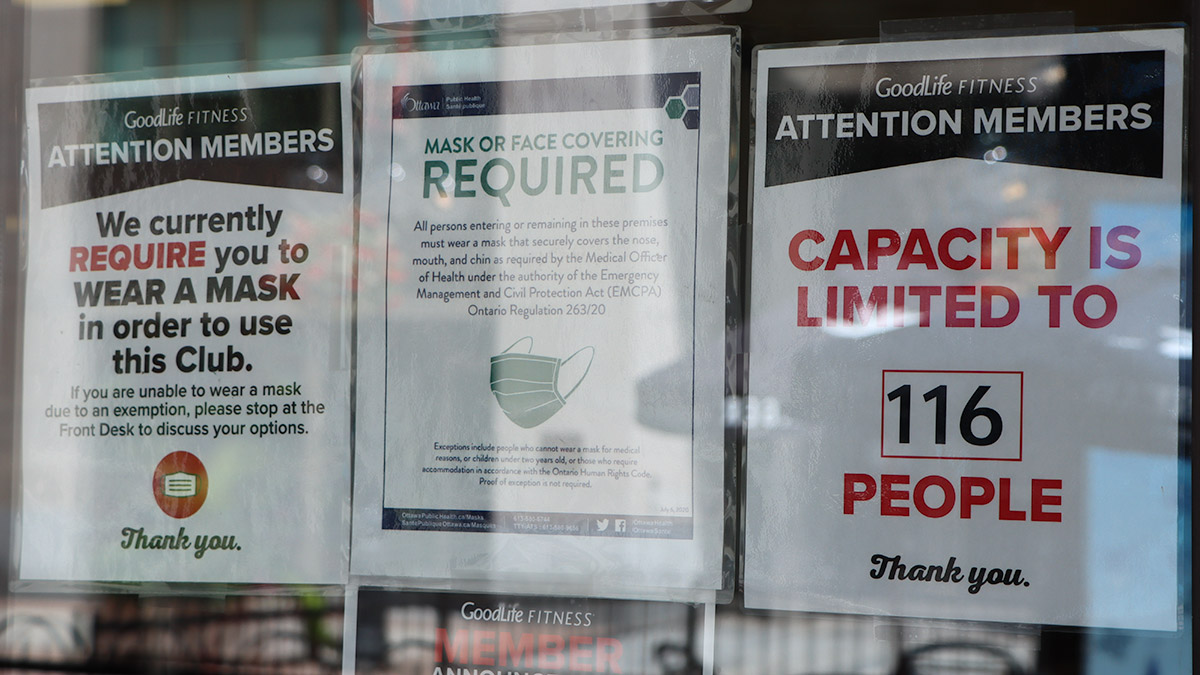 Working out at home versus going to a gym
During the pandemic, GoodLife Fitness offered 18 live workouts per week on its Instagram channel, and on-demand workouts on its member portal and app, said Allan. Some clubs also ran outdoor group fitness classes. The company's online programs will continue for the foreseeable future, said Allan.
A survey by RunRepeat earlier this year suggested 29 per cent of Canadian gym members won't return to the gym after being vaccinated. Additionally, 28 per cent would return, but only after their friends and family were vaccinated too.
"I think even if a third of them don't return, there is a large percentage of the population now that are much more aware of their mental health and physical health and want to try and reduce those risk factors," said Sloan.
Human beings are social animals, he said, and the group environment of a gym empowers and uplifts people.
"The gym itself is not that important; it's the environment that's really important," said Sloan.
"How many people before the pandemic had a foam roller sitting in their living room or a treadmill sitting in their basement that never got used?" said Sloan. "Most people, they find it very hard to motivate themselves."
The pandemic has rocked the fitness industry, said Sloan. While it's become apparent some businesses were just in it for the money, he said, others have reached out to members to support them in dealing with stress.
"We're supposed to be in the business of helping people," said Sloan.
---
More Stories