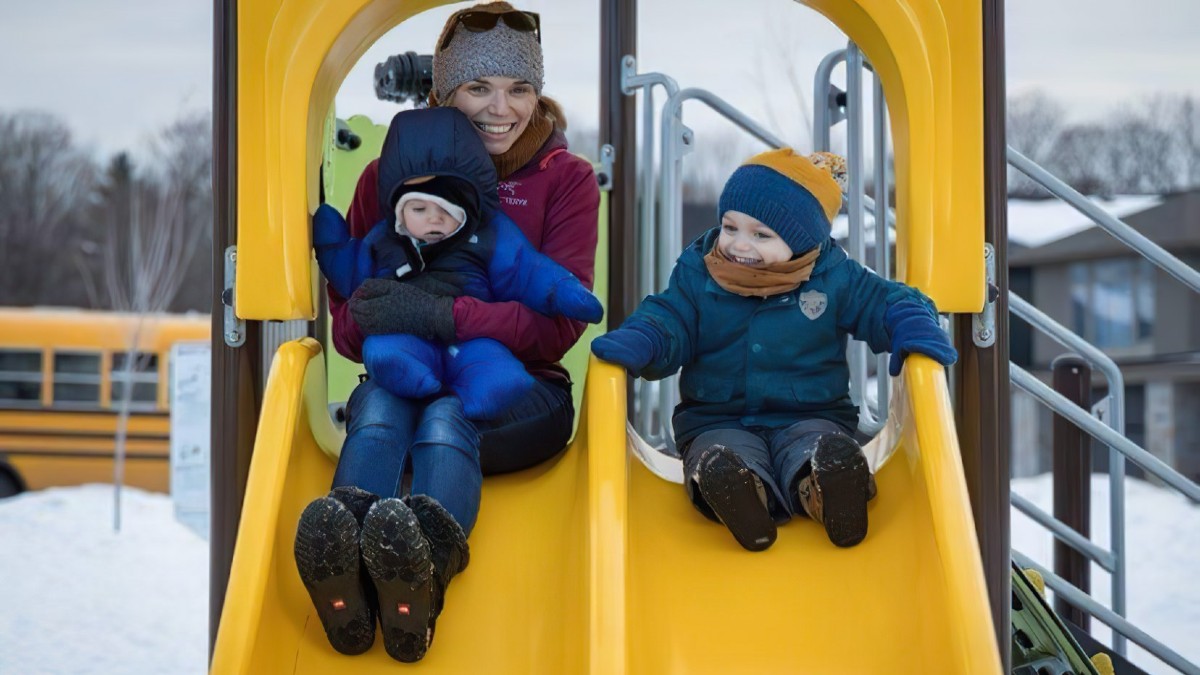 The isolation caused by COVID-19 has experts concerned about the adverse effects on young children who are just learning how to socialize with peers.
For Emilie Fernandes, working from home is nothing new, as she has been an at-home teleworker for nearly 10 years. But for her five-year-old son, Julien, staying at home has been a major adjustment. 
Julien started participating in online senior kindergarten in September 2020 and Fernandes noticed signs of loneliness and sometimes heightened anxiety in her son, who is an only child. 
"He makes comments like 'When can we hug again?'," she said.
Fernandes decided to put her son in low-ratio in-person afternoon programs that required additional COVID-19 safety measures, to give him an opportunity to socialize. But they were closed in the most recent lockdown.
Dr. Valérie Giroux, a psychiatrist specializing in the mental health of mothers, has noticed that young children are showing increased signs of stress from being exposed to fewer people.
"There's a lot of separation anxiety, more so than before," said Giroux.
The pandemic seems to be increasing separation stress if a young child has limited exposure to people outside of their immediate family and less opportunity to learn how to handle new social experiences, Giroux said.  
Additionally, children are sensitive to the anxieties of their parents.
"Right now with the pandemic, people are more stressed, and parents are more stressed. So, I mean kids feel it too," said Giroux.
Dr. Stuart Shanker, professor emeritus of philosophy and psychology at York University, says that the pandemic might cause children to spend "too much time in ways that exacerbate sympathetic arousal or not enough time in genuinely restorative activities" such as social connections or physical activity. This has led to increased mood and behavioural problems in children. 
As a mother of two, Giroux has noticed behavioural changes in her sons when they weren't interacting as frequently with other children. 
For example, her elder son James, who is three, said he missed his friends during the first lockdown, when his preschool closed.
"I think it's really important for kids to see other kids and play together. We are fortunate, my husband and I, that we have two kids. For an only child it's so tough."
Now, James and his brother, William, nearly 2, attend all-day child care, where Giroux has noticed another obstacle for developing children — mask wearing. 
"Kids are interested in learning language, so they are interested in face, mouth, and the eyes … they need to be able to read the face," said Giroux.
Along with learning language, Giroux says reading facial expressions also helps young children recognize their own emotions. 
In a time where mask-wearing is essential to help prevent the spread of COVID-19, Giroux gave her sons' daycare workers see-through masks, to stay safe while also being able to show their expressions.
Shanker explains that every child is different, and for some children social distancing can even reduce stress for those who find it taxing to socialize with non-family members. However, having some amount of contact with peers is important.
"By and large we think that interacting with other children at this age is important for developing relationship skills and social awareness," said Shanker in an email exchange.
He warns that poor academic performance, mental and physical health issues, as well as an increased susceptibility to addictions and anti-social behaviour, can arise from poor social-emotional development.
Since the closure of Julien's afternoon programs, Fernandes and her husband have made the "difficult decision" to put her son back into in-class learning. Concerned about excess screen-time, and the lack of socialization, this felt like the right choice for the family. 
"The social aspect is the biggest loss, or miss. He was just starting to get to the point of making friends," said Fernandes. "I hope in the long run that it's not going to affect him, but it certainly made him very used to socializing more with adults than with children, for the past 10 or 11 months."
---
More Stories