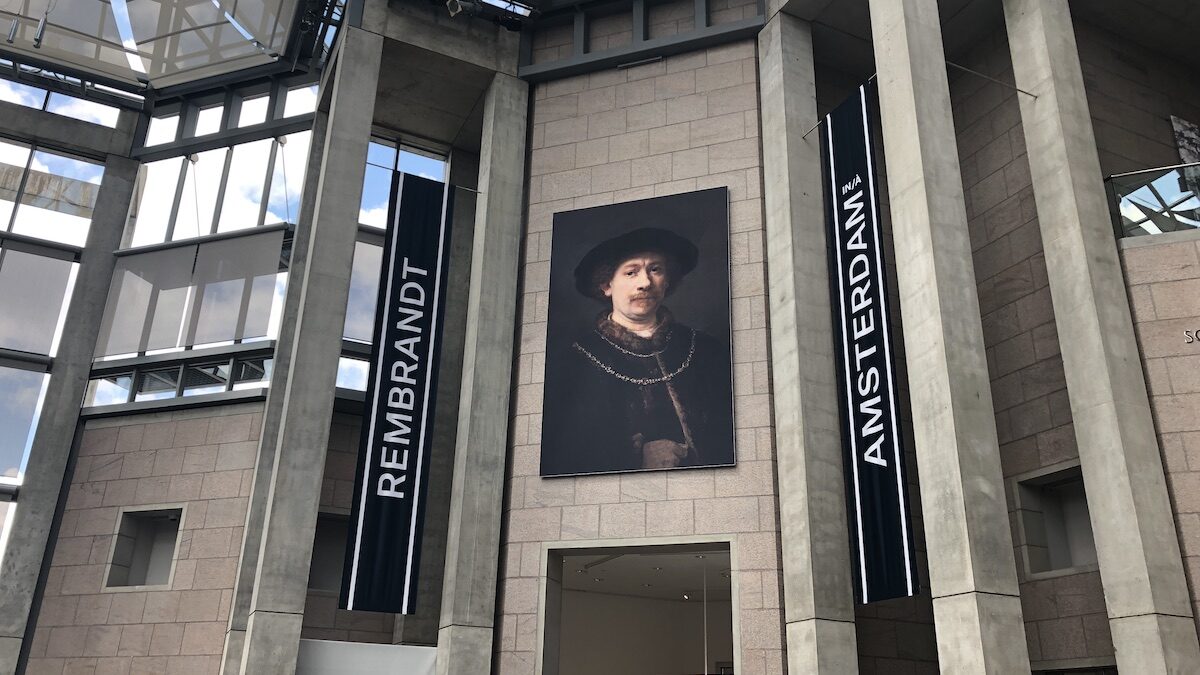 It might be hard to imagine an exhibition of works by 17th century painters being described as "new and interesting" but those are the words that fit Rembrandt in Amsterdam: Creativity and Competition at the National Gallery of Canada best.

The exhibition, open until Sept. 6, presents work from Rembrandt and his students and fellow painters alongside contemporary art that addresses the colonial endeavours that made the booming art markets of 17th century Amsterdam possible.

Dr. Stephanie S. Dickey, guest curator for the NGC, Bader Chair in Northern Baroque Art at Queen's University and an international authority on Rembrandt and Dutch 17th-century art, has been working on the exhibit for five years.

Despite studying the artist for many years, she says the process of grounding Rembrandt's work within an international colonial perspective is relatively new to her.

"I think it's a very timely and refreshing kind of perspective," says Dickey.

The exhibition gracefully connects the issues faced by Indigenous and Black communities, then and now, with Rembrandt and the art of his peers.

Jonathan Shaughnessy, the National Gallery's director of curatorial initiatives, says linking contemporary and historical art is not without challenges, and that "you have to be very sensible about how you make those dialogues come together."

But in the case of the Rembrandt exhibition, the choices are nearly seamless. The effect is an exhibit that asks the viewer to look beyond the art of the past into the present.

"I think things fit in very particular ways that really just enhanced the context in the Rembrandt exhibition and really allow a critical voice but in a way that really complements, very nicely, the broad context of subject matter," says Shaughnessy.
During the formation of the exhibition, Shaughnessy was an associate curator of contemporary art and suggested including the work of Canadian Congolese artist Moridja Kitenge Banza.

Banza has two pieces in the exhibition, From 1848 to the Present / Cross-section of a Slave Ship, 2006–18 and From 1848 to the Present, 2006–20. Both feature a motif of teaspoons that "evokes goods and resources extracted from the Global South for trade in Western markets since Rembrandt's time," said Shaunghnesy in the exhibition's opening announcement.

Originally, the spoon installation was going to be at the end of the show but as talks with the curatorial team and Banza progressed, the installation ended up in the portrait room.

"This context of a room of portraits that are all of patrons, some of them with links to the global market at the time, just became a really nice fit in there," says Shaughnessy.
 "I think you have to be really conscious of all the possible conversations when you're mixing art from different periods, but I actually think that it can be a very effective strategy."
Another link to our contemporary world is the similarity between COVID-19 now and disease in Rembrandt's time. Several waves of the bubonic plague passed through Amsterdam during the artist's lifetime.
Dickey says there are a few labels in the exhibition that relate to bubonic plague or COVID-19, including one for a portrait of Hendrickje Stoffels, Rembrandt's partner, who may have died of plague in 1663. 
It also allowed them to display work from Ruth Cuthand, a contemporary Indigenous artist. Her two pieces, Smallpox and Pneumonia, are beaded depictions of the two diseases.
"Her work specifically references the impact of European borne diseases on Indigenous populations, which of course was absolutely devastating for Indigenous people in North America right around that same time," says Dickey.
For the National Gallery, an "encyclopedic museum" that primarily addresses a western canon of art, including contemporary work can help the viewer understand that what's presented is often just one story, says Shaughnessy.
"I think that these kinds of workings across collections is really quite crucially important to be able to bring the public into really thinking about the histories that are presented," he says.

In her remarks for the opening of the exhibition, Dr. Sasha Suda, the director and CEO of the NGC, said "that museums today, perhaps especially in North America, must acknowledge the broader context of colonialism."
Unique works
But the contemporary pieces are not the only unique part of the exhibition. This is also the first time Rembrandt's The Blinding of Samson is being shown in Canada. 
On loan from the Städel Museum in Frankfurt, where the exhibition will be displayed next, the painting is enormous. It's 10 feet wide and 7 feet tall and depicts the biblical story of Samson's hair being cut by his lover Delilah in order to steal away his strength.

However, even the less showstopping works are capable of drawing the eye. Dickey's favourite painting is Rembrandt's Landscape with a Stone Bridge.

"It's tiny but if you look up close, it's got so much emotion," says Dickey. "It's hard to imagine you could put emotion into a landscape but it's got this brooding sky and sort of glimmering light. It's a combination of observation and imagination and juicy paint, juicy brushwork."
What's interesting about the painting is that Rembrandt wasn't a landscape specialist like some of the other artists in that room of the exhibition, says Dickey, but he still really managed to make something special out of it.

"If I could take one home, that's the one I would take," she says.

In many ways, Rembrandt is as unique as this exhibition of his work. Dickey says he was very much a man of his time, competing in a market alongside other artists who were doing very similar things, except that he was more diverse and more ambitious. He didn't just paint portraits or landscapes, he did it all.

"He did it all and he did it all brilliantly," she says. "I think that's one of the things that elevates him above others."
Timed-tickets for Rembrandt in Amsterdam: Creativity and Competition can be purchased online at ticketsgallery.ca and are for a specific date and time, based on availability. Tickets are issued up until 90 minutes before closing time. Order by phone at 613-998-8888 or toll-free at 1-888-541-8888.
---
More Stories