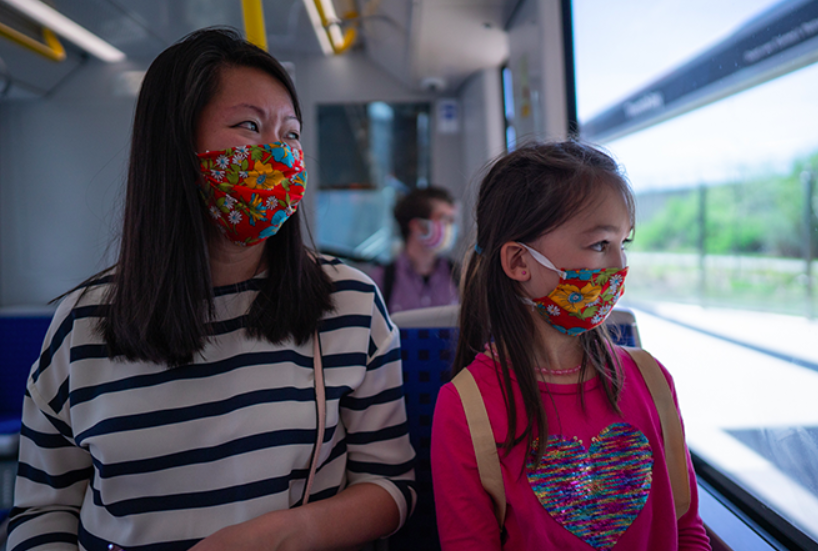 Amid a soaring deficit, OC Transpo is making face masks mandatory for all passengers and staff starting June 15. The move comes as Ottawa's transit service reintroduces front-door boarding on its buses.
For three months after the COVID-19 lockdown began in March, riders were permitted to enter buses only through back doors, with caution tape blocking off the front entrance where the driver sits. The two end carriages on LRT trains were also taped off.
This meant riders couldn't use cash fares on buses.
While Presto and student U Pass cards could be still be tapped if a rider boarded at the back, passengers who didn't pay for their rides were not at risk of being ticketed.
As Jim Greer, the City of Ottawa's director of transit operations, put it: "Fare enforcement resources have been redirected to other areas of concern during the COVID-19 pandemic."
OC Transpo recorded an $8-million deficit in the first quarter of 2020 as ridership plummeted in the last two weeks of March, when COVID-19 shut down the city and OC Transpo cut back service.
"The fare revenue shortfall was due primarily to a reduced number of single-ride fares paid by customers in the second half of March, as the effect of the COVID-19 pandemic began," stated a city report tracking transit operations.
The deficit for 2019 was $6.8 million.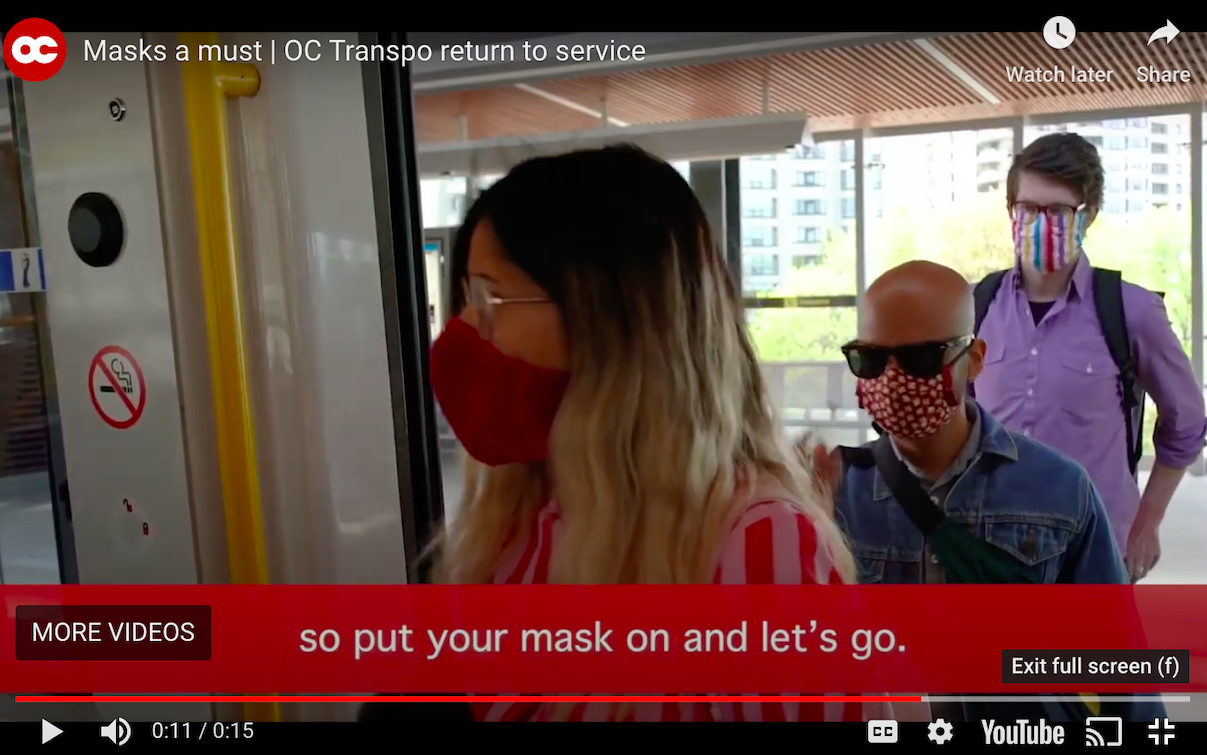 Making face masks mandatory allows front-door entry to buses again, which would also allow cash fares to be paid. People with Presto and U Pass cards are still encouraged to back board, according to Greer.
But the move has raised concerns about access to transit service for lower income riders, said Trevor Haché, co-founder of the Healthy Transportation Coalition.
"Some people have no choice but to take public transit, and we should make it safe," he said. "But if someone is a customer and they don't have enough money to buy a cloth mask, it might create a challenging situation."
In a memo to Council sent out Thursday, John Manconi, general manager of transportation services at the city, stated that OC Transpo has 200,000 disposable masks for distribution, and that nobody would be barred from an OC Transpo vehicle for not wearing a mask.
Drivers and staff at stations have been instructed to remind people about the rule, but not bar anyone from riding if they say they don't have a mask.
The city is working with the United Way to distribute masks to customers who need them, with the charity selling face coverings at some stations beginning in early July.
But the reintroduction of front boarding will inevitably bring with it greater scrutiny by OC Transpo to ensure people are paying fares, according to Haché. And he insists those fares are too costly for many Ottawa residents.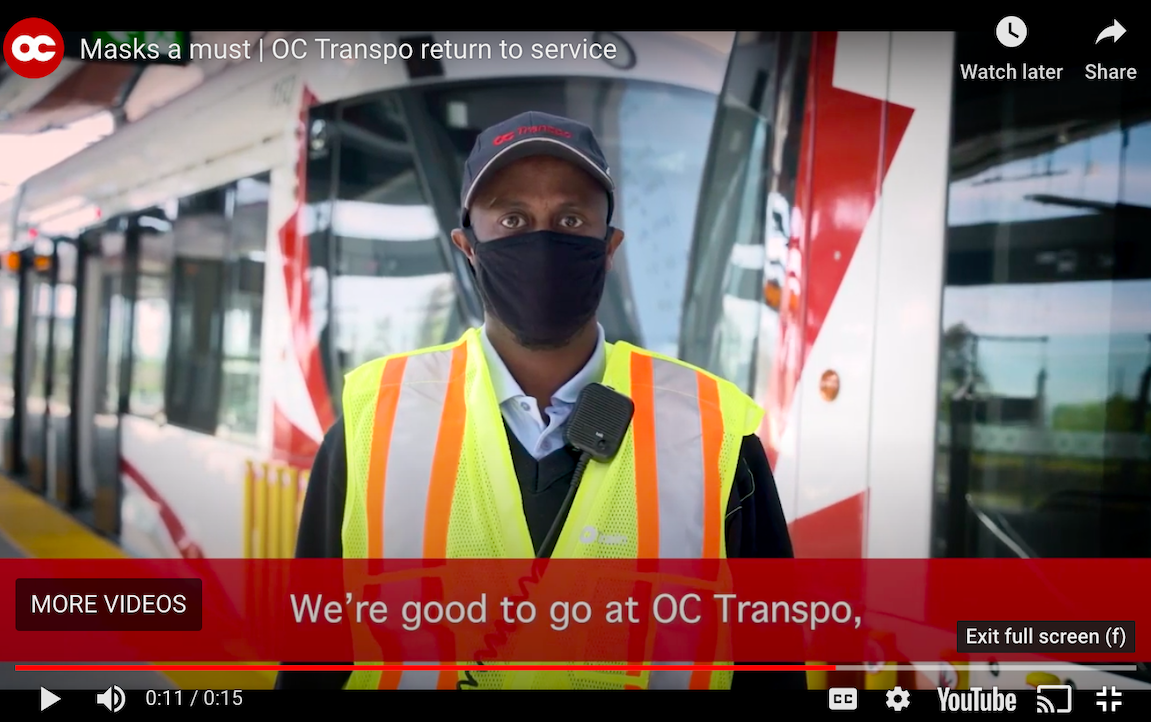 "We continue to have concerns about the affordability of transit for people on low income," said Haché, adding that the Equipass program — which is offered to low-income transit riders — is unaffordable for most.
In Calgary, a person with an annual income of $12,000 or less can purchase a monthly bus pass for $6. Haché cited the Alberta city's approach as a more equitable transit system.
Meanwhile, applications for Equipass cards weren't being processed in recent weeks because of closures at the city's customer service centres, according to a memo sent to city council.
However, for anyone whose Equipass discount has already expired this year or is set to expire before July 31, OC Transpo has offered automatic renewal to Aug. 15. Equipass holders whose eligibility has expired or is due to before July 31 have been asked re-apply for their discount before the end of June 15, because of renewal processing times leading up to the Aug. 15 expiry of extensions.
But Haché said that many people are put off applying for the program because of the cost — $58.25 — for even a discounted monthly adult pass. Though this amount is a little less than half the cost of a regular monthly adult fare — $119.50 — Haché continues to advocate for making the program cheaper and the application process simpler.
Progress on the fare-reduction campaign has been slow during the pandemic, he added.
"I think there's a minority of people on council willing to make the change," he said. "We're not seeing enough support for this."
---
More Stories