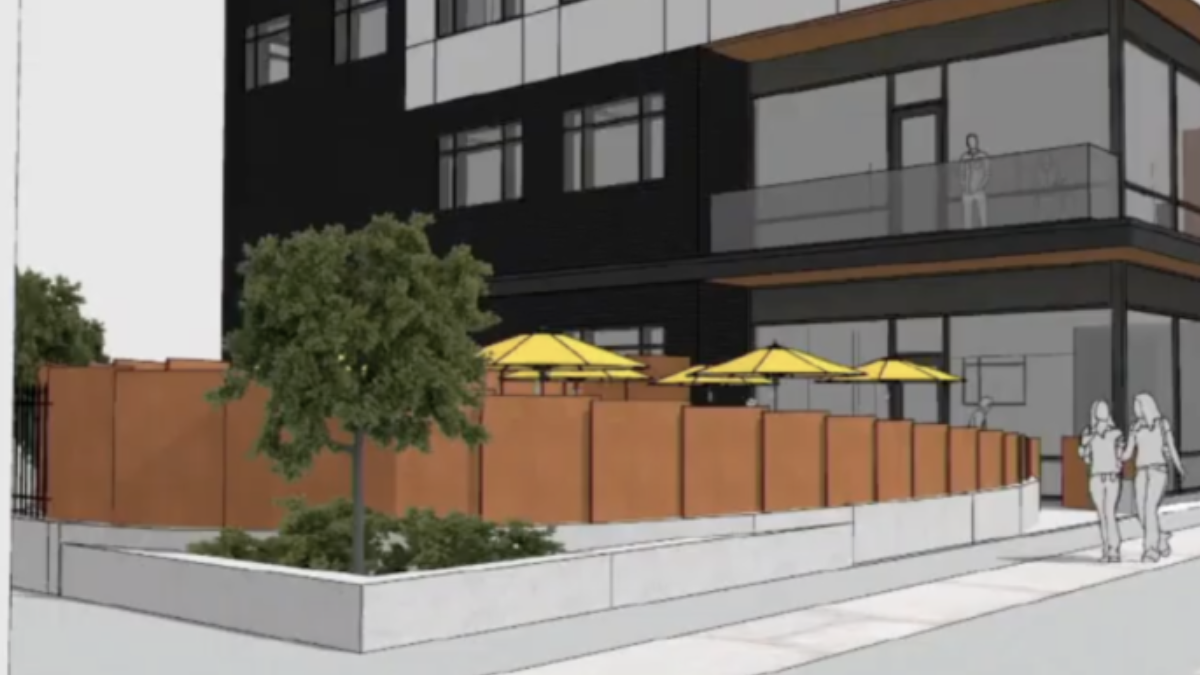 On Thursday, the city's planning committee unanimously endorsed a proposal to develop 216 Murray St into an eight-story "mixed use" supportive housing building.
The building, located next door to Shepherds of Good Hope in Lowertown, will primarily house Indigenous people and women.
"We [will be] Indigenous and women's housing because there's such a lack of it in the city," says Deidre Freiheit, president and CEO of Shepherds of Good Hope, who will operate the building.
The planning committee was asked to grant a zoning change to allow for the eight storey building.
"The zoning amendment itself is mainly to do with an increase in height from 21 meters to 33.5 meters, reductions in visitor parking, some reduction in landscape area and amenity area," says Andrew McCreight, a planner with the City of Ottawa.
But there were some questions raised about the proposal's potential consequences for the community.
Julie Lanteigne, a Métis woman, says that when she spoke with Indigenous people, they hadn't heard of the housing project. She wondered how much these communities were consulted on the proposal.
"With Indigenous [people], the main word is consultation and they have not been consulted," she said.
"This is a transformation of the shelter system to provide supportive housing, people will have a room and a key to the room, and they will have rights to that individual space," Saide Sayah, acting director of housing services at the City of Ottawa, said.
The project is jointly funded by the federal government and the City of Ottawa. The first floor of the building will have a soup kitchen, a 24-hour security desk and outdoor patio. All the floors above will be secured for residents of the building, with a lounge area, access to computers and a quiet room.
Freiheit says she believes that the kitchen, drop-in hours and 48 units will make a big difference in the community.
"Our new development Is part of the solution to many of the problems that our community faces," says Freiheit.
Sharon Odell, an Ottawa resident, spoke on behalf of Indigenous people who are currently using the space at Shepherds of Good Hope. She wonders why this is being considered as unmarked graves of Indigenous children are being uncovered at former residential schools.
"The Shepherds of Good Hope has a Catholic Church background, and that has not had good press lately in reference to Indigenous well-being, especially with the history of residential schools also run by the Catholic Church system," Odell said.
She says that the people using these services worry about the potential consequences.
"More often I'm hearing this: that it's a product of the colonial system, pressing what others think will be good for them," says Odell.
Freiheit says that while Indigenous groups would like to be running these types of supportive housings, the resources aren't there yet for them. The Shepherds of Good Hope has over 40 years of experience.
"Everyone's preference is that this housing should be provided by Indigenous organizations," says Freiheit. "But, while that capacity is being developed, it currently doesn't exist, and the need is great."
Indigenous people are disproportionately homeless in the city, Freiheit said.
"We do have a disproportionately large number of Indigenous people who require our services, which is unfortunate," she says. "Ultimately, we want to make sure that people are appropriately housed and not remaining in crowded shelters."
Freiheit said Indigenous people have been consulted on the proposal and they continue to have monthly meetings with the Aboriginal community advisory board.
"We've met with city staff, elected representatives, neighbors, other service providers, the business community, Indigenous leaders, our own service users and many more," says Freiheit.
Jessie Smith, the principal architect at CSV Architects who are designing the building, says that communication with the Indigenous community has been extensive.
"We've had consultation with the Indigenous communities through an Indigenous architect who actually formed a talking circle with members of both [us and] Shepherds of Good Hope," says Smith.
Concerns over safety in the area were brought up as well.
"Please just run, drive down there, try to have a walk, go with your wife or your kids," says Lanteigne. "If you still feel that it's safe for women and Indigenous [people] to go there, then please go ahead and do so. But it's almost impossible. It's so unsafe, nobody walks around there."
Lanteigne says that the norm is just to get people off the streets and not focus on safe housing.
While the proposal passed the zoning amendment to be 33.5 meters tall, more concerns over safety and Indigenous consultation will be addressed at the next community and protective services committee meeting on August 19. 
---
More Stories