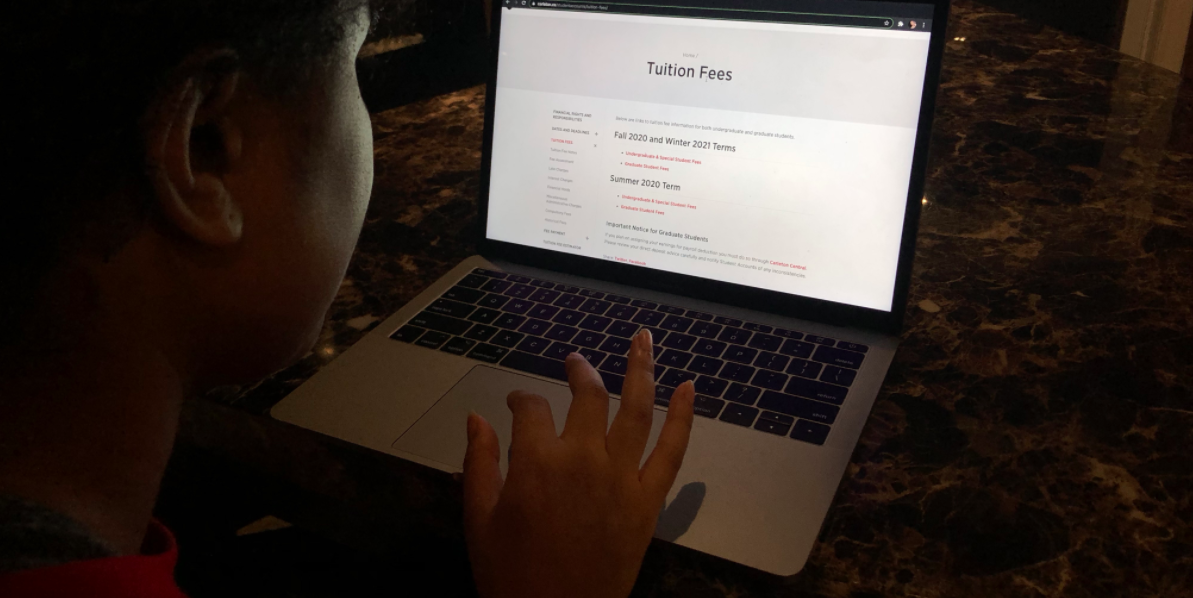 As post-secondary students struggle with virtual learning this semester, many hope future tuition fees will be lowered to reflect the limited educational experience they've been getting.
"Students deserve the ability to afford their education as tuition rates are already much too expensive," said Nathaniel Black, 19, one of two undergraduate representatives on the Board of Governors at Carleton University.
University tuition rates and student debt in Canada have increased significantly in recent decades. According to Statistics Canada, the average Canadian university graduate finishes school with more than $26,000 in loans.
"It's a mess, it really just is a mess, would be the term I would use to describe it," said Justine Moses, a Carleton University undergraduate, describing her frustration with tuition fees that have stayed the same.
"The quality of learning that I am getting online is not as good. I don't feel like I am learning; it is more about meeting deadlines and I don't think I am retaining any information."
This fall, the Canadian Federation of Students launched an "Education for All" campaign. It calls for a reduction in tuition for this academic year; grants and not loans from the Ontario Student Assistance Program (OSAP); and a plan to reduce and eventually eliminate tuition fees in Ontario.
With the arrival of the pandemic and a $670-million cut in OSAP funding in 2019, students are scrambling in a year when many are not even getting face time with their instructors.
"Students are calling for a reduction in tuition for both domestic and international students, who have always struggled to pay for the highest tuition fees in the province, but [it's] further exacerbated during a pandemic," said Kayla Weiler, 25, the National Executive Representative for the Canadian Federation of Students Ontario (CFS).
Weiler said that colleges and universities have increased international students' tuition fees for the 2020-21 term, roughly by 10-to-15 per cent at several institutions. This was because of a drop in enrolment because of COVID-19 and additional costs associated with online learning.
Adding to the situation, a freeze on tuition fees in place in Ontario since Sept. 1, 2019 is to expire on April 30, 2021.
No change in tuition
No tuition change was listed in the budget presented by Carleton University's administration and passed in September, said Black. "Therefore tuition remains the same for the entire academic year."
Black said the administration proposes the budget and it usually passes the Board of Governors without significant change.
"I was the only one to question why tuition remains the same. The vice-president of Finance said it was because operating fees remain the same," he said.
Those fees at Carleton University covers such expenses as staff salaries, department budgets, academic and non-academic services. The administration has tried to keep operating as usual during the pandemic, Black said, so operating costs remained the same.
"Online learning is new for many people, including faculty and TAs who have made the pivot to online learning. It is important that course instructors receive the support they need in order to effectively help students," said Weiler.
However, many students, especially international students, did not qualify for the Canada Emergency Student Benefit (CESB) or the Canada Emergency Response Benefit (CERB) when they needed it. In addition, not all students are deemed eligible for the OSAP program (for instance international students, mature and part-time students) and those who do qualify for financial assistance are more likely to receive loans than grants, potentially leaving those from the most marginalized communities with higher levels of debt than ever before.
Steven Reid, a spokesman for Carleton University's administration, provided some insight into why tuition fees remain the same for the year 2020-2021.
"Designing virtual classrooms and online opportunities for students requires multimillion-dollar investments in technology and experts to deliver the high-quality experience our students expect and deserve," said Reid.
Academic resources
Reid says that there is still a need for academic resources for instructors, marking, academic advising and other academic support.
"We understand that education is a significant investment and Teaching and Learning Services has been working closely with course instructors to develop their courses in a manner that facilitates online delivery and ensuring and inclusive learning environment for the fall," said Reid.
Reid said that almost all services students normally receive are available virtually, such as library resources, mental health counselling and support, career services, academic advising, the Paul Menton Centre for students with disabilities and virtual fitness programs.
To save some money, Reid suggested students apply to opt-out of the U-PASS public transit partnership, since learning is taking place online.
But Black said he is still trying his best to convince his university to lower tuition for the upcoming year.
"The board approves the budget which includes tuition rates. We can make changes," said Black.
Black believes tuition should be lowered by at least five per cent, translating into an average of roughly $500 to $700 of savings annually for students.
"This would be a minimal investment in offering students savings and using a portion of the auxiliary funds in this time of apparent financial emergency for students," said Black. (Auxiliary funds account for the units and activities that generate their own revenue. This can include dining services, the bookstore and housing.)
"I see what needs to be done, and I am doing my best to push the Board of Governors to change what must be changed," Black said.
*****
Nathanial Black, an undergrad representative on the Board of Governors for Carleton University, is asking students to email the Chair of the Board, Dan Fortin ( chairoftheboard@carleton.ca) and himself (NathanielBlack@cmail.carleton.ca) about tuition, "to ensure I can bring your testimonials to the next board meeting; to also ensure the administration knows that students are undergoing a great deal of stress related to fees and tuition."
---
More Stories