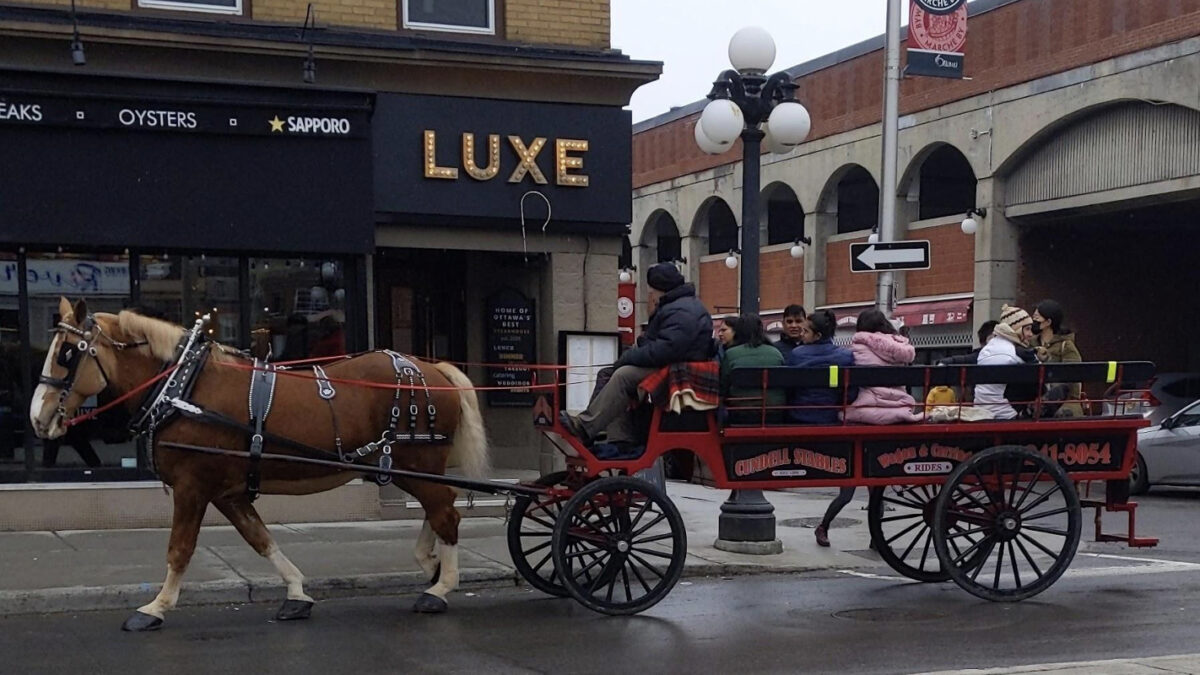 A clattering sound can be heard near the corner of William and York streets in Ottawa's Byward Market. In the distance, a chestnut brown horse with white patches above its hooves and a white stripe down its nose pulls a red wagon. The horse is brought to a stop. Eight passengers descend from the wagon.
Their free ride on this late-March day was courtesy of the Byward Market Business Improvement Area and Cundell Stables, the company offering Ottawa's last downtown horse-drawn wagon rides.
The BIA billed the rides as a way to "relax and explore the Byward Market by hoof." The event gave offered visitors an opportunity "enjoy the market in a new way."
It sounds harmless, but animal rights activists are working tirelessly to ban the practice of horse-drawn carriage rides in cities around the world.
Janet White, an animal advocate and director of Philadelphia-based Carriage Horse Freedom, a non-profit organization that works to ban horse-and-wagon rides in the U.S.
The main reasons behind the group's advocacy include concerns about public safety, the well-being of horses, inhumane working conditions and the moral implications of using animals for a profit.
Collisions between horse-drawn carriages and other road users can lead to injuries and fatalities for horses and people, said White. Safety is a key concern, she added, because of how easily horses are frightened.
"Accidents resulting in horse death" are a risk, she said, as are "people getting thrown from carriages when the horse gets spooked and they bolt."
In a widely reported incident in Vancouver in 2016, horses pulling a wagon in the city's Stanley Park area were spooked by a car horn and bolted. The driver and passengers were thrown from the wagon but no one was injured. The horses ran into a park bench before stopping.
"This incident shows why horse-drawn carriages don't belong in urban areas," Peter Fricker, a spokesperson for the Vancouver Humane Society, said at the time.
There's been a strong push to ban carriage horses in New York City, as well.
In November, a controversy blew up in Ottawa over fiery Facebook posts about horse-drawn carriage rides offered during the holiday season at the Ottawa Farmers' Market at Lansdowne Park.
While critics condemned the use of horses at Lansdowne, a spokesperson for Kemptville-based Ash Meadow Farm Carriage Company said the health and wellbeing of the horses is paramount.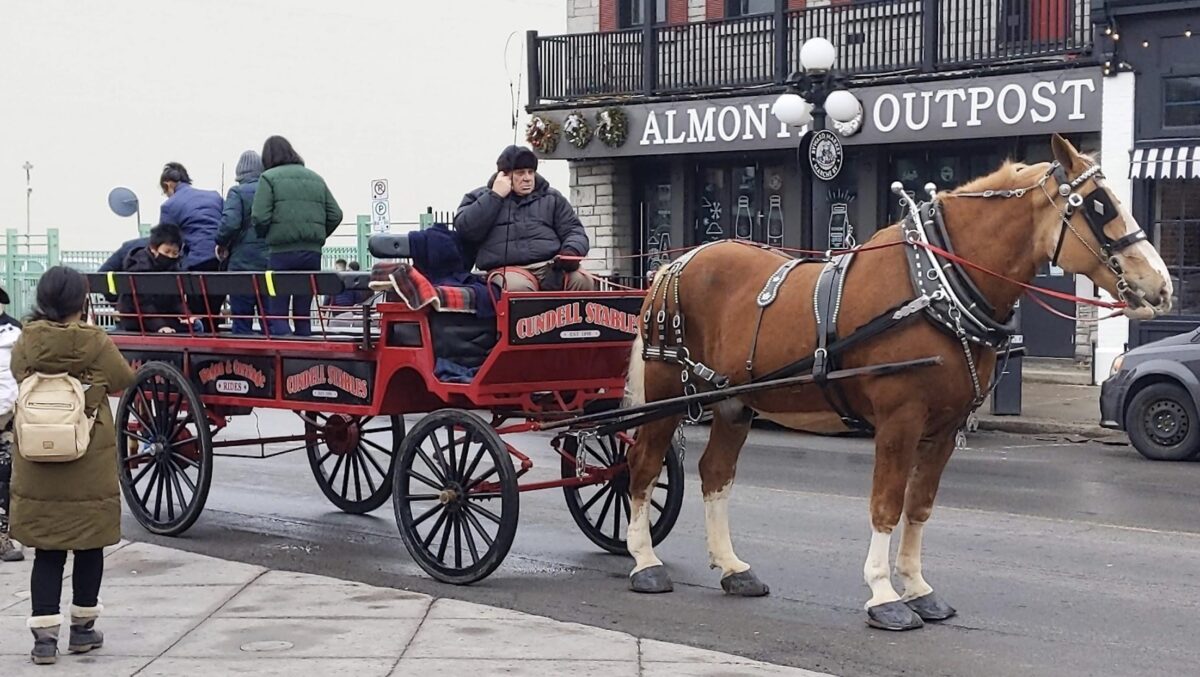 "We make sure that all of their needs are met so that they are quite capable to do the job of pulling this wagon at the farmers' market," Ash Meadow spokesperson Andrea Patterson told the Ottawa Citizen at the time.
"We don't treat our horses like machines. They are our family," said Patterson.
John Cundell, the owner of Cundell Stables, told the Citizen: "The horses are not abused when they're doing wagon rides."
Still, aside from concerns about potentially dangerous incidents, advocates say they're concerned about the physical wellbeing of any horses involved in urban carriage work.
White and Victoria Shroff, an animal rights lawyer and professor at the University of British Columbia, said many horses that work pulling carriages in urban areas have health issues and die prematurely.
According to the Partnership to Ban Horse Carriages Worldwide, horses are built for soft ground and many horses working in a city suffer from early lameness, respiratory disease, heat prostration and stress-inducing incidents.
Shroff said veterinarians have warned these are serious health hazards for horses, primarily because of the impact of the animals' hooves on concrete.
Shroff and White also point out that horses can work between eight and 12 hours a day, and usually don't have regulated resting hours. In many cities, the advocates added, working horses face high temperatures and humidity — at times exceeding 30C — making them prone to dehydration.
White said that horses may be working in these harsh temperatures while pulling carriages with a dozen or more people, adding to the struggle.
Shroff said that, despite the earnest belief tour operators may have in their care for the animals, the reality is that horses working in city environments are not getting the pasture time they need. She added that, in many cities, there are no real checks for setting up a carriage business — "just about anybody" can get a licence, despite regular incidents, said White.
Shroff added that there's a serious moral dimension to the issue: "There is simply no need for (the industry). … What there is a need for is to consider that animals are not just property, but … sentient beings."
Shroff said the biggest issue is the economic imperative and the commodification of animals. She objected to any business "making money off of — literally — the back of horses."
White agreed that the industry is fundamentally problematic.
"There is simply no need for (the industry)… What there is a need for is to consider that animals are not just property, but … sentient beings."

— Victoria Shroff, animal rights lawyer, professor at the University of British Columbia
But carriage operators have pushed back. In Victoria, B.C., horse-drawn carriage companies argued that a ban on rides would ruin their livelihoods, and managed to halt a plan to ban the practice.
In Montreal, however, a similar push to ban carriage rides succeeded because of grassroots community support. The practice was prohibited in 2019 after a carriage horse died on a city street in 2018.
"In Montreal, they had social and political will," said Shroff.
"It all comes down to awareness," said White.
She argued that ending carriage rides starts by making municipal, business and tourism officials, aware of all of the negative features of the practice.
"A lot of people, they look at these carriages and they think Disney movie and romantic or family fun, and that is understandable," said White. "Because people just don't know what's involved, especially in big cities, how horrible it is for these animals."
White's group focuses on education through sharing veterinary data.
People "can't say that they didn't know," she said.
Once larger cities impose bans, then it creates an incentive for smaller cities. White said that every time a city bans the use of horse and carriages there is more momentum.
"It's changing, but it is happening more slowly than some people would like," said White. "We're in a transition period."
White said young people are not as interested in horse-drawn carriage rides as past generations were because many younger people are very conscious of animal rights.
She added that faux horse and carriage mechanical simulators are on the rise and no animals are involved.
Cities such as Berlin and Motul, Mexico, she explained, have shifted to "compassionate and responsible tourism" and shifted to electric carriages.
The horse-drawn carriage business, said White, is "basically a dying industry."
---
More Stories