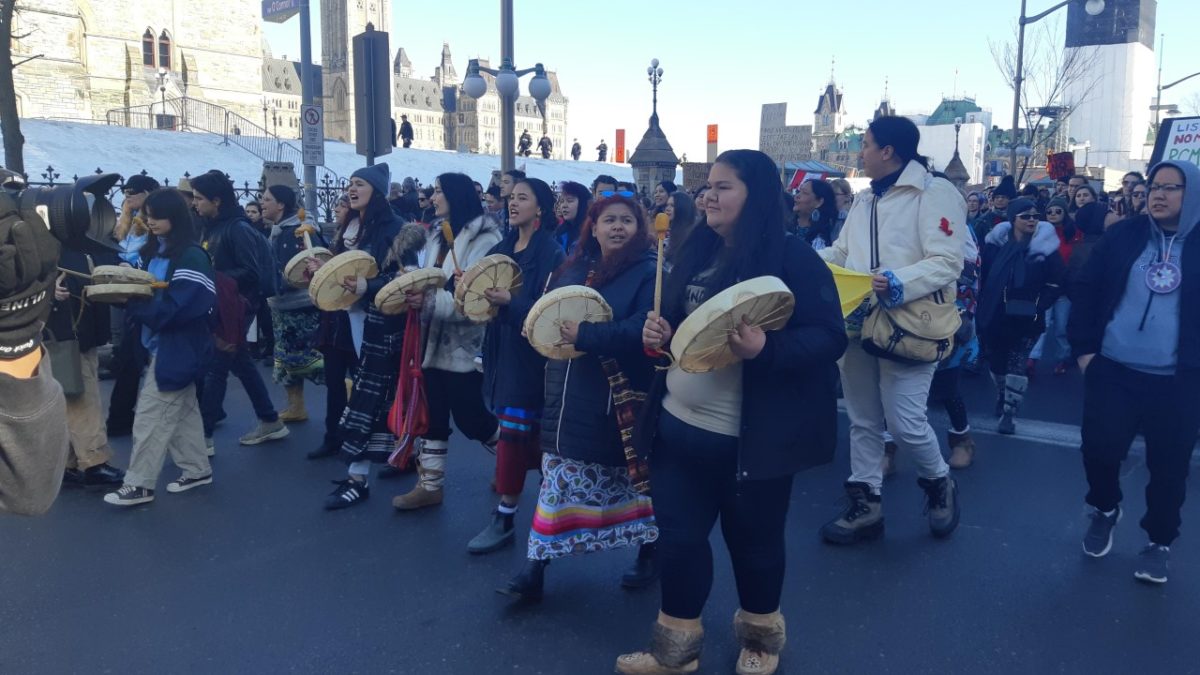 Led by Indigenous youth, more than 200 people marched in solidarity with the hereditary chiefs of the Wet'suwet'en in northern British Columbia who are blocking a natural gas pipeline from crossing their traditional territory.
The protest occurred just before the Ontario Provincial Police ended a rail blockade near Belleville, Ont., led by the Mohawks of Tyendinaga. The blockade had been up for two weeks in solidarity with the anti-pipeline protests by the Wet'suwet'en.
A number of protestors in Tyendinaga were charged after being given the option to abandon their posts at the blockades. Many declined to do so prompting the OPP to move in.
Journalists were asked to move away from the site of the arrests, but the OPP later confirmed that they had taken 10 people into custody.
Emotions ran high in the Ottawa protest because of the OPP action.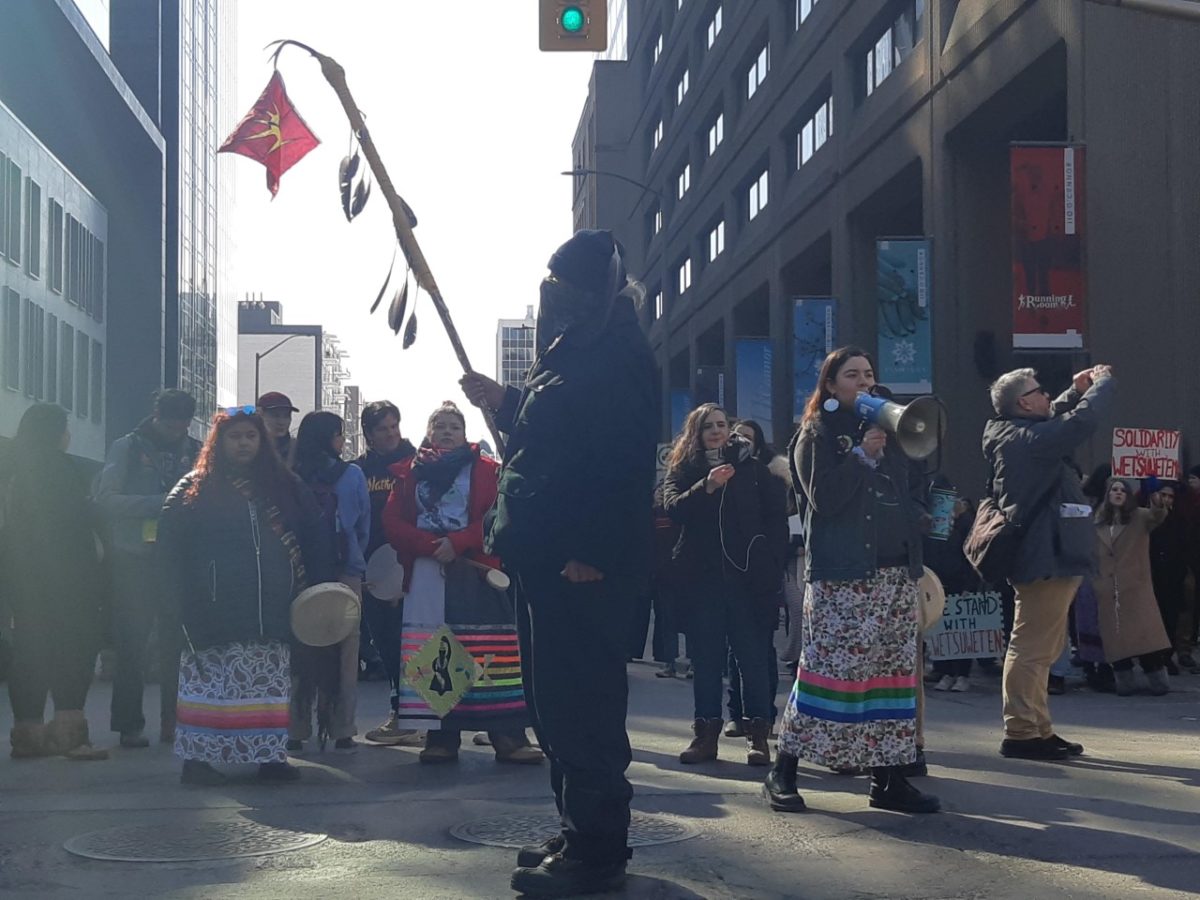 Mariah Miigwans Smith Chabot, an Anishinaabe woman representing the Algonquin Nation at the protest saw footage of the confrontation from a Facebook live stream shot by a land protector in Belleville.
"It was very clear that they were very far from the train tracks, and were just holding peace on their territory in their jurisdiction," she said.
The blockades along the Ontario rail corridor began on Feb. 6 in support of the Wet'suwet'en hereditary chiefs.
The hereditary chiefs refused to meet with the federal government until the RCMP had left their land and construction on the pipeline stopped. That happened Wednesday and talks began Thursday between federal and provincial politicians and the hereditary chiefs.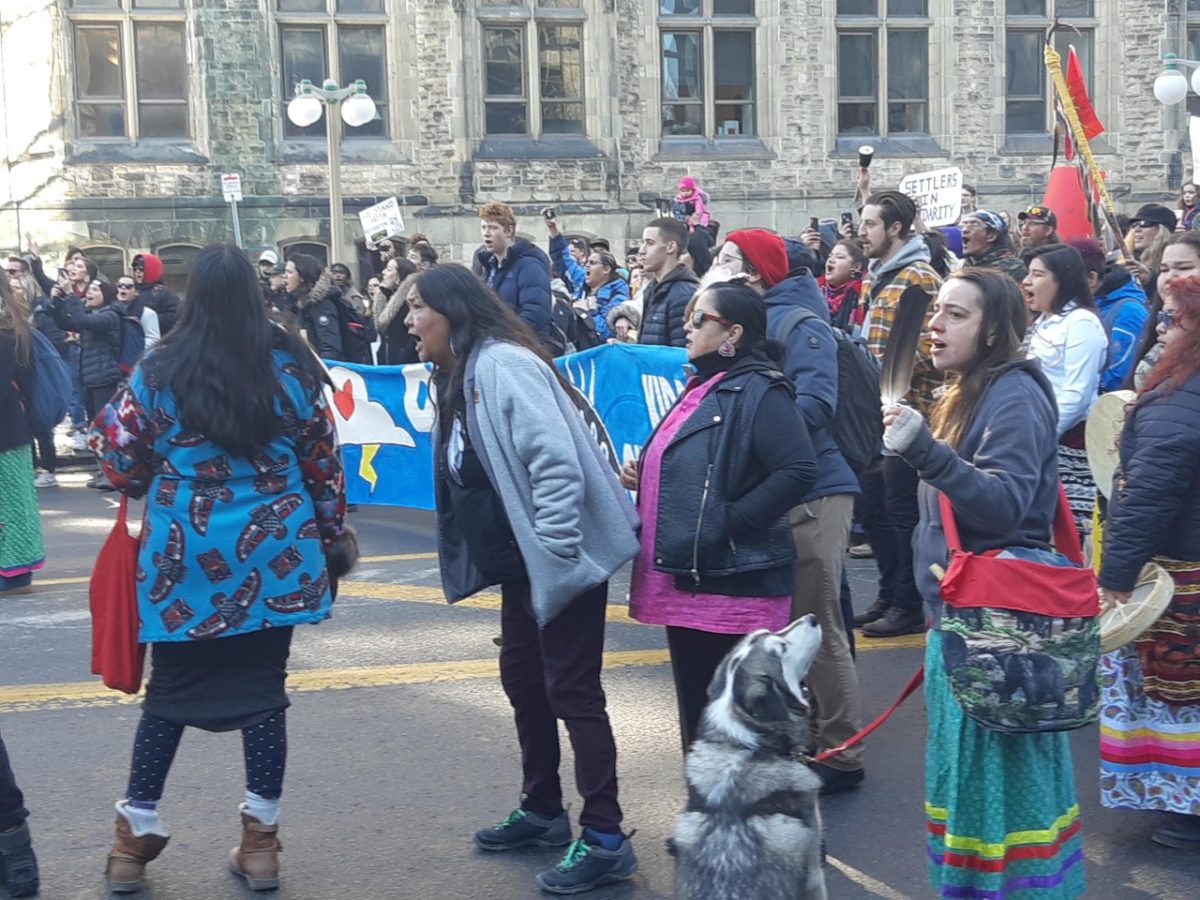 In Ottawa, protestors participated by singing, dancing and banging on drums.
Chabot said she felt there was increased police presence at this rally compared to others she's attended in the past.
"The more and more that we fight the more police presence there is," she said. "If you look around today there are some SWAT teams and some tactical teams out there. And what we have are drums, rattles and some really loud people."
One protestor identified himself as a representative of the Indigenous Law Student Association from the University of Ottawa.
"They will have representation," he said. "This next generation is not going to stand alone. We do stand with the Wet'suwet'en in solidarity. We will keep going until there is change, that's our right."
"You can't break the spirit," Chabot said. "152 years later we're still here and still fighting for the same thing. When is there going to be a point where we are going to be equal?"
---
More Stories