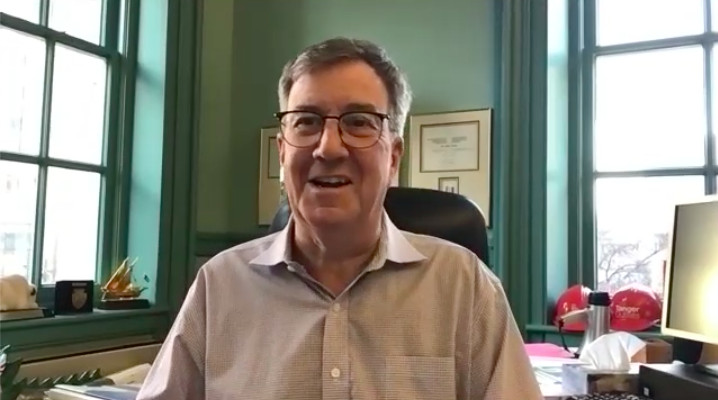 This Remembrance Day marks 75th anniversary of the end of the Second World War. In normal circumstances, the ceremony at the National War Memorial in downtown Ottawa would have drawn thousands to pay their respects in person.
This year, Remembrance Day looked a little different.
The Royal Canadian Legion urged citizens to stream the ceremony online or to watch it on TV, to avoid large crowds in the midst of the COVID-19 pandemic.
There was no large gathering in Confederation Square, no stirring parade of veterans. But the constraints didn't discourage Canadians from honouring the day.
In an interview on the eve of Remembrance Day, Ottawa Mayor Jim Watson explained how he was planning to pay his respects to Canadian veterans while still practicing safe social distancing.
"It's a lot different (tomorrow] than it has been," said Watson. "Normally I would go to the national ceremony of the cenotaph and represent the City of Ottawa and lay a wreath there. But this year, in lieu of that, I am doing two other, smaller events."
Laying a wreath
Instead, Watson honoured Canadian veterans by laying a wreath at the Juno Beach Memorial Bridge along the Airport Parkway in south-end Ottawa, joined by River Ward Coun. Riley Brockington.
Watson followed that event by joining the Royal Canadian Legion Orleans branch for a modified Remembrance Day ceremony and lunch.
Watson's day wasn't the only thing that has changed this Nov. 11. He discussed his role as mayor and what he described as his public duty of telling people "no" to certain activities, upholding pandemic precautions that can't be pushed aside because of Remembrance Day.
"Obviously you are the bearer of bad news, more often than good news, because we have to enforce provincial regulations and guidelines," said Watson.
"I think the vast majority of people recognize that it's the responsible thing to do, and if we want to get rid of COVID, we all have to sacrifice a little… otherwise we will just be dealing with this for many, many years, as opposed to many, many months."
Ottawa is known for its large turnout at the annual national ceremony, which saw more than 32,000 people paying their respect last year.
This year's contrast was stark. Downtown streets looked empty for the first time as local residents followed public health directives to stay home.
"I think people would rather be there, because it's an important day in our lives, but this year, like everything, whether you are holding a wedding, a funeral, Remembrance Day, or eating in a restaurant, everything has been turned on its head — and we have to accept the fact that the coronavirus is much more powerful than we are, and we have to be smarter than it," said Watson.
Remembrance Day wasn't the only important event in Ottawa related to the Second World War milestone affected by COVID-19 this year.
Watson's press secretary, Patrick Champagne, noted that Ottawa was expecting to have Princess Margriet in Ottawa earlier this year to mark the 75th anniversary of the Liberation of the Netherlands.
Princess Margriet was born in Ottawa's Civic Hospital in January 1943 because the Dutch royal family has relocated to Canada during the German occupation of the Netherlands. The royal family's time in Canada and the Canadian military's leading role in liberating the Netherlands have creating a lasting friendship between the two countries, expressed each year in a gift of tulip bulbs to Canada — the inspiration behind Ottawa's famous Tulip Festival.
---
More Stories