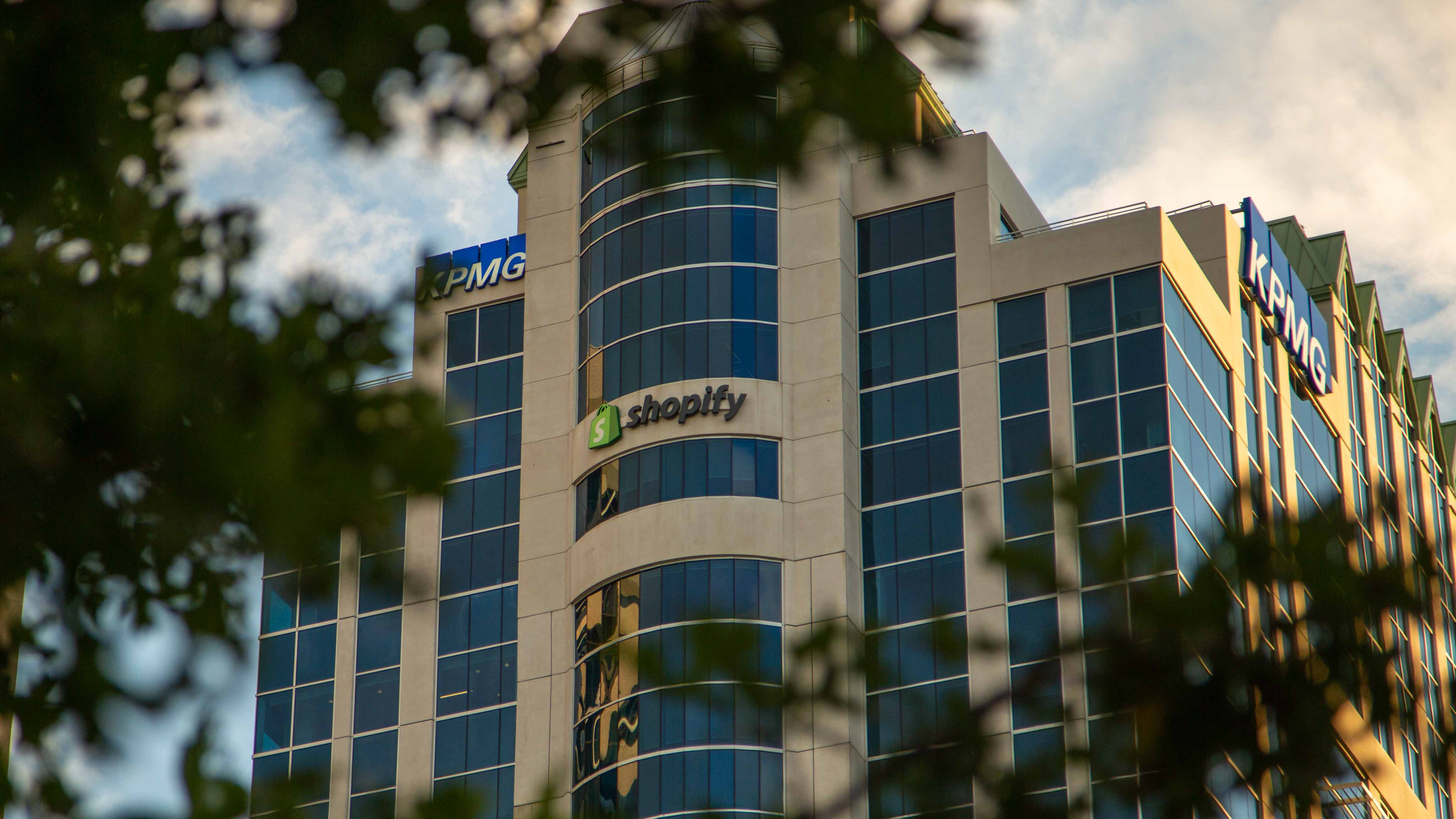 Perched on the edge of Ottawa's downtown core, a few blocks from Parliament Hill and the Rideau Canal, Shopify's headquarters in a 21-storey office tower casts its long shadow across Elgin Street.
The six floors Shopify leases in 150 Elgin St. have been the physical home to the bustling global tech giant — Ottawa's top company several years running, now with 1,000 employees — since 2014. And the COVID-19 pandemic has only accelerated the growth of the firm, which provides e-commerce platforms for hundreds of thousands of businesses around the world and has reeled in $2.08 billion in revenue over the past 12 months alone.
Now, the floors Shopify leases are virtually empty, with employees only entering for scheduled drop-ins, according to a former employee familiar with the company's transition to a nearly all-virtual workplace. And that's the way it appears likely to stay.
Shopify is one of several tech companies moving to a more permanent work-from-home setup for employees as a response to the COVID-19 pandemic.
"As of today, Shopify is a digital by default company," CEO Tobi Lutke told the world in May in a tweet that rocked Ottawa's commercial real estate sector. "We will keep our offices closed until 2021 so that we can rework them for this new reality. And after that, most will permanently work remotely. Office centricity is over."
In early September, Shopify announced that its 170,000 square feet of office space is on the market.
Shopify is not the only company adopting a "digital by default" workplace strategy. OpenText — a Canadian company that develops and sells enterprise information management —various federal government departments and agencies and countless other public bodies and private companies across North America are re-examining their need to meet in three-dimensional office settings.
If a significant number of government departments and private businesses vacate their offices, the vacuum they leave will reshape downtowns in every city across the country. While real estate agents and government office planners look to an uncertain future, office space owners and managers — along with some tech employees — are hopeful for a return to how things once were.
Shopify, which had gained a sterling reputation for its cutting-edge office culture, has pivoted away from its current workplace culture, according to a former employee familiar with the transition.
Office space
The office space Shopify is leaving is much more than desks and cubicles. The space includes a "Yoga studio with daily classes, a gourmet kitchen serving up free daily lunches, a massage room, various games rooms, a ball pit room and more," according to a 2014 press release.
When Shopify established itself at 150 Elgin St., it had moved from 126 York St. in the Byward Market, a space that it had outgrown. At the time, the Elgin Street office and its luxurious accommodations, including space for exercise, recreation and dining, stood in sharp contrast to the way other companies were shaving workplace costs, the Ottawa Citizen reported in 2014.
"Being in the office was always a great experience that I know I'll miss, in part," the Shopify source, who was not authorized to speak to the media, told Capital Current. "But being able to work from home has given me so much extra time and made me probably more productive."
Though productivity may be on the rise, being at home has certainly changed the experience of working at a company that provided many in-office accommodations.
"Regardless of how the transition can be a positive, it was an awesome place to be able to go into work," he said. "But I still think Shopify is a great company and is still just as forward-looking as ever."
Office vacancy rate rises
The company's departure from the 150 Elgin St. office tower not only adds close to 200,000 square feet of vacancy to the Ottawa commercial real estate market, it signals a potentially worrisome — if not disastrous — trend for an important segment of the capital's business community.
The city is now facing an office vacancy rate of eight per cent in the third quarter of 2020, according to a commercial real estate report from Coldwell Banker Real Estate. This quarterly report documents a 14-per-cent rise in vacancies compared to the same quarter of 2019.
Ottawa is far from the only affected city as Canadian downtowns face, on average, vacancy rates of 11 per cent across the country. CBRE credits this rate to two factors: an uptick in subleasing and an inability to show properties to potential tenants over the previous quarter because of lockdown restrictions.
Along with Shopify, OpenText is abandoning its downtown office space at 10 Rideau St.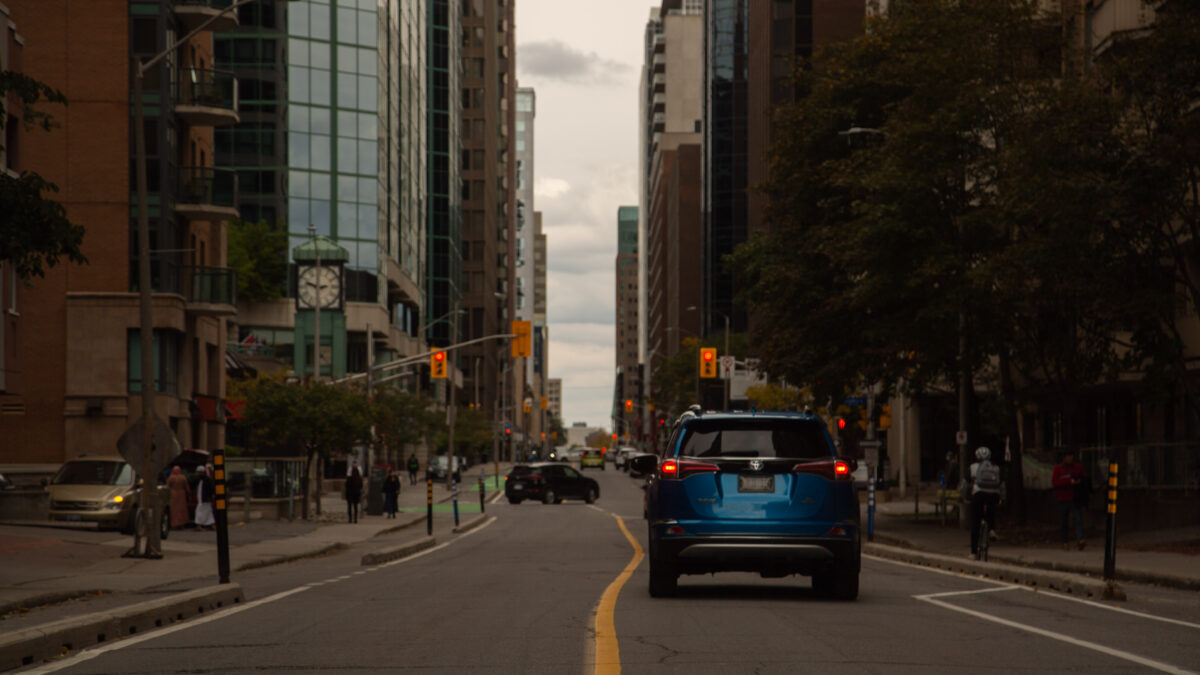 OpenText put 20,000 square feet to the subleasing market, according to CBRE. The two companies combined account for nearly eight per cent of the subletting space returned to market.
The leap in subletting space is what Shawn Hamilton, senior vice-president and managing director at CBRE, describes as a "canary in a coal mine;" a tell-tale sign that the market is undergoing a shift that should be watched with care.
"In times of uncertainty or economic pull-back, the sublease market is an indicator of how the market is set to play out," said Hamilton. "We saw similar market movement after the (2001-02) tech crash and also after the (2008) global financial crisis."
What becomes of Shopify's office space will paint a clearer picture of what the market looks like, according to Hamilton, noting that tech tenants occupy more office space than legal and accounting firms combined in Ottawa's downtown.
"We could see two things happen — either the space is filled quickly, which is a feather in Ottawa's cap, or we could see a general rise in vacancy and subleasing space that we'll have to roll up our sleeves and get to work on finding solutions," said Hamilton.
Watching with caution
The current stance taken by CBRE is that the situation is being watched with caution and not fear, according to Hamilton.
Commercial landlords also aren't overly concerned about the current vacancy rates, according to Dean Karakasis of Ottawa Building Owners and Managers Association. BOMA is an association of over 450 people representing 200 companies that own and manage office space in the capital.
"Yes, we are seeing some companies leave their traditional office space like Shopify and Open Text, but these huge cases aren't the majority," Karakasis said. "We're currently looking at this situation cautiously, but we're not too concerned about any drastic swings to the market."
Shopify is also not entirely abandoning the world of physical space as it continues to occupy offices at 234 Laurier Ave., according to its website.
Rental prices have not gone down for class-A office space in Ottawa yet, according to CBRE's latest quarterly report, but they have stagnated at $23.54 per square foot.
Commercial office space is broken down into three classes: A, B and C. Class A real estate refers to the most prestigious space in the area, with the highest cost and the most state-of-the-art features, according to Coldwell Banker Real Estate's definition. Class B facilities are characterized by their average rent price for standard facilities. Class C office space is cheaper, in less desirable locations, typically with none of the more luxurious features of the other classes.
"Numbers haven't yet reached what they were from the 2008 and 2009 financial crisis, so our owners and managers aren't worried quite yet," said Karakasis.
The 2008 financial crisis saw vacancy rates reach double digits, and that hasn't yet happened because of COVID-19, noted Karakasis.
Tectonic shifts
Aside from the uncertainty caused by the 2008 global financial crisis, Karakasis says this isn't the first time Ottawa faces potentially tectonic shifts in the office space arena. Entire sectors looking towards the door were experienced in the post-recession economy of the early 1990s, he said.
"We saw certain office leases end in Ottawa after the recession and everyone seemed quite concerned, but as some left, tech companies jumped right into Ottawa's downtown offices," said Karakasis.
In 2014, Shopify led a new tech migration into the downtown core. At the time, there was a draw to downtown rather than the traditional Kanata home for tech companies as some executives believed it would attract more top talent, according to Shopify's then-chief platform officer Harley Finkelstein in a 2014 interview with the Ottawa Citizen.
Regardless of the amount of available office space, someone new will always enter the market to fill the hole, said Karakasis, citing the Department of National Defence's purchase of the former Nortel campus in west-end Ottawa. "Someone is always willing to pay for the space they need, and the market will bear those changes."
While swings characterize some private sector businesses, uncertainty is also being felt in the federal government as it adjusts to flexible, work-from-home directives during the pandemic.
"At our office, it's still largely work-from-home, unless there is an essential need to stop in to or work at the office, and that seems to be working well so far," said Stephane Paquette, accommodations and corporate services team leader at Parks Canada. Paquette's role is to help manage office space and equipment to suit the needs of his department.
Parks Canada's national office is located in Gatineau and the agency has satellite offices across Canada.
Collaborative workspaces
In recent years, the federal government has introduced plans to modernize federal office space by promoting more collaborative workspaces. This plan, known as the activity-based workplace approach, has four main tenets: learning, focusing, collaborating and socializing.
This plan was slowly working its way through departments as they moved away from cubicles and isolated workstations, according to Paquette.
Though close and collaborative workspaces are off the table for now, the need for office space for the federal government is not on the way out, Paquette said. "Coming back to work is going to be tricky, but modifying workspaces to promote changes is something the government can do to make the return to work safer."
Modified workspaces, being flexible on working remotely, and avoiding "high-density workplaces" will be pivotal to the eventual return to the office, he says. High-density workspaces have workers sitting in bullpen or cubicle-style arrangements that are generally used to save space.
Sam Moussa, broker of record at Re/Max Absolute Sam Moussa Realty, said he isn't convinced that long-term work-from-home mandates will change the industry. Moussa is responsible for property sales and managing the brokerage as a business.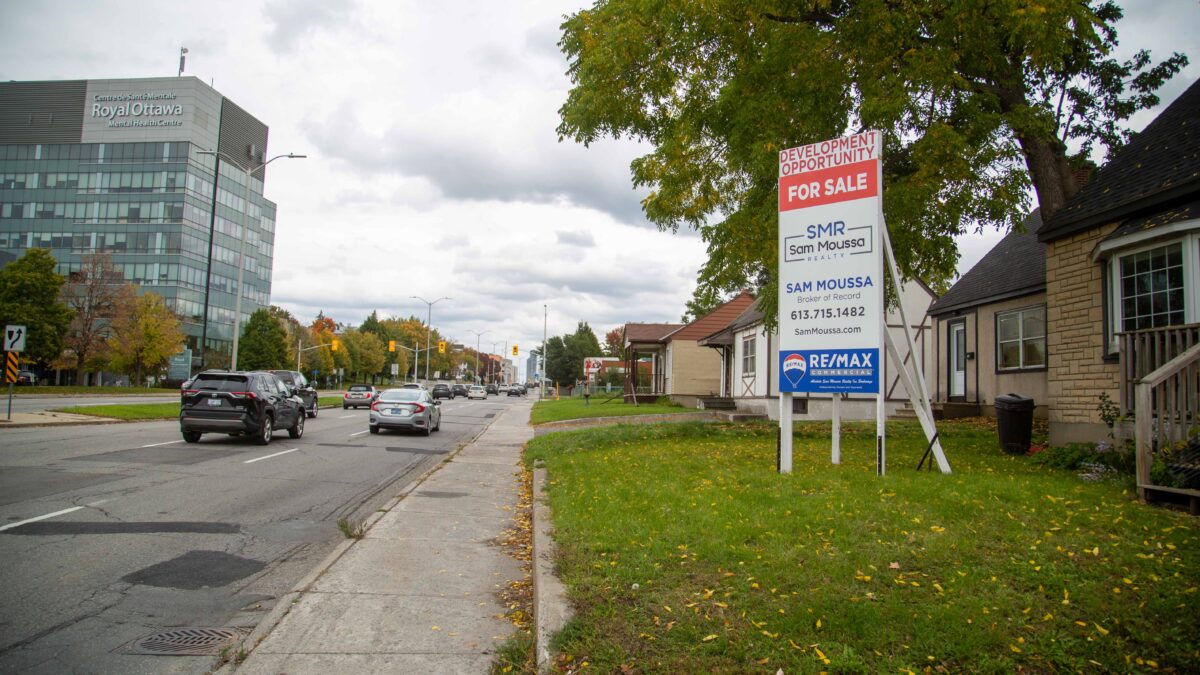 "You hear a lot of speculation on whether this is going to shake the industry, or it won't, but it could really go either way," he said.
Moussa sells commercial and residential real estate and says that the pandemic could have industry-shaping potential. In many ways, it already has, he acknowledged.
"I work with one person who owns a restaurant at the base of one of those next-to-vacant towers that now has a skeleton crew on most days and is really struggling now that the lunch rush is a fraction of what it once was," Moussa said.
For business owners who rely on the patronage of downtown office employees, the situation appears much more dire than BOMA and CBRE claim. The reduction in customers has been stark and unrelenting, said Shar Davoodi, owner of Fattoush Lady, a lunch spot open in the downtown core.
"The first day we realized the change in business was on March 16, when a bunch of government and corporate offices told their employees to stay home," Davoodi said. "We did $100 in sales that day and it hasn't even remotely bounced back."
For Davoodi, there isn't a question of whether shifts are happening. The only question for him is how catastrophic this will be for other businesses in the downtown, he said. Over the last few months, his restaurant has seen about 20 per cent of its usual traffic.
"I really don't think that it's fair to ask what will happen when the companies leave — they've already left," said Davoodi. "The only real hope so many downtown businesses have is that the government returns eventually, but who knows if that will be enough."
Struggles outside the core
While large players like Shopify and OpenText are making waves downtown, Moussa says that office space outside the core is also struggling.
"While some giant players like Shopify might move and switch to online and make headlines, it's small business that may really make waves in the market," Moussa said. The most noticeable change he predicts will be in B- and C-class real estate outside of downtown.
"Small- to medium-sized businesses that now can get rid of giant rent expenses are going to really be able take advantage of the digital-by-default movement," said Moussa. "This is going to really force property owners and managers to adapt."
Companies that specialize in short-term office space leases such as WeWork are unlikely to become the Airbnb of office space, according to Moussa. WeWork provides desk or office space for customizable lengths of time, according to its website.
"It wouldn't surprise me if smaller companies took short-term leases through companies like WeWork, but big tech companies and multinational corporations need more security than WeWork can offer," said Moussa.
Office-turned-residential living spaces would not be unprecedented in Ottawa's downtown. Earlier this year, an 11-storey office building at 473 Albert St. began a conversion to add 153 residential units in place of office space, the Ottawa Business Journal reported.
Trusts struggling
In the financial end of the real estate industry, real estate investment trusts are also faltering under the weight of the coronavirus — especially office-oriented trusts.
Slate Office Real Estate Investment Trust (TSX: SOT.UN) , a Toronto-based firm, saw its share price plummet around 40 per cent since February and it has stayed low since the beginning of the pandemic. Similarly, Dream Office REIT (TSX: D-UN-T) slid down by more than 56 per cent to a three-year low as the pandemic began, and has not yet shown signs of recovery.
With REITs struggling to regain traction, low trading volume shows how institutional and individual investors remain wary of investing in a currently uncertain sector.
And so a dark, pandemic cloud hangs over Ottawa's central business district.
More optimistic voices in the commercial real estate market say the industry will weather the storm.
But a tech giant — once the poster company for cool downtown worksites — has drastically reduced its presence there, declaring an end to "office centricity." The city's sublease market is on the rise. And financial indicators and worried restaurateurs both signal a potentially tectonic shift taking place in the urban core.