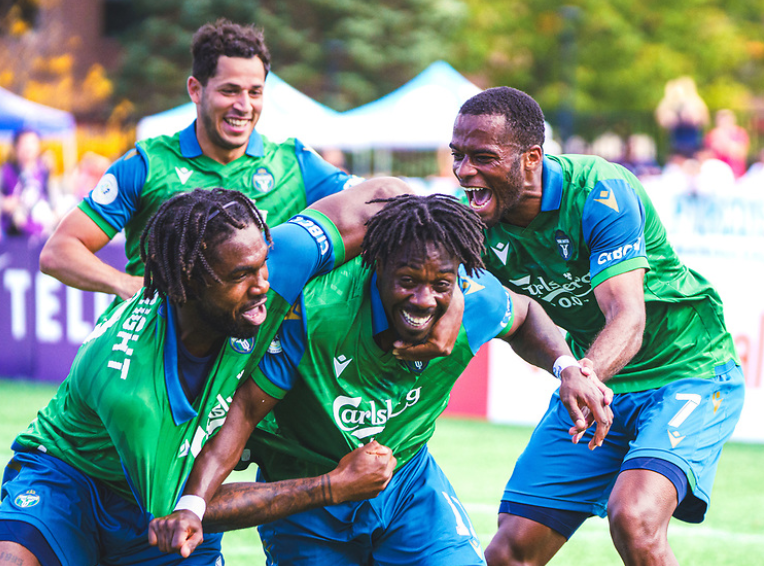 Time seems to be a flat circle for Atlético Ottawa.
The team has lost again in the final minutes of their match against York — again, on a counterattack. The 1-0 defeat cuts Ottawa down to sixth in the league standings. At this rate, they won't be making it into the playoffs.
York now hold the final spot in the playoff race, with a record of 35 points. As for Ottawa, with 33 points, so far the final matches of their season have been a series of unfortunate events. This game was no different.
The first half was slow. Atlético had an expected goal rating of 0.33. York would test Ottawa with some crosses into their box, which would meet the hands of Ottawa's Nathan Ingham.
Ottawa's best chances in this half came from outside the box. A rocket from Zachary Verhoven would force York's Niko Giantsopoulos to make a diving save.
A game-defining moment would come not too long after. Atlético picked the ball up in York's half and another long shot — this time by Ilias Iliadis — left a rebound inside the box for Samuel Salter to collect.
It seemed like a free goal. Salter swung, but Salter whiffed. Atlético remained goalless.
York replied with some long shots of their own, again coming up short.
Verhoven would see another promising chance near the end of the first half, this time inside the box, only to be foiled by Giantsopoulos.
A pretty even first half was followed by another collapse in the second for Ottawa.
York should have scored about 75 minutes in. An over-the-top through ball sent by York's back line to their winger, Austin Ricci, would leave the man clear on goal. Ingham somehow made himself big enough to deny him.
His efforts would be to no avail. Fast forward by about ten, and in the dying moments of the match, Kévin dos Santos would dribble through one of Atlético's defenders and slot the ball into the back of the net — 1-0 York. A home win, and a playoff spot for the team.
This could have easily been a two or three-nothing defeat, considering York's final attacks in the second half — even at 97 minutes in, Ingham was still sprawling across his net trying to keep the ball out. 
Ingham, unsurprisingly, wasn't happy after the match.
"I've been playing over a decade, never felt like this. Sickening."
Time for team to 'wake up:' Ingham
When it comes to salvaging this season, he said he doesn't think at this point his team deserves another opportunity. But, if they have the chance, Ingham hopes his team wakes up.
"It feels like a lot of guys are in the wrong profession right now."
Ottawa's coach, Carlos González, said the feeling of these losses has become normal.
"My emotions are normal of a result that we've had in the last few minutes again, a game that for me has been quite equal, and has been solved in a detail of quality in the last minutes."
It's not yet over for Ottawa, but it sure is close.
York United faces off against Vancouver FC on Friday. For Ottawa's sake, they need to lose. A draw will not do.
And of course, Ottawa needs to win. They play the next day against Forge FC. It could be their most important game of the season.
"What we have to think is that still we have one round," González said. "If York doesn't win their game, we still have it in our hands, again. Let's see how the week goes, what York does on [Friday], and from that we will build again."
---
More Stories