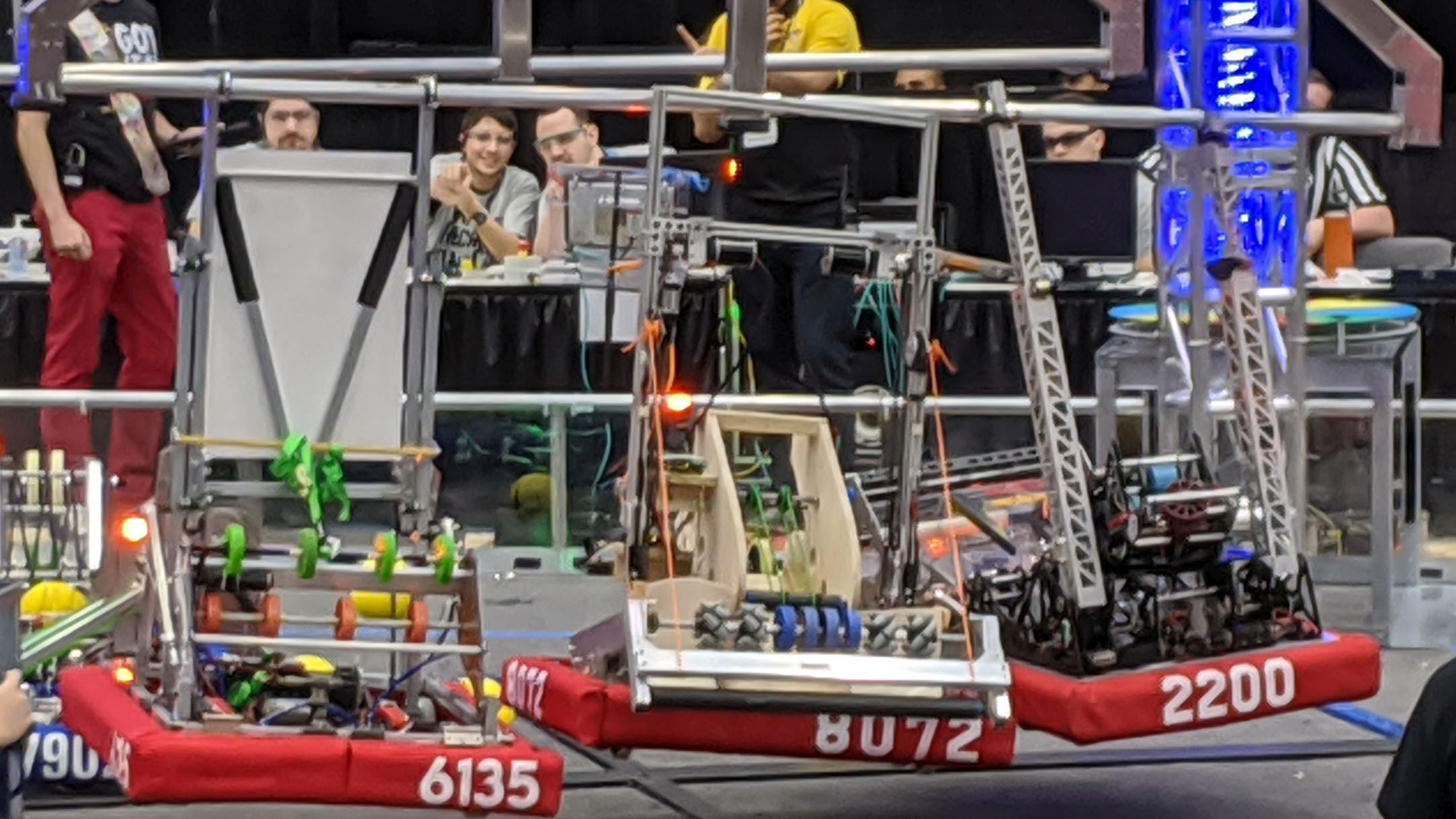 As normal daily life in Ottawa fades amid the coronavirus pandemic, it would be tempting for those who've spent hours preparing for cancelled events to bow their heads in defeat.
The Tech Tigers are finding a silver lining however. The Woodroffe High School robotics team toiled for weeks preparing for the FIRST Robotics Canada competition. It was supposed to be held March 13 to 15 but it was scuttled.
FIRST — For Inspiration and Recognition of Science and Technology — is an international not-profit youth organization that encourages students to learn about science and technology through robotics and LEGO competitions. Almost 4,000 student teams are involved in FIRST 2020.
"It was kind of a shock," said Andy Carson, a Grade 10 student at Woodroffe, about the cancellation of the tournament a day before kick-off. "But when I look at it now with all the news and, you know, the world kind of collapsing around me, I see that it makes sense."
Competitions are arranged into different stages. Teams must compete in at least two district events a season to gain points. The top 80 teams qualify for the provincial event (or "District" events in the United States and elsewhere). The winners of the provincial competition compete in one of two international FIRST Championships. For the Tech Tigers, they would have been competing for a chance to go to the championship event in Detroit, Michigan, with the other being in Houston, Texas.
FIRST event
Carleton's FIRST Robotics event — which was announced almost a year ago — would have been classified as a district event, with more than 20 high school teams from across the province attending, as well as a couple of teams from the United States based in Connecticut and Massachusetts.
At these events, competitors' robots perform different tasks to gain points, which can range from shooting balls at targets, to climbing over obstacles, to rearranging objects in a specific order.
"The main takeaway of it all is what we learn," Carson added, citing the team's preparation along the way, including the thrill of past competitions. "It's not really about competing or winning, but the experience that we get from it, and the fun — it's actually a lot of fun doing all of it."
The Tech Tigers spent weeks building and re-building a robot that was to compete in a series of obstacle courses and physical challenges against other high school teams during the competition at Carleton. Now, the time off is allowing the team to keeping refining the robot for future events, said Gavin O'Connor, a Grade 11 student at Woodroffe.
"There are ups and downs, I guess, with everything. It's really sad that we couldn't get to go to Carleton, but … it gives us a challenge to work off of in the (off-season)."
There is always more work to do for a robotics team. The FIRST competition only gives teams six weeks to plan and construct a robot.
"We were at school for the last two weeks most days until at least 9:30 or 10 p.m.," said Patrick Lawlor, a teacher of integrated technology at Woodroffe High School and a mentor for the Tigers.
With only six weeks to get the robot ready to throw balls and climb obstacles, every hour mattered.
"They were kicking us out at 10, I think?" Lawlor asked Eleanor O'Connor, a math and computer science teacher, who has also been helping the team with coding and wiring.
Building a robot
"Yes," she replied. "Quite empathically."
Building a robot is delicate and difficult. And for many of the students, it is also a new experience. Robotics high school teams aren't uncommon anymore — there are three in Ottawa — but it's still not quite like joining a school hockey team.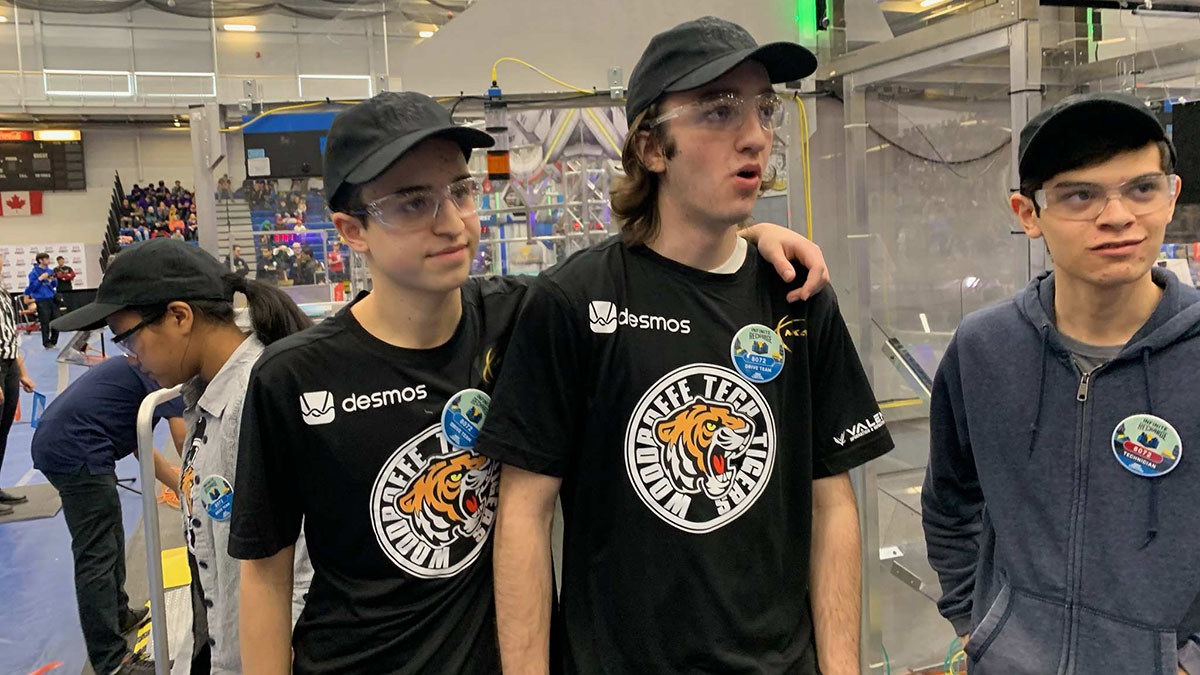 Gavin O'Connor is a student at Woodroffe High School who joined the Tigers when they were created this year, and he said that even learning about the team was a surprise.
"I didn't really know that there would be a robotics team for high school," he said, "and that I'd be able to be a part of it."
"I was kind of going into this entire ordeal blind," said Cole Feuer, a student at Woodroffe High School and a member of the Tech Tigers who works on coding for the robot. "But it's cool the way you build your robot and I'm really happy with what we have."
Being on a robotics team isn't all late nights, hard work and competitions, though. The Tigers and Ottawa's other teams sometimes also make their own fun.
The Tech Tigers is one of five teams based in Ottawa registered in the FIRST competitive circuit. Robotics teams in Ottawa are often community-based, and accept students from a variety of schools and communities. The Lisgar Robotics Club and the Tigers are the only other teams based in one specific school.
New team
This is not particularly surprising, as the team itself is quite new, having only formed this year to jump at the opportunity to participate in FIRST events. The current tournament format of FIRST has only existed in Ontario for three years, and other teams have had the opportunity to participate in a few more seasons.
The Aztechs team, based around Kanata, and the Lisgar Robotics club both participated last year, although this disparity of experience is not a bad thing for the students.
There is a strong spirit of co-operation among the teams in Ottawa and, when opportunity allows, they practice with each other and share what they learned.
"We've actually hosted local events at our school where three of the teams come and just practice," said Carson. "We have a setup field and just do some trial runs and have some fun, make sure everything's sort of working."
In addition to being helpful test runs, these get-togethers let the students relax and enjoy their work.
"Especially when there's not five refs staring at you," said Carson.
At the actual competition, the atmosphere is very different, Carson noted.
The Tech Tigers attended a previous event at Durham College, which ran from Feb. 28 to March. 1. The competition involved a number of teams from across the district, who each register to earn points that will take them to the final tournament. To earn points each team has to have their robot perform certain tasks. The Tiger bots tasks were to hold onto a metal bar for a certain number of seconds and to throw balls at a target.
But the robots are temperamental and require continuous maintenance. A large part of the competition for the Tech Tigers was spent in the "pit," an area designated for repairs.
The most stressful moment was when their team's number was announced for final call over the loudspeakers. Upon hearing the number – 8072 – Carson remembers still working frantically on the robot. Last-minute repairs were juggled all the way up to the final moments of bringing the robot into the gymnasium full of hundreds of people.
"We were still fixing things. We're deploying code. We're doing stuff mechanically," he explained.
"I do feel like it did take a couple years off my life," he added, laughing. But there's a thrill in the stress as well, he said. "Getting ready, with the music blasting in your ears, trying to set up all your computers and your networks and everything – you did get a bit of an adrenaline rush from that."
'Co-opera-tition' not competition
Part of the experience is what Lawlor described as a process of "co-opera-tition" instead of competition.
"Everybody helps," he said. "Every time our robot would break down some random person" — even from competing teams — "would come in and offer their help."
O'Connor described the time an integral piece to the robot suddenly broke off and fell to the ground. Once the robot was taken to be repaired, immediate help was offered from an opposing team.
"They helped us cut it and drill it, about five or six of them in our pit at least, going back and forth. They were helping us build a new bracket basically, to put on our robot so we could be out in the next match."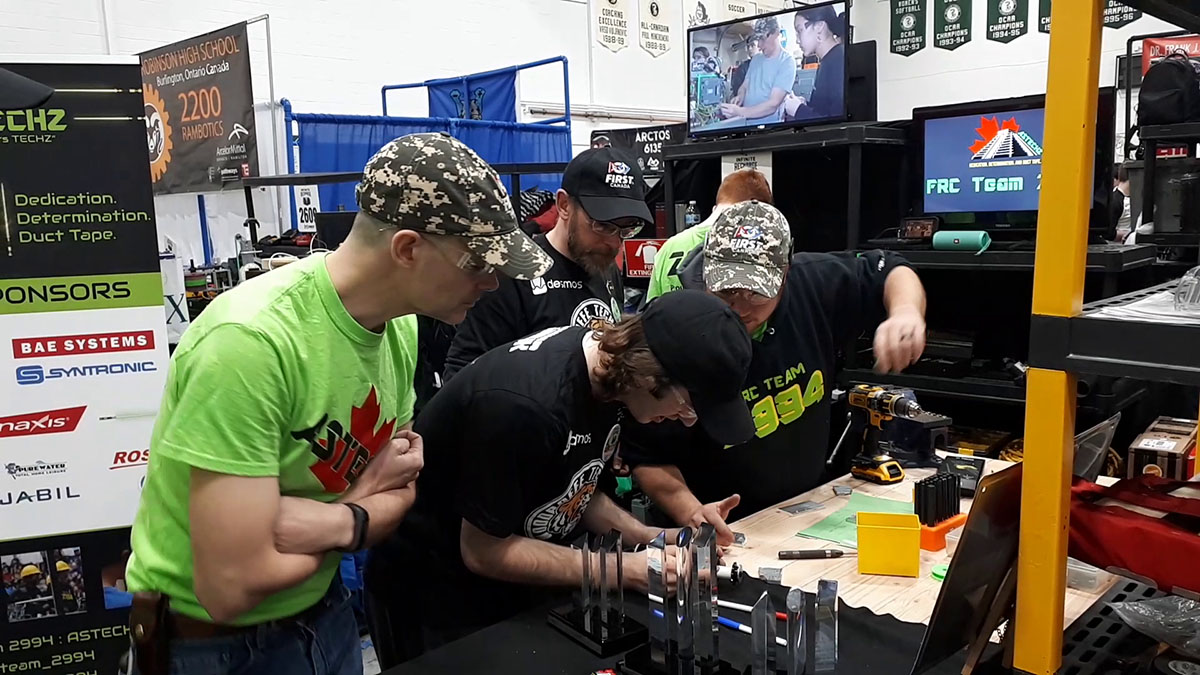 It's easy to get attached to a machine that team members have clocked more than 100 hours with.
"It kind of feels like a dog or something," said Carson, making the rest of the team laugh. "I definitely feel sorry for it when it gets hit or hurt."
When the robot was supposed to be throwing balls as one if its tasks, it would sometimes get stuck on them instead. It was once stuck on three balls at a time, swaying back and forth helplessly. "You could see it struggling and wanting to be free," O'Connor said.
"It was doing its best."
Even with the sudden cancellation of the Carleton competition, the team wants to focus on what they've learned, not what they've missed. "We were lucky to have the one competition that we did," O'Connor said.
Carson said he's still hopeful that there will be a future opportunity to use their robot. "Even if it's not hosted by FIRST, we could still do local events," he said.
What is FIRST Robotics Canada?
FIRST Robotics Canada was founded in 2001 and its goal is "to inspire Canadian high school and elementary school students to pursue further studies and careers in science, technology and engineering."
FIRST Robotics Canada seeks to achieve its goal through robotics and LEGO competitions involving students, volunteers, and mentors. In total, over 20,000 students, 2,000 mentors, and 2,500 volunteers are taking part in FIRST competitions across Canada.
Kim Cooper is the vice president of FIRST Robotics Canada. Prior to the cancellation of the Carleton competition due to the COVID-19 pandemic, Cooper said she was excited about the impact of the students participating in the FIRST program.
"Showcasing our FIRST program at Carleton will engage even more students, parents and teachers in STEM (science, technology, engineering, and math)," Cooper said in early March. "Thanks to programs such as CanCode, we were able to reach more students and teachers across Canada, including in the Ottawa area."
CanCode is a federal government initiative that seeks "to equip Canadian youth, including traditionally underrepresented groups, with the skills they need to be prepared for further studies, including advanced digital skills" and STEM courses.
Starting in 2019, CanCode will provide $60 million over the next two years to students in kindergarten to grade 12, giving them improved opportunities "to learn digital skills including coding, data analytics, and digital content development."
While Cooper said that students are excited to show off their robotics at competitions, she also said a lot can be learned from such events.
"The more we, as a society, can provide youth with opportunities for learning and collaboration," said Cooper, "the more we can support this talented next generation of leaders."
---
More Stories