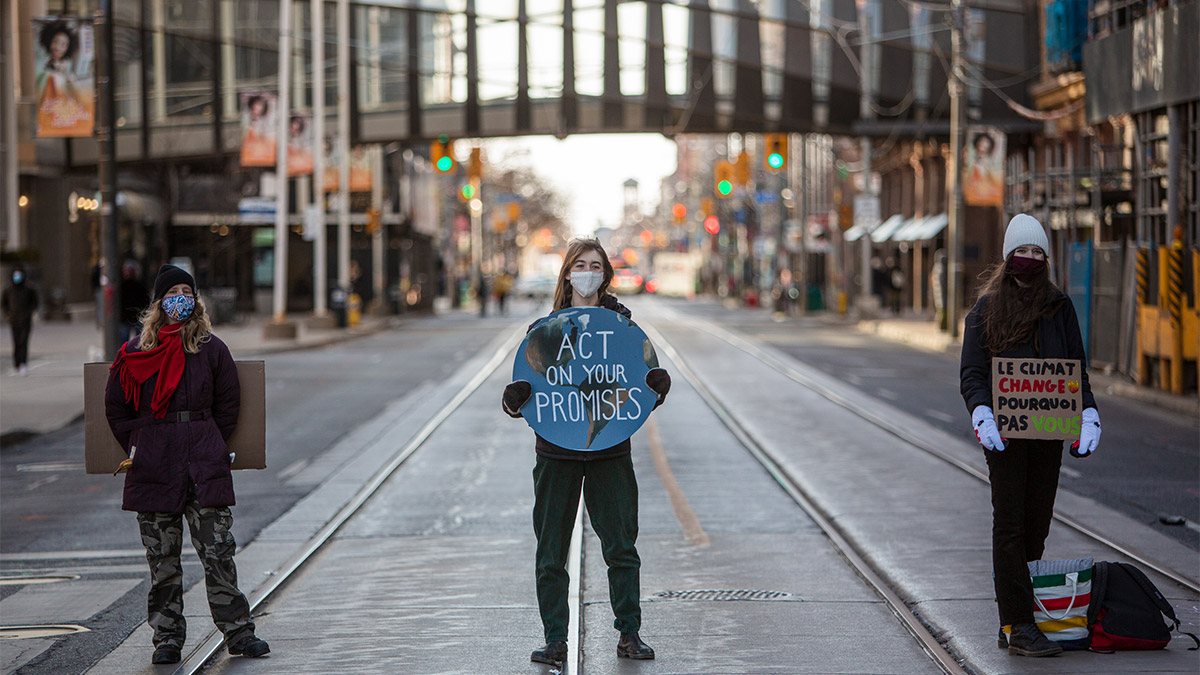 Young climate activists are finding other ways to advocate for environmental justice as Canada continues to endure lockdown conditions during the COVID-19 pandemic.
An example occurred last month. Normally March 19 marks the Global Day of Climate Action, but what was once an event that filled the streets of cities worldwide with climate activists had to find its platform online this year.
The National Online Climate Strike featured grassroots groups and frontline activists from across the country gathering virtually to discuss their experiences fighting for climate justice. 
The three-hour live-stream event was led by Climate Strike Canada, a national advocacy network of more than 20 groups led by youth under 25. With some 200 registered participants, the March 19 conversation had one main focus: to call on the federal and provincial governments to act on their environmental promises.
Among those organizing the webinar was Muska Sadat, a 15-year-old climate activist from Brampton, ON. Sadat said the inspiration for the virtual strike came from the organization's goal of making activism accessible for all young Canadians, as the pandemic keeps the majority of cities under tight COVID-19 restrictions. 
"Organizing activism during the pandemic is very difficult for everybody, but there is a great amount of solidarity in the community of activists we have involved that made this possible," Sadat said.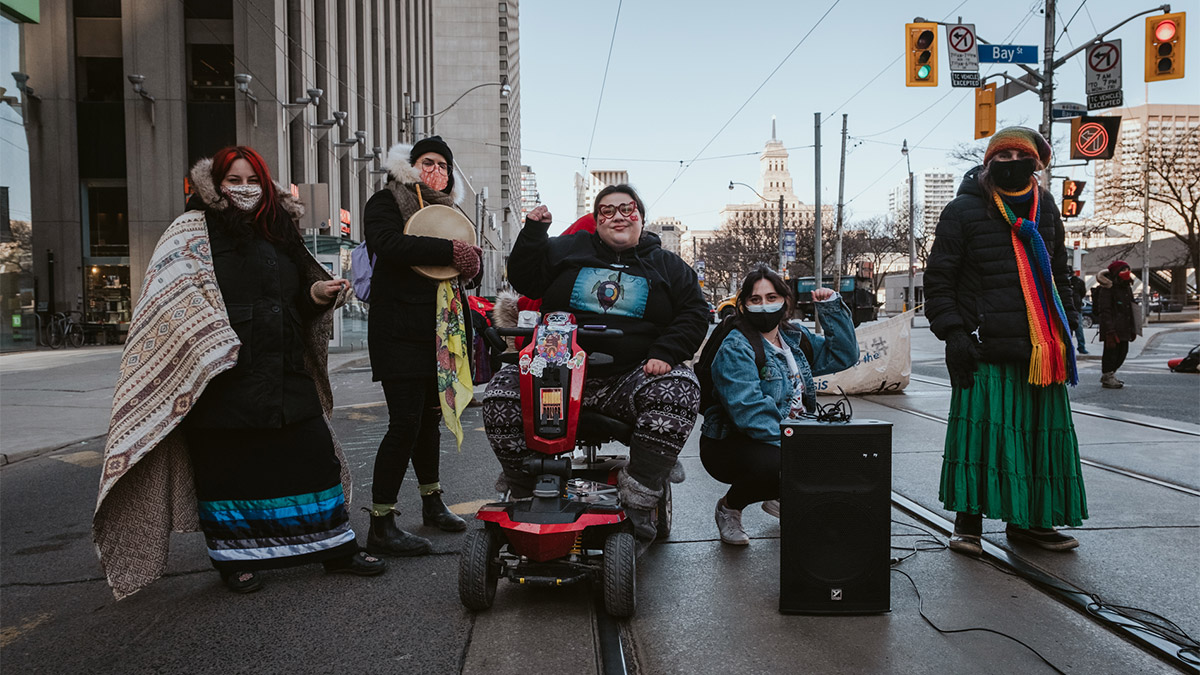 Despite the virtual strike not generating as much attention as in prior years — when the streets were filled with young activists wielding signs urging action to curb climate change — Sadat said she hopes the event helped recruit participants to the fight for sustainability.
The event was organized to allow participants from all across the country to join, with speakers tuning in from coast to coast and representing groups such as Climate Justice Guelph and the Saskatoon Youth Climate Committee, which provided information on climate-crisis developments in their areas.
"I really hope that, as a first step, our participants will mobilize and try to take action in ways that are accessible to them," Sadat said. "However, obviously individual actions are meaningless unless those in power act on their promises, and fulfill their responsibility to the future generation."
Sadat, among other activists who joined the virtual climate strike, said Canadian politicians and governments are failing to "act on their promises" in the battle against climate change. Specifically, the activists focused their event's conversation on the fossil fuel industry, urging the Canadian federal and provincial governments to aggressively implement emissions-reduction measures, and banks and post-secondary institutions to divest from carbon-intensive businesses.
On Friday, just a week after the Global Day of Climate Action, delegates of the Conservative Party of Canada rejected adding various green-friendly policies to the party's platform, including a statement that would have recognized that climate change is "real."
In December, the federal Liberal government unveiled its latest climate plan, which committed to reducing greenhouse gas emissions by increasing carbon taxes and planting more trees, promising to reach net-zero emissions by 2050.
"We hear them, and all Canadians who want to see real climate action," Matthew Dillon-Leitch, a spokesperson for the federal ministry of the environment and climate change, said of the climate strike activists. "We'll continue to work with all Canadians to take climate action and to ensure a more sustainable future for our kids and our grandkids."
In addition to the virtual strike, some in-person events were held despite lockdown regulations, with small groups gathering in Vancouver, Ottawa and Montreal. In Toronto, dozens of youth activists held a socially distanced protest, demanding action from the Ontario government and Toronto city councillors.
To try to demonstrate it's listening, the province has announced plans to establish a youth climate advisory group to provide young Ontarians with more opportunities to be involved in discussions about the issue.
"Ontario has played an important role in fighting climate change," said Gary Wheeler, the communications officer for the Ontario Ministry of the Environment, Conservation and Parks. "We know there is still a lot more work that needs to be done before we can achieve our goals."
Despite the reassurance that climate change remains high on both the federal and Ontario government's agenda, climate activists like Sadat claim it's not enough.
"They need to act on their promises," said Sadat, adding that advocates will continue to raise alarms when any government "sets ambitious targets for environmental justice and then doesn't follow through."