Adapted from stories of the latest issue of the Living Hyphen magazine, nowhen is a two-part auditory and nature-based play featuring students from York University's Theatre @ York program.
The production was part of the Canadian Stage's Dream in High Park programming taking place at Toronto's High Park Theatre this summer.
Alison Wong, director of nowhen, said she was first inspired after spending a lot of time in High Park during the peak of pandemic isolation. 
"Given the time and the opportunity to reflect and be thinking about what kind of stories I wanted to tell, I became really obsessed with this idea of an intentional relationship to space," Wong said. 
At the same time, Wong also came across Living Hyphen "serendipitously," identifying with its curated stories as someone of mixed identity who immigrated to Canada.
Living Hyphen is an arts community exploring what it means to live between cultures as "hyphenated Canadians," said founder Justine Abigail Yu.
Capturing diverse stories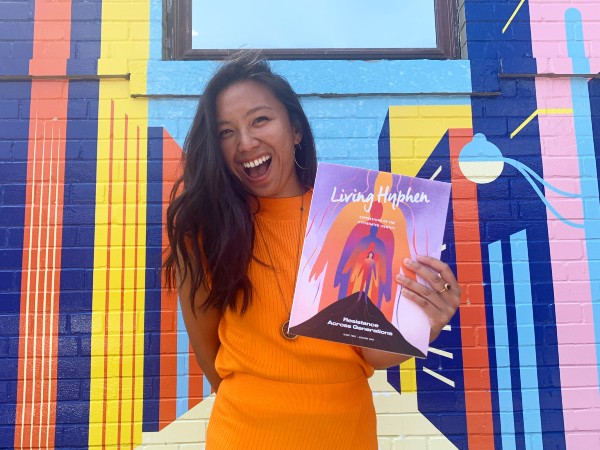 For nearly 40 years, Canadian Stage has put on Shakespeare in High Park, but this year's Dream in High Park the series features more diverse programming and storytelling. 
"Of course we love the Bard, but there are plenty of incredible voices from various intersections of identity who have something really powerful to share as well," said Yu. 
In the first part of the play, guests gather at one of seven entry points in the park to experience an audio-guided journey of one of seven choreographed stories. The audience then converges at the amphitheatre for a live performance to celebrate sharing space together.
Wong said watching the actors grow with their performances so far has been "wonderful," especially after not being able to perform in person for such a long time. 
"It feels a bit like a homecoming to have that joy of sharing space with audiences again, and then it also feels like a really lovely, new beginning," she said. 
The play also incorporates celebrating language diversity and includes a collective language learning of Anishinaabemowin as an act of solidarity and being a good guest as settlers, Wong added. 
Individual journeys
Depending on which entrance guests choose, each audience member will have a different experience of the play. Yu said for her, this unique format presents a commentary on our own journeys to this country. 
"It's really symbolic of our migration stories and our movement stories from around the world or even right here on this land in what we now know as Canada, and how different each of these journeys are," she said.
Yu said she hopes plays like nowhen and programming like Dream in High Park can continue to make space for different voices and storytelling formats.
"There are so many narratives, so many lived experiences, that aren't typically captured not just in mainstream media, but especially on stage, in theatre," she said.
Capturing diverse contemporary voices reflecting on current issues is something else Yu said she'd like to see more of in theatre. 
"I think it's so important for us to see ourselves reflected, or even if not ourselves reflected, to be able to understand other people's experiences and to see what that looks like."
Although Wong said she feels there will always be space for traditional theatre, she also would love to see more theatre performances in unique formats, including reconsidering public space.
"I would love for us to go outside the box a bit and think of other ways that we can tell stories and really showcase and platform those practices as well," she said.
nowhen concluded on Aug. 15 after a sold out run. Dream in High Park 2021 continues until the end of September.
---
More Stories