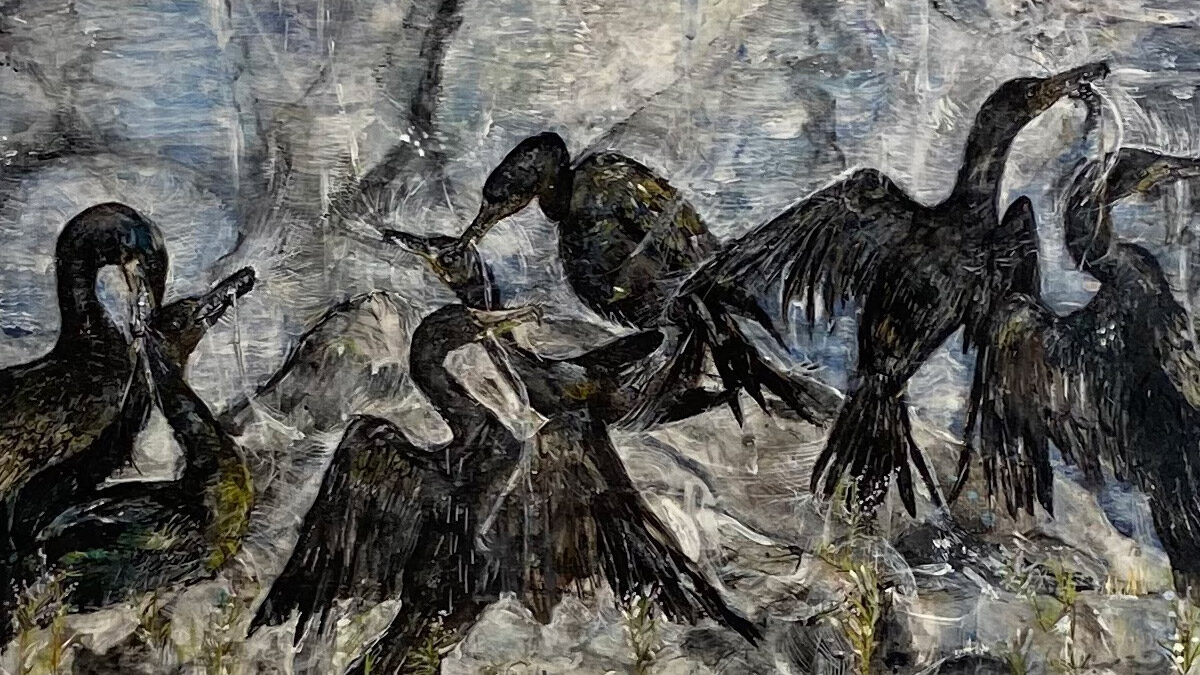 A recent exhibition by a local ceramic artist at a Byward Market art gallery sought to capture in clay the changes caused by the climate crisis, including the melting Arctic ice cap.
The L.A. Pai Gallery on Murray Street featured works by Lisa Creskey, depicting a newly discovered, prehistoric toothed Arctic bird as well as large humpback whales and various other Far North creatures in a dark fantasy landscape.
In the exhibition, Creskey imagined a thought-provoking and strange place in which ancient creatures emerged throughout the delicate Arctic ecosystems to repopulate a rapidly warming planet.
"The creatures that are in the Arctic are so specialized to live in these absolutely impossible conditions," said Creskey, who lives in Chelsea, Que. "They have nowhere to go, they're just at the end of the Earth. So I've tried to build the pieces to transport, to feel like you're at the end of the Earth."
After working as a ceramic artist and painter for more than a decade, gaining several awards and acclaim across Canada and internationally, Creskey has cemented her place as a groundbreaking visual storyteller. Using intricately crafted clay sculptures and installations, she builds immersive landscapes that investigate themes of nature, history and time, where people can reflect on the important issues relating to humankind's relationship with nature.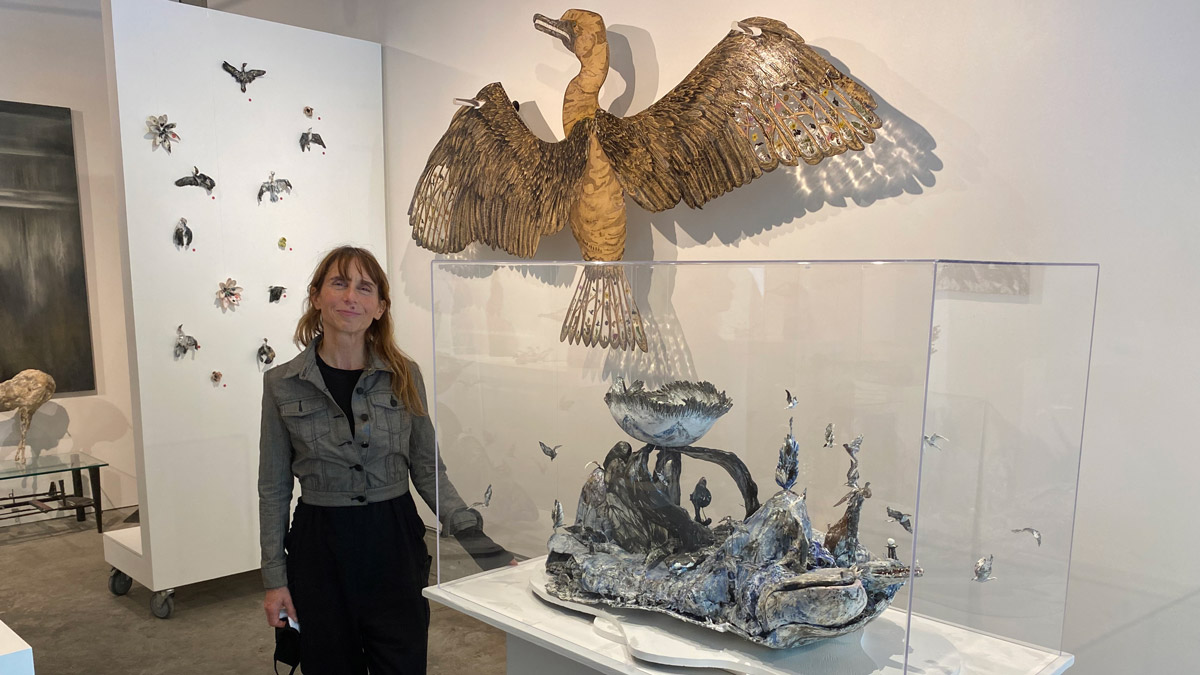 The title of the exhibition, Sunset Cruise, refers to Creskey's vision of a "last cruise" on the Arctic Ocean when ice breakers will become obsolete. Now that the polar ice is seasonally disappearing in the warming climate, Creskey explained that her exhibition reflected the "precarious time" facing the Arctic.
Summer sea ice is expected to last the longest in Northern Canada and Greenland, acting as "the final refuge for ice-dependent species," according to World Wildlife Fund Canada. Even as Canada continues to reduce greenhouse gas emissions, the sea ice will shrink and have shorter periods in the winters to come.
Through her sculptures, Creskey said her hope is to draw out an emotional response in her visitors without being "didactic or preachy," and to ultimately bring awareness to the conditions Arctic animals currently live in, through the clay medium she works with.
She explained how these issues matter to her because of her experience growing up on a subsistence farm in Ripon, Que.
"Growing up on a small farm, we're really getting a sense of the humanity of animals," Creskey said. "Our lives are really intertwined. On a small subsistence farm, you can see that's a microcosm of how the world really is because we are dependent. This is our one home that we have."
The show must go on
After working on her sculptures for over four years, Creskey was looking forward to her exhibition opening in the fall of 2020. However, COVID-19 lockdowns forced the L.A. Pai gallery to close and to delay Creskey's show.
"It was postponed numerous times over," said Lisa Pai, art curator and owner of the L.A. Pai Gallery. She has worked with Creskey for more than 10 years. However, the delay didn't stop them from making strides with the show by virtual means through a project website.
"I thought that during COVID, it's important for the artists to have a space that they can explore," Pai said. "So Lisa was the inaugural event for us that we were building the website around and that went really well."
In their efforts to keep the show alive and engage people with the work, Creskey and Lisa also brought in two Ottawa-based poets, Ian Roy and Jenny Haysom, who were eager to write pieces around the sculptures.
"It was really wonderful," Creskey said. "Initially we were just struggling with what it was going to look like and what the numbers will be. Usually, everyone comes and drinks wine and it's a big party. This time, it wasn't a large crowd but we were able to film it and diffuse it that way, so it was a different experience but, I think, equally valuable. I find I sort of turn to poetry to keep me inspired as well, so it was just like a perfect circle."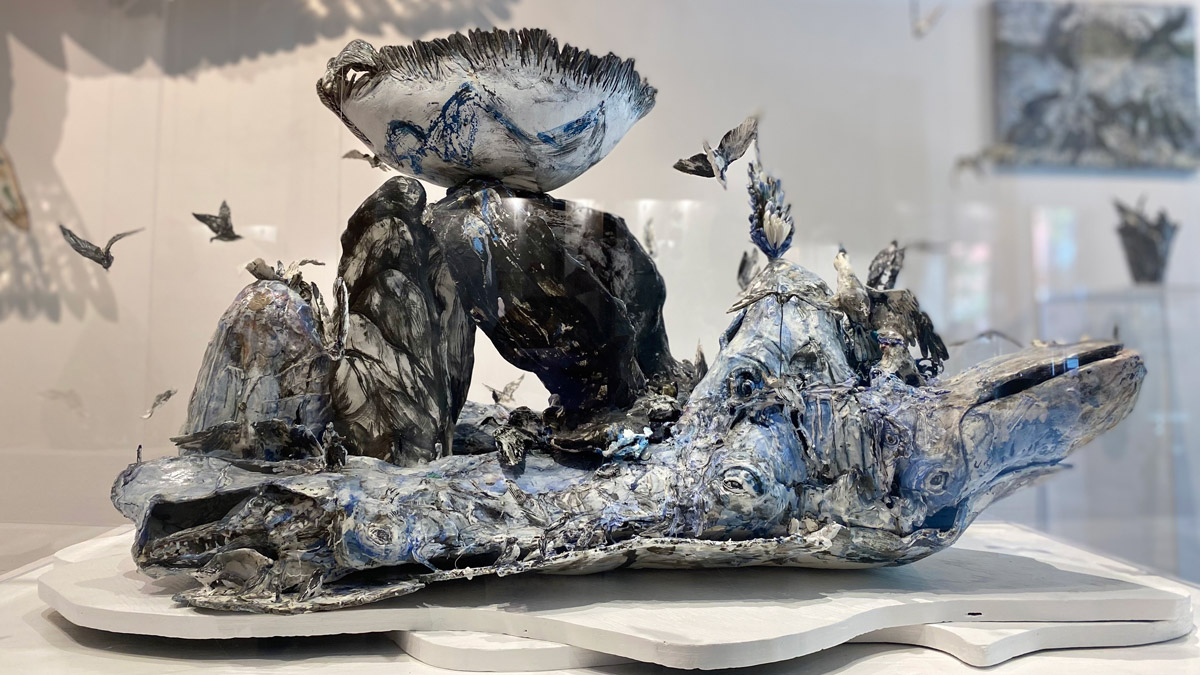 The sculpture, Tingmiatornis Arctica – Sunset Cruise, is Creskey's favourite. According to the description on her website, scientists have predicted that the rapidly melting ice caps will prompt the animals of the Arctic to act in "unprecedented ways." This piece mourns the perilously warming Northern waters while fearing the future, paying respect to the beauty and force of nature as it hopes the changes can be reversed
"I've been building this one for many years," Creskey said, gesturing to the glass-encased sculpture with a smile. "I installed (the birds) just the day before we came in. I glued them onto the case for the first time and I had no idea how it would turn out. It was something I envisioned four years ago, so I put the case on and they were all swinging and it was just a really exciting moment."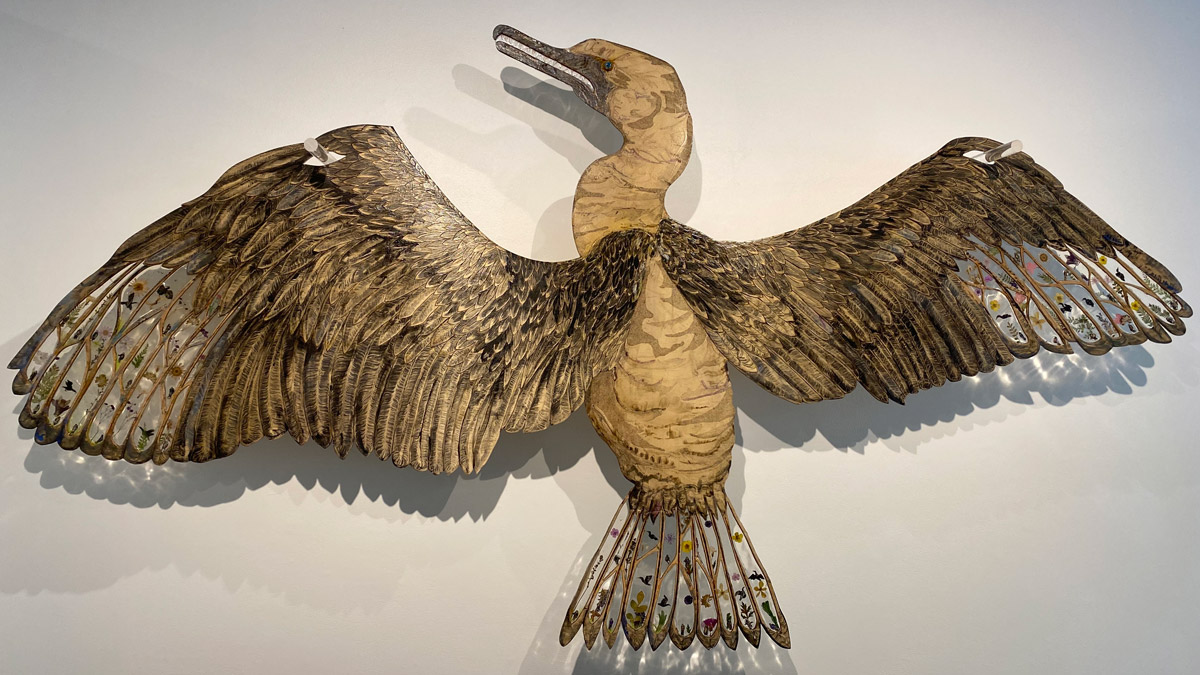 Her second major piece is titled Tingmiatornis Arctica – Aurora, based on a prehistoric Arctic bird whose remains were discovered in 2016. Upon encountering the news and learning about this ancient toothed bird that existed in the Arctic 90 million years ago, Creskey became fascinated with its history and the implications of how it thrived in a northern climate that was once warm so long ago.
When asked about her thoughts on Creskey's work, Pai only had one word.
"Marvel," she said. "You can only marvel. It's incredible the level of detail that she puts into every piece. The full historical background is just so sound, so any small element you look at or ask about, the story can just run from there because she's really thinking about it. And it's altering how she makes the work as she goes along, so this is incredible."
The state of the Arctic
Gregor Allan, Creskey's husband who was also at the show, spoke about the important reflections he hopes people will have as they connect to the exhibition's message surrounding climate change.
"It is alarming, certainly, but I don't believe that she was trying to alarm people," Allan said. "It's more about having people starting or continuing conversations about the climate and how the world is an interconnected place. It's always been changing and evolving, but . . . things are a little bit out of balance now because we're creating change in such an external but rapid fashion."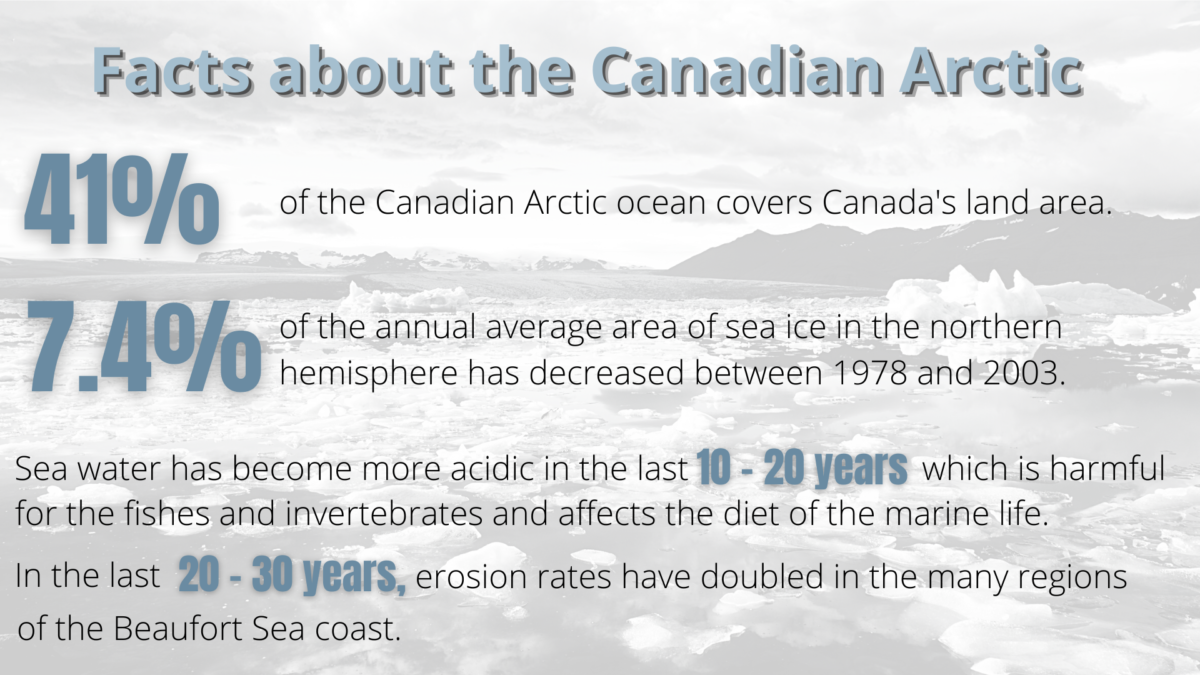 According to a recent report by Fisheries and Oceans Canada, climate change is the greatest human-caused factor affecting the Canadian Arctic. The marine environment, for example, has also been affected in numerous ways, including by the presence of microplastics and other contaminants. All combine to key resources, eco-systems and sources of income such as commercial fishing.
As the frozen land melts, the shorelines in the western Canadian Arctic are collapsing and coastal erosion is accelerating. These changes affect the migratory and coastal fish habitat and release land-based nutrients as a possible energy source for marine food webs which can be harmful if not regulated.
Sea ice is integral to the ocean habitat and affects species living there and in the surrounding communities. The report also highlighted how the Arctic marine ecosystem will continue to be affected by sea-ice variability and change.
Creskey said that her wish isn't for people to feel overwhelmed about the conditions in the Arctic but to feel hopeful and joyous about combatting climate change, because that is how people can be creative and find solutions together.
"Climate change is such a thing, it infuses everything that we do and it's such an important human rights issue," Creskey said.
"So I'm bringing that idea of a magical creature into our imaginations, but at the same time having the idea of being accountable for climate change, particularly in the Arctic. There's lots of different layers and I construct my pieces like that — looking through ice and time."
---
More Stories