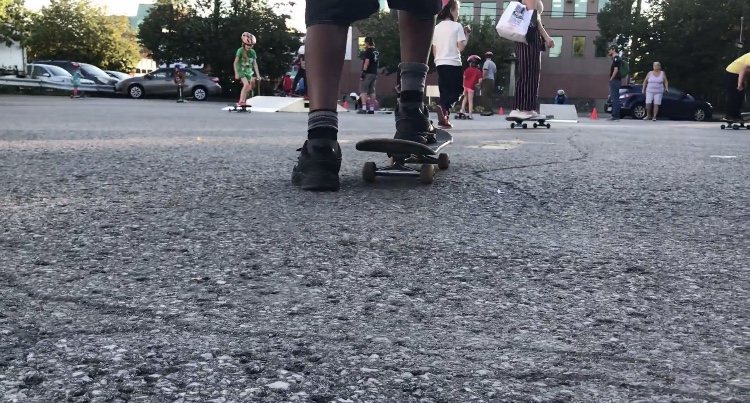 First-time skateboarders of all ages took turns recently going over ramps and learned the fundamentals at a Vanier parking lot with equipment provided by the Ottawa Skateboard Association.
The OSA runs the Learn to Skate event every Wednesday evening until the snow falls at 271 Marier Ave., as the group's Facebook page states. 
Learn to Skate, which is also organized with the Vanier Community Centre, allows kids of all ages and skill levels to use the free skateboards and take lessons from experienced amateurs who live in the community.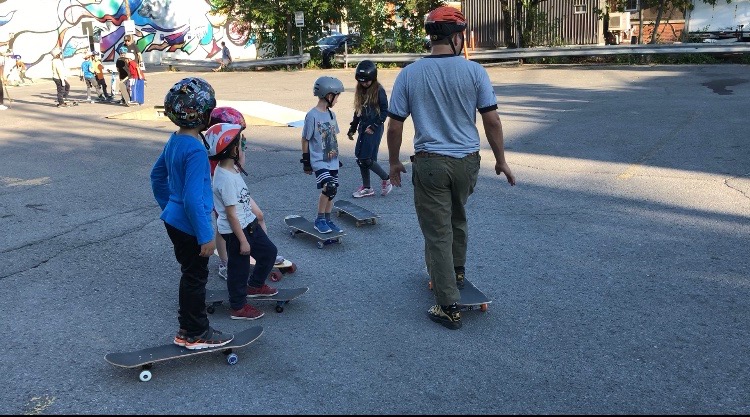 "This is for the community and it's a great way to get kids out and be active and be a part of the community… And it's free!" said Jean-Michel Rousseau, liaison officer for the Vanier Community Centre.
Skateboarding is perhaps not as celebrated as most traditional sports are, despite being around for many years. Skateboarding and the culture that surrounds the activity have also, at times, been deemed as rebellious. The OSA is attempting to project a different picture of skateboarding.
Aaron Cayar says he co-founded the OSA in 2011, when he felt communication between the City of Ottawa and local skateboarders was not constructive.
"The city was getting mad that we were skateboarding all over and we were mad that they weren't giving us anywhere to skate," recalls Cayar.
This led Cayar and others to form the association in hopes of bridging the divide between the thousands of local teenagers on boards and citizens who viewed them as trouble.
Breaking down the stereotypes surrounding skateboarding is part of the reason why the OSA organizes events such as Learn to Skate in Vanier.
The association has partnered in the Vanier project with two of its own sub-organizations: 1Squarefoot, which promotes the development of skateparks in Ottawa, and For Pivots Sake, which refurbishes skateboard equipment and donates it for community use.
Not only has the OSA and its affiliates helped create infrastructure for skateboarding in the city, they have encouraged many young people to take up the activity.
"Ideally, we'd love to have all of these kids riding a board," Cayar said of the Vanier program, "but we know that a lot of what we do is just provide a good time for the kids."
Skateboarding is evolving and headed for a major global spotlight. Next year at the Olympic Games in Tokyo, skateboarding and four other sports will debut as Olympic sports.
Inclusion in the Games can be seen as the pinnacle of a sport's growth and recognition. Olympic skateboard teams will consist of two men and two women competing in a combination of park and street events.
What will arriving on the Olympic stage mean for skateboarding on the local level though? Cayar says it doesn't really mean much.
"To me, skateboarding is a pastime," he says. "I understand what it means on an international level and I think it's really cool that it's in the Olympics, but that isn't what it means to me. It's like hockey, you know? You have all kids doing it when they're young, but by the time they're teenagers, the majority of them have been told they're not good enough to keep playing."
He adds: "To me, this is what skateboarding is about — building community and trying to get everyone involved no matter their skill level."
---
More Stories