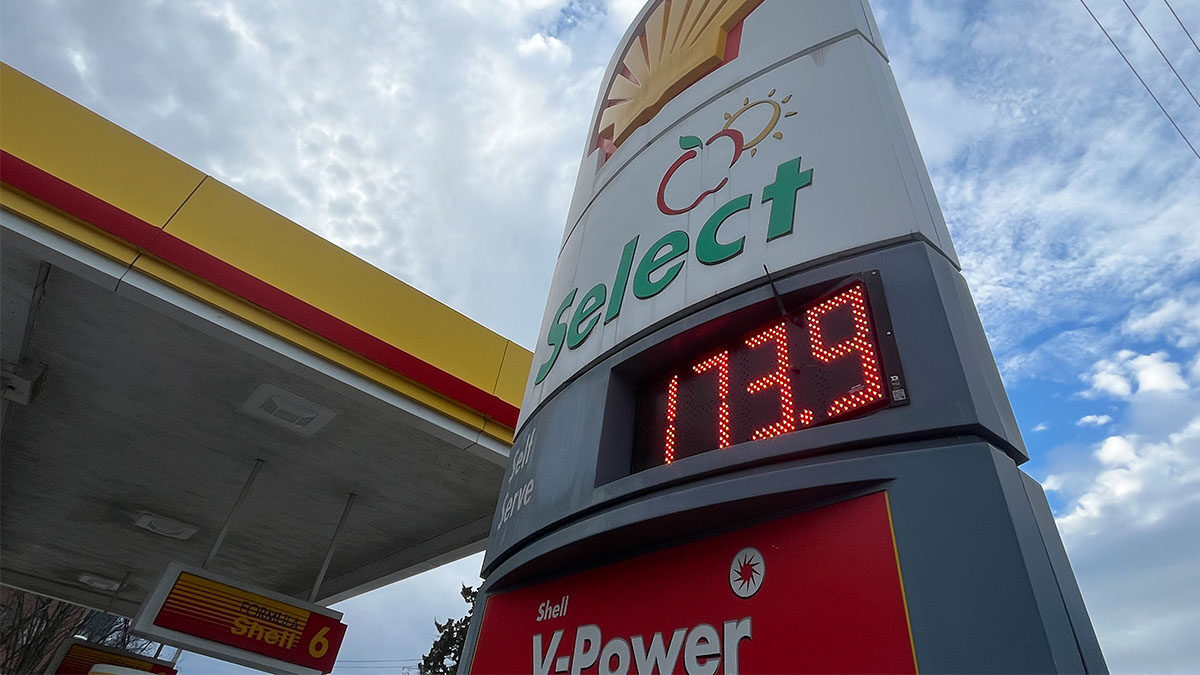 As gas prices hit new highs, there are many who have no choice but to absorb the increased costs.
While some may be able to driving less, taxi drivers — already hard-hit by the pandemic low ridership and the adoption of ride-hailing apps — have little choice but to keep filling their tanks.  
"We are struggling to make ends meet for families," said Ali Enad, a taxi driver and president of Unifor Local 1688, which represents Ottawa cabbies.
Enad explained that taxi drivers can't increase fares on their own to cover rising costs. Instead, they must apply to the city for an increase, a process that can take several months.
"We can't just decide to increase our prices like ride sharing apps," he said. "We applied back in January, and we're still waiting for the city to approve it. We expect that the city will look at it sometime in June."
However, waiting this long for approval may do some irreversible damage to drivers in the meantime.
"It's a business that people work all their life to invest in and so these people have no nowhere to go," said Enad.
The pandemic hit the taxi industry hard as demand plummeted during the past two years. With rising gas prices, Enad fears more drivers will leave the industry.
Many factors are involved in the climbing prices at the pumps, including an increase in demand as pandemic restrictions end, as well as sanctions on fuel from Russia. The result has been some of the highest oil prices that Canada has seen in years. That may be eased somewhat in Ontario where the province is expected to cut the gas tax by 5.7 cents per litre and the fuel tax by 5.3 cents per litre.
Whether it will offset the rise in prices remains to be seen as gas prices in Ottawa have been rising sharply over the past six months.
In February, with prices averaging $1.56 per litre, residents of the capital faced the highest prices they've seen since 2014, and the eleventh highest month in history, when adjusted for inflation.
---
---
In March, prices have hovered around $1.70 per litre, peaking at $1.84 according to the CAA.
March likely had the highest average gas price recorded in Ottawa's history, beating June 2008's high of $1.65 per litre when adjusted to for inflation.
These prices may partly explain renewed interest in electric vehicles (EVs). 
A study conducted by Maru Public Opinion found that 56 per cent of Canadians believe higher gas pump prices are here to stay while 27 per cent think prices will level out over time.
And nearly half of respondents said they were very likely or somewhat likely to purchase an electric vehicle. 
Adam Green, 22, said he is very happy he switched to an electric powered vehicle last year, especially as gas prices continue to rise. 
"My family was looking at electric car options for a long time, even before gas prices started to get crazy," said Green. "The original motivation was a combination of a reduced environmental footprint and, of course, savings on gas."
Green isn't the only one. According to Statistics Canada, more than 65,000 new battery-only and plug-in hybrid electric cars were registered nation-wide in the first nine months of 2021, which was already more than any other year.
---
---
For the first nine months of 2021, EVs accounted for five per cent of new cars registered, up from three per cent in 2020. 
Tim Burrows, who produced a webinar for EV Society titled Canada Talks Electric Cars, said the organization has seen a substantial increase in curiosity about electric vehicles.
"With high gas prices, the interest has just gone through the roof," he said.
"We've been getting so many questions and people are suddenly asking and paying attention and wanting to understand more about what it's like to actually have one of these electric cars."
For taxi drivers such as Enad, switching to an electric vehicle isn't an option.
"Right now, there's a limited market for everything. If you want to buy a car, you're going to wait nine months," he said.
This wait is not practical for drivers, and that is only if they can afford it.
"Electric cars are expensive. I mean, who has $100,000 to buy a car?"
Many Canadians are on the same page. Deloitte's 2021 Ontario automotive consumer study found that affordability continues to be the key concern for those considering purchasing an EV.
However, Burrows says people don't understand that buying an EV is a bit different than a regular internal combustion engine vehicle.
With an EV you have to pay a premium and it's going to cost more up-front to buy it, he says. But over time you will get that premium back, because of savings on gas and other maintenance fees such as oil changes and other tune-ups related to conventional engines. 
According to a study by Consumer Reports, an EV owner who charges their vehicle at home at home can expect to save an average of $800 to $1,000 a year compared to an equivalent gas powered car. Additionally, maintenance and repair fees for EVs are half of what they would for gas-powered vehicles. 
"You'll end up ahead financially. But that's not how people shop, right? Most people look at the sticker price and that's what they make their decision on," said Burrows.
Similarly, Cara Clairman, the president and CEO of Plug'n Drive, a non-profit that advocates for the adoption of electric vehicles, says EVs are actually cheaper than almost any gas vehicle on the market right now —  if you run the numbers over time. 
"In fact, there's a study that showed that a Honda Civic, over time, costs more than a Tesla," she said.
"The challenge is sort of getting people to understand 'pay now, save later,' but most people don't do that math when they're buying a car."
Government incentives can also help buyers afford electric vehicles, although the size of those incentives vary by province, if they are offered at all. For instance, the government of Ontario no longer offers electric vehicle rebates after Premier Doug Ford scrapped the program in September 2018. The only remaining rebate is offered by Plug'n Drive, where buyers can receive $2,000 for purchasing a used electric vehicle combined with a scrappage incentive.
Clairman says she hopes to see more people switching to electric vehicles, especially as gas prices continue to rise.
"You're going to save and do something good for the planet. So, why not?"
---
More Stories