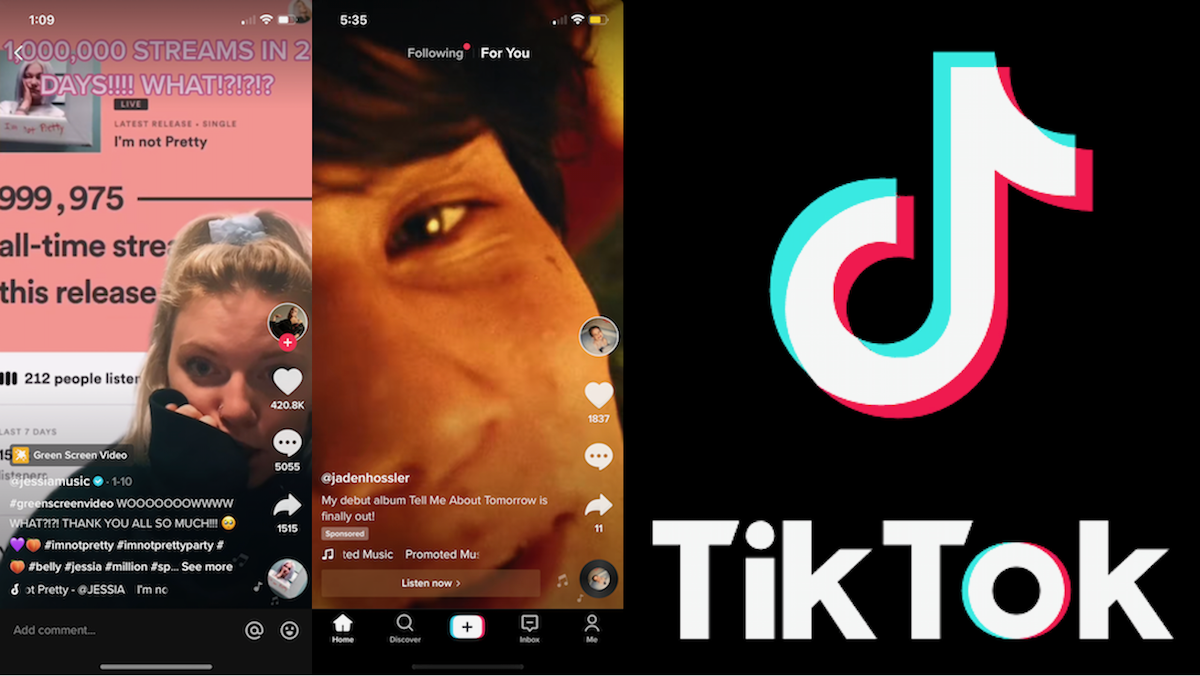 When a song from "The Backyardigans" — an animated musical children's TV series from the early 2000s — has the potential to top the charts in 2021, you know you are dealing with an extremely influential app.
The song "Castaways" was released in 2005 but recently went viral on TikTok, with 1.2 million videos using the sound. The song quickly made its way to the top of Spotify's Viral 50 chart.
TikTok's impact on the music industry and what songs are hitting the charts is now immense. The platform is being used to create, promote, and share music by popular artists as well as ones that are just starting out.
Neena Rose, a singer from Hamilton, has been using the platform to build her singing career. She has 875,300 followers, a combined total of 15.3 million likes on her videos and 85,000 monthly listeners on Spotify.
"I have already got so much more out of the app than I ever expected, but hope to gain more fans, rather than followers, and have people love listening to my music and view me as a serious recording artist," she said in an email interview.
When Rose began posting on TikTok, she received 13 million views on one video featuring her and some friends. She realized TikTok had "serious marketing power."
"TikTok is a platform that puts emphasis on engagement and viewer reaction, which makes it a lot easier to get attention from people who really do support and like my music," she said.
The app has the highest engagement rate of the most popular social media platforms, something that works in favour of musicians and artists.
Emily Mackenzie, a fan of Neena Rose, said she sees music on her 'for you page' but the only artist she really listens to is Rose.
"Her random word generator videos are incredible. Shows her talent right off the bat," Mackenzie said, adding that she believes Rose has the potential to make it big. "She has incredible talent."
According to "The Year on TikTok: 2020" by the TikTok Newsroom, the app "powered by its community, became America's go-to platform for music discovery, as well as a launching pad for smash hits by artists of all genres."
The page also says that 176 songs surpassed a billion views as TikTok sounds in 2020. TikTok created a playlist called "Year on TikTok: Top 100" which included the most influential songs on TikTok in 2020. These songs had 50 billion views on the app and appeared in more than 125 million videos.
The ripple effect of all these videos created by people around the world is noticeable. Five of the songs reached No. 1 on the Billboard Hot 100, 90 made it into Top 100 Charts in the U.S, 15 made it to No. 1 on a Billboard Chart, and 70 artists on TikTok were signed to record labels in 2020.
TikTok user Matthew Recoskie says the app helps him to find new music every day whether it's a catchy song in a dance trend or someone trying to make a name for themselves.
"I definitely think TikTok influences the music industry so much. A very good example is an upcoming artist named Jaden Hossler," Recoskie said.
Hossler, who goes by jxdn, is an artist who started on TikTok and saw great success. After the release of his single "Comatose," he was signed by Travis Barker of Blink-182 to his record label. Hossler released his first album on July 2.
Hossler now has 9.2 million followers on TikTok and has nearly six million monthly listeners on Spotify.
JESSIA is a singer from Vancouver took to the app to ask viewers if a song she had written called "I'm Not Pretty" was a "bop." The video went viral and Ottawa-area songwriter/producer Elijah Woods noticed. The pair produced the song two days later.
It was a quick hit and was streamed more than a million times on Spotify in the first weekend. She now has 776,600 followers on TikTok and nearly 2.5 million monthly listeners on Spotify.
"Speaking from personal experience, a video I posted of my song 'War Zone,' which garnered around three million views on TikTok, ended up converting into over one million streams on Spotify alone," Rose said.
Recoskie said he thinks a reason you see big-name artists like Doja Cat and Lil Nas X is that "everyone is on TikTok" and there is a large age range for users.
While 62 per cent of the app's users are between 10 and 29, people of all ages do use the app and once a video starts gaining views, it will likely show up on a good chunk of users 'for you pages.'
"I think it's a great marketing tactic. Some artists have deliberately made songs for TikTok so they can become trendy and very popular," Recoskie said.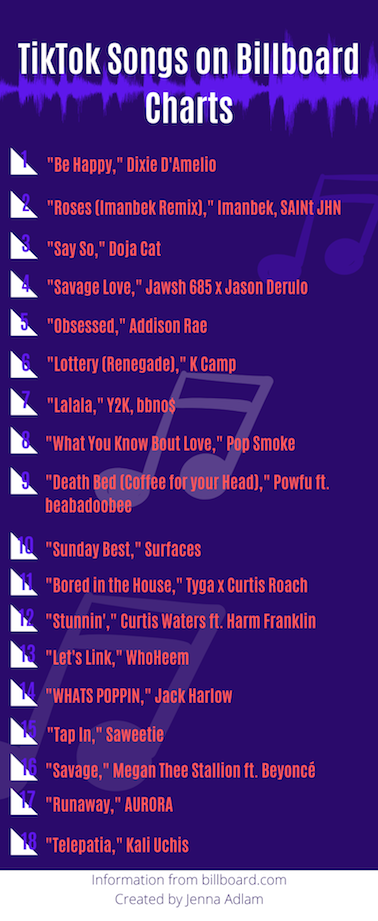 Some artists will pay popular TikTokers to promote their songs. Charli D'Amelio, who is the most followed person on the app with 120 million followers, can charge $40,000 for one post promoting music.
What may be the first example of TikTok skyrocketing a song to mainstream popularity is that of Lil Nas X's song "Old Town Road."
When he was an unknown 19 year old, he put the song on TikTok as a meme and it went viral, reaching millions on the app and setting a record for the longest sitting No. 1 song on the Billboard Hot 100. This also launched Lil Nas X into stardom.
This is similar to Doja Cat. Her song "Say So" was used in a dance trend which led her music to worldwide popularity.
"Any artist with an ear to the ground knows that TikTok has the power to make a song blow up and stay relevant for an extended period of time," Rose said.
Other artists who owe TikTok at least some credit include Ashnikko, Måneskin, Jawsh 685, Conan Gray, Avenue Beat and 24kGoldn.
The app has also brought back older songs into current popularity. For example, "Dreams" by Fleetwood Mac was used in a TikTok video by user "420doggface208" that went viral. It then re-entered the Billboard Hot 100 after 43 years.
"The audience is there. With the right hashtags anyone can get thousands of views and become better known — but whether they stick or not is the critical (thing)," Mackenzie said.
Rose said "TikTok builds, not just fans, but a strong base with the potential to grow larger with every video."
It's no surprise that many musicians and singers are turning to the app to promote, share, grow, or start music because of the influence it has over the music industry – with every video having the potential to be the next viral hit.
---
More Stories