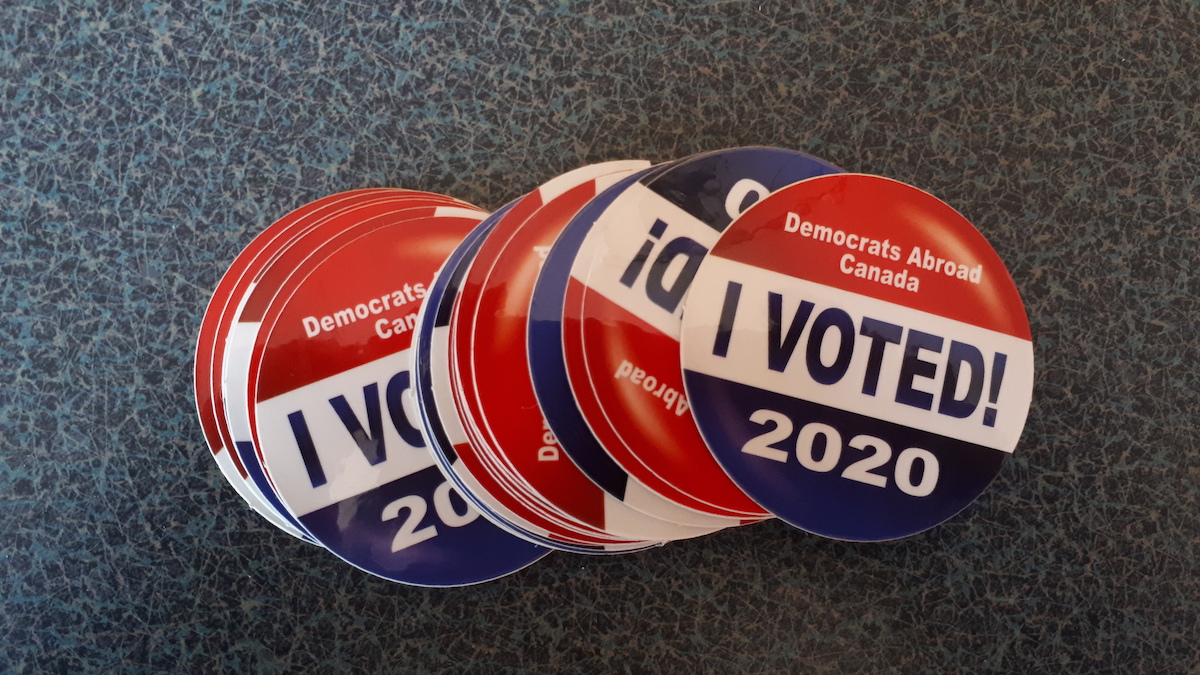 More than a half-million Americans living in Canada — just like U.S. citizens in their home country — are bracing for days or even weeks of uncertainty as the final result of Tuesday's U.S. presidential election remains unresolved.
"I think there is so much at stake," said Rachel Eugster, co-chair of the Ottawa-Gatineau chapter of Democrats Abroad, on the eve of the election. "I think democracy itself is in the crosshairs."
In several states, the race remains too close to call and the counting of millions of mail-in ballots continued today, a day after the end of the election campaign on Nov. 3.
This includes races in a number of key battleground states: Pennsylvania, Michigan, Wisconsin, Georgia, Nevada and Arizona. As of 10:30 a.m., Democratic candidate Joe Biden was leading the vote count in Wisconsin, Arizona, Nevada, and Michigan — enough of the 538 U.S. electoral college votes to reach the 270 threshold that would make him the president-elect. That's if his narrow lead holds after all ballots are counted.
President Donald Trump was ahead in Pennsylvania and Georgia early Wednesday, but victories in those two states would not be enough for the Republican incumbent to win a second term in the White House.
In part to the coronavirus pandemic, a record number of Americans voted early this year. But in several states — including Michigan, Wisconsin and Pennsylvania — the counting of millions of mail-in ballots only began after in-person votes cast on Tuesday were tallied.
Observers widely agree a significant majority of mail-in ballots were cast by supporters of Biden, who strongly encouraged voters to use mail-in ballots to ensure strong voter turnout despite the COVID-19 health crisis.
Legitimacy
Trump, on the other hand, has repeatedly questioned the legitimacy of mail-in balloting and focused the Republican get-out-the-vote push on in-person balloting on Tuesday.
States that appeared to be leaning Republican on election night — notably Wisconsin and Michigan — switched to the Democrat column early Wednesday, strengthening the chances of a Biden victory.
But early Wednesday, Trump essentially declared himself the winner of the election and vowed to challenge the legitimacy of the election result if mail-in ballots counted after the close of in-person polls tipped the outcome in Biden's favour.
Along with the surge in mail-in voting, the number of Americans voting from Canada also increased during the election. More than 625,000 U.S. citizens living in this country were eligible to vote.
Eugster said her organization saw a huge increase in voting interest across Canada this election.
She said that Democrats Abroad's membership has almost doubled since the 2016 election and that 80 per cent of members requested a ballot for the Nov. 3 vote.
"I am enormously cheered by this huge upsurge in voting," said Eugster.
Eugster said that it was especially important for her to get people to vote in this election, and that she spent the months leading up to Nov. 3 encouraging the registration of eligible voters via postcard campaigns, texts, emails and phone calls.
John Richardson, a Toronto-based tax lawyer, is a member of Republicans Overseas. He said he has noticed the increase in voters because of the efforts of Democrats Abroad.
"That would be probably the single biggest percentage increase of voters, but that's just because there's been such an incredible drive to go find them and get them out to vote," he said.
Richardson said his organization is not actively seeking voters. He said the expatriate vote could potentially make a difference in Michigan, as more than 11,000 Windsor residents — across the border from Detroit — can vote in the U.S. election.
However, he does not think the expatriate vote makes a significant difference overall.
"But I think there are a lot of other states where it would make absolutely no difference — so states like New York, California and other heavily Democratic states, like Massachusetts," he said.
Cautious optimism
As of Monday afternoon — the day before the election — Eugster said she was feeling cautiously optimistic about the chance of a Democrat win.
"When Democrats turn out, they tend to win. We'll have to wait to see what happens," she said. "I won't be entirely at peace until we see the results."
Richardson said he would not be surprised by any outcome.
"I was not at all surprised in 2016 when Trump won," he said. "I think the support for the president is really, really solid. The question is, how much support is there?"
He added: "I think the support for the Democrats is actually very soft. Because the platform, as far as I can see, is, well, we just need to get rid of Donald Trump."
Because of coronavirus restrictions, Americans in Canada could not gather in person to watch the election results on Tuesday night. Eugster said Democrats Abroad members would usually meet up at a pub to watch the election outcome.
This year, the organization held a watch party over Zoom, which included guest speakers and videos from Canadian celebrities such as Ottawa-born novelist Margaret Atwood and Ottawa-born musician Alanis Morissette.
U.S. citizen Lorin Soultan attended the watch party on Tuesday evening from her living room in the Aylmer sector of Gatineau. As the results began to take shape on election night, she said she was not overly concerned about the initial numbers.
"A lot of the states, of course, they don't even open the absentee ballots until the polls closed on election day," she said. "So the results we're seeing tonight are only the polls that have been in person or the ballots have already been counted in their districts. But that's not all counties."
Waiting for results
Soultan said she planned to wait until all of the results are in — which could take several days — before she reacts.
"Although I'd like to be really excited about like a positive win tonight, of course, I'm just going to be patient for a few days, maybe for a week."
As Soultan and the rest of the world await the results, some are also bracing for potential political unrest.
According to the Associated Press, two federal lawsuits had already been launched in Pennsylvania with an aim to prevent the counting of votes. One of those lawsuits, filed in Democratic-leaning Montgomery County, accused county officials of improperly allowing those who sent mail-in votes to amend faulty ballots before Tuesday's tallying began.
Republicans have also challenged local decisions regarding the counting of ballots in Texas and Nevada.
Although Trump prematurely declared himself the winner of the election early Wednesday morning during a statement from the White House, Biden said during a brief speech in his home state of Delaware and again in a tweet on Wednesday morning that it was not his place "or Donald Trump's place to declare the winner of this election. It's the voters' place."
---
More Stories