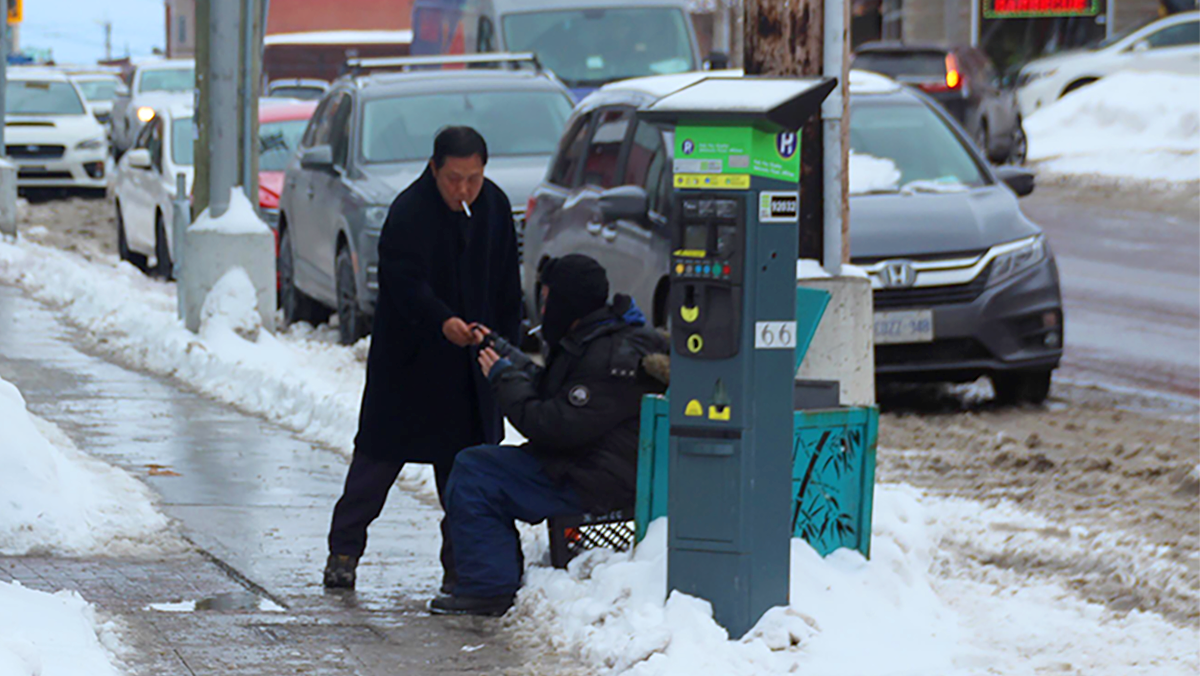 As the vaccine rollout proceeds in the city, Ottawa Inner City Health is leading the charge to get vaccines into the arms of the homeless population.
This group was initially scheduled for shots in the second phase of vaccination but city officials moved them up the queue after outbreaks spread through six shelters earlier this year. The challenge now is reaching individuals experiencing homelessness as the region sees another major outbreak. 
"COVID-19 has had a significant impact on Ottawa's shelter system with all shelters having experienced an outbreak," said Dr. Vera Etches, Ottawa's Medical Officer of Health recently. The city is teaming up with Inner City Health – an organization which provides health care to the homeless – to carry out the rollout.  
"It means a lot of work," said Kim Van Hark, team lead at Ottawa Inner city health. She says after months of having clients and staff come down with the virus and some even passing away, the vaccine will mean everyone can be a bit safer. Part of the challenge now is getting people to take it.  
"Lots of the clients I see have had negative experiences of prejudice and racism when accessing health care," said Van Hark. "When they hear we're giving the vaccine to the homeless as one of the first groups … they distrust that and they think, 'oh, they're experimenting on us.'"
A recent study by the Canadian Medical Association Journal shows during the first wave of COVID-19, the homeless population was 65 times more likely to be hospitalized with the virus than other members of the community. In part this is because people experiencing homelessness have higher rates of underlying health conditions such as HIV, Hepatitis-C and mental health conditions. On top of that, crowded housing and shelter conditions intensify the spread in the community.
Vaccinating those who aren't at the homeless shelters is a growing issue, according to Dr. Smita Pakhale. "Every shelter, every morning, people are kicked out," she said.
"And every night there are different people. How will you keep tabs on them?"
Pakhale is a respirologist for the Ottawa Hospital and director of the Bridge Engagement Centre, a community-based research centre that is studying COVID-19's impact on Ottawa's vulnerable populations. The Bridge's Impact Project is still incomplete, but Pakhale says her research so far indicates the amount of homeless people and their health has only gotten worse during the pandemic. She notes the Ontario eviction ban being lifted last July, higher job insecurity and racial discrimination have been part of the reason why.
She says there needs to be more collaboration outside the shelter system to build a foundation of trust between between communities and organizations before vaccinations can happen effectively. In a system where the individuals have to leave every morning, sometimes without a trace, this is proving to be difficult.
"Knowing who they are and where they are is very important for trust … and if you've already betrayed them, why would they trust you?" said Pakhale.
For Inner City Health, the solution with access to vaccines other than Pfizer.
"It's not a vaccine you can drive around with, it would be easier to reach people in encampments if we could take it in a van," said Van Hark. She says they are offering vaccines at safe injection sites and will continue to do that to reach homeless people who don't go to shelters.  
Getting this population vaccinated will mean shelter systems will be able to operate the way they need to adequately serve the population. The Shepherds of Good Hope can fit 268 people according to Chris O'Gorman, manager at the shelter. However, they were regularly sleeping 300 people.
"When we have run out of the beds, we would start putting mats down on the floor … to make sure nobody is out in the cold," he said.
"But the public health implications of people sleeping close to each other is not sustainable."
---
More Stories