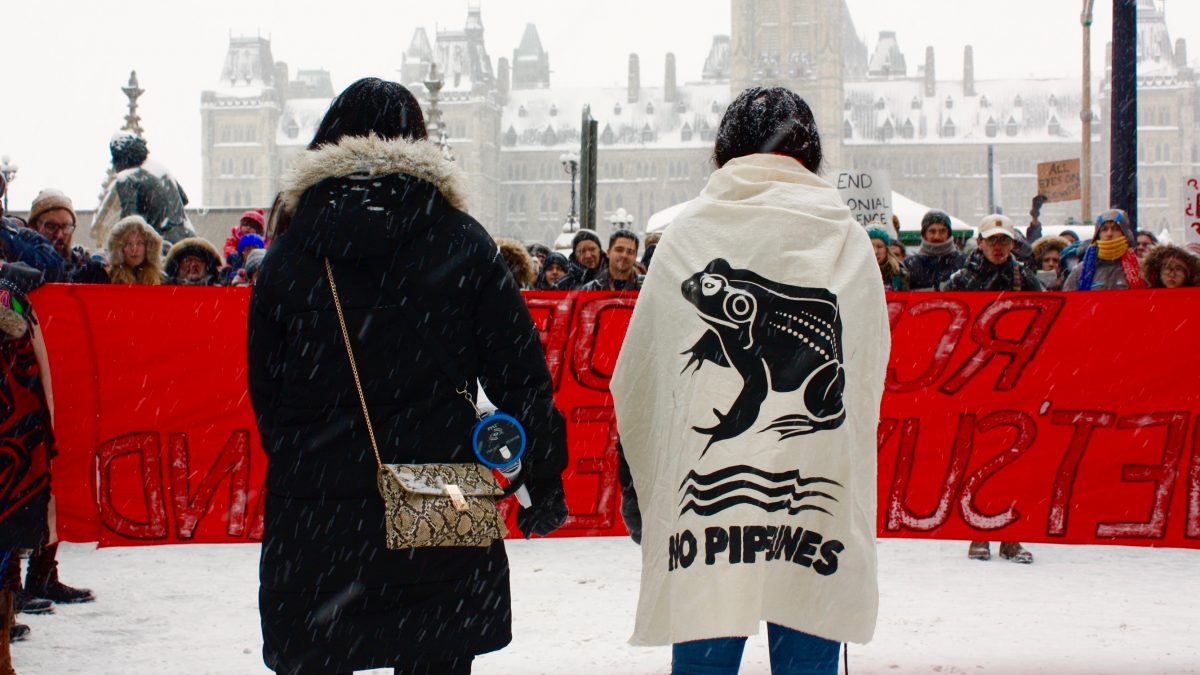 After the RCMP raided three camps and arrested six people on Wet'suwet'en territory on Thursday, hundreds gathered in Ottawa to march, drum and chant in solidarity.
Protesters could be heard through Ottawa's downtown core on Friday chanting Hey hey, ho ho, RCMP has got to go! and What do we do when Wet'suwet'en is under attack? Fight back!
On Dec. 31, the B.C. Supreme Court granted Coastal GasLink, the company behind a $6 billion pipeline in B.C., an injunction preventing members of the Wet'suwet'en First Nation from blockading the project around a bridge over the Morice River in northern B.C.. This is where the arrests were made, according to a statement by the RCMP. The court order requires the removal of any obstruction such as a blockade, cabins and gates from roads, bridges and worksites so construction can begin.
In a video released by the Wet'suwet'en land defenders, an RCMP officer can be heard saying, "You have 10 minutes to depart," just before one of the Wet'suwet'en says, "You're hurting our land, you're hurting us."
The arrests occurred at about 4:30 a.m. Thursday. Several others, including members of the press, were detained and removed. The arrests were made at one of the three camps on the traditional unceded territory of the Wet'suwet'en in B.C. The six arrested individuals were later released without charges.
Police with night vision and automatic weapons carried out the raid, according to a media release by one of the camps on Wet'suwet'en territory. Dogs were used and media were banned from filming arrests, according to witnesses.
The dispute over the pipeline that B.C.'s provincial government approved to be built is complicated by the fact that most land in B.C. is not covered by treaties, with opponents arguing that the federal and provincial governments do not have authority over the territory.
Word that a rally would be held in Ottawa on Friday spread quickly on Facebook. Similar demonstrations popped up across Canada.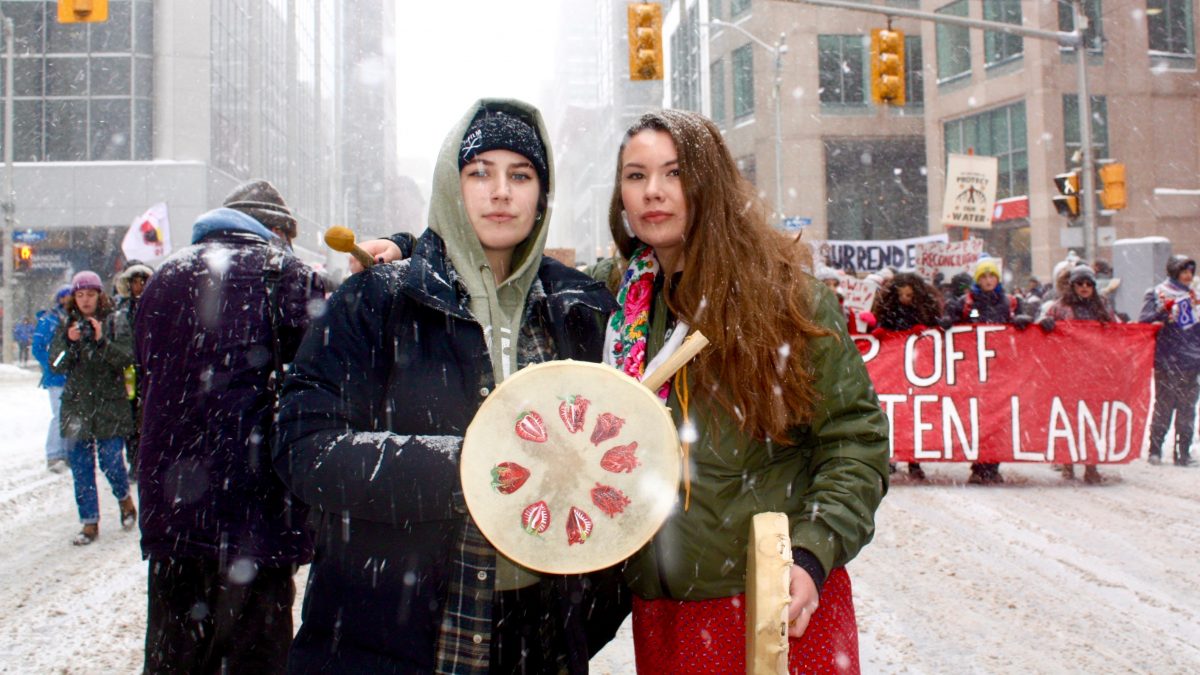 One Ottawa marcher, Madeleine Ienerahtahawi Kelly, compared the situation in Wet'suwet'en to the Oka crisis of 1990, a standoff in southwestern Quebec between Mohawk protesters and police over traditional Mohawk land that led to a military deployment at the height of the conflict.
"They're attempting to steal the land and they're going to use brute force against people on their own land and it's not Canadian land," said Kelly, who is Mohawk from Kanesatake, where the Oka crisis took place.
On Friday, rallies took place in several cities. Train tracks were blocked near Belleville, stopping rail travel between Toronto, Ottawa and Montreal. The Port of Vancouver was also blocked by protesters.
Wet'suwet'en Solidarity Action Ottawa, who organized the march on Friday, is calling on the federal government and the B.C. government to immediately bring an end to the RCMP's activities.
In the weeks leading up to the raid, the RCMP had increased equipment and police presence, conducted fly-overs, drone surveillance and patrols. They blocked roads into the area and had been denying entry to Wet'suwet'en people, food, fuel and media, according to a press release by Wet'suwet'en Solidarity Action Ottawa.
Journalists took to Twitter to share their experiences being prevented from filming documenting the arrests and being driven off the territory.
A filmmaker working with me was detained and removed from the territory, told not to film tactical police with assault rifles, prevented from filming RCMP breaking a truck window to haul out a supporter of the Wet'suwet'en. https://t.co/ePoO5MnQfL

— Michael Toledano (@M_Tol) February 6, 2020
I was there and can also confirm this happened to me as well. We were threatened with arrest if we did not comply https://t.co/wQhzZFUlZR

— Jesse Winter (@jwints) February 6, 2020
The B.C. government approved the 670-kilometre Coastal GasLink pipeline to transport gas from Dawson Creek, B.C. to the Pacific Coast port of Kitimat, with 20 First Nations councils signing an agreement to support the project in 2018.
But the hereditary chiefs argue that no pipeline can be built on their unceded territory without their consent. The hereditary governments are separate, sovereign forms of traditional government. The hereditary chiefs of the Wet'suwet'en claim that the band councils only have authority over the territory within their reserves, as described in the Indian ct.
In a landmark case in 1997, the Supreme Court of Canada recognized the authority of hereditary chiefs over 22,000 square of unceded land in B.C.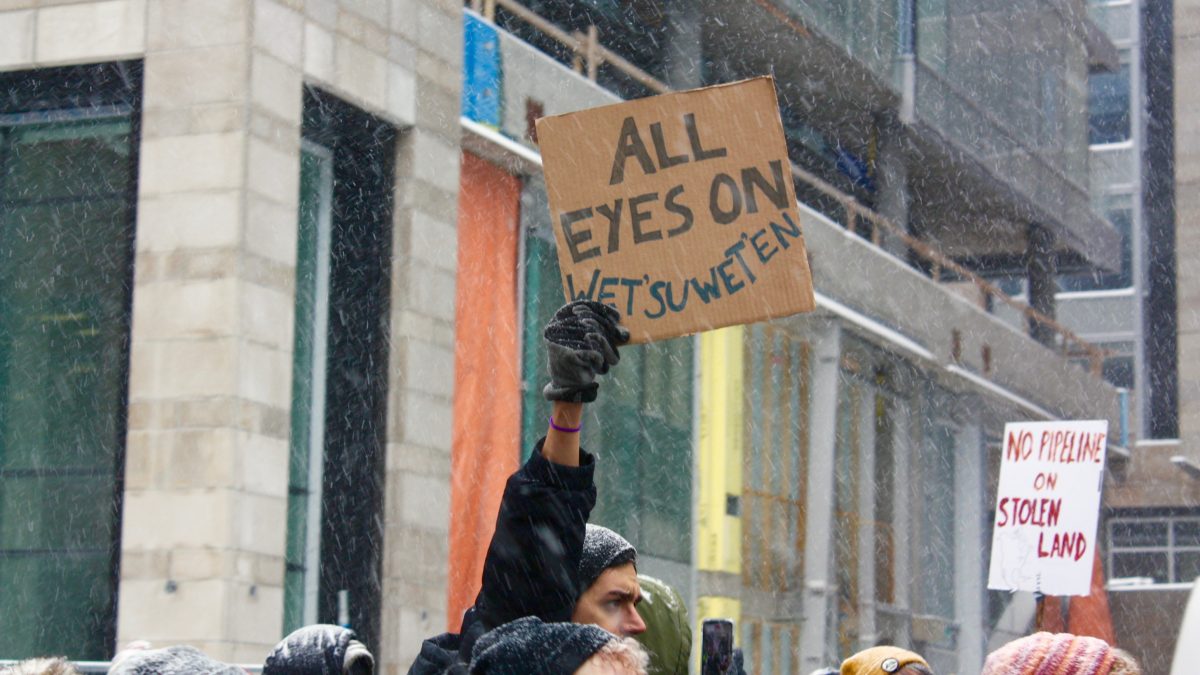 ---
More Stories