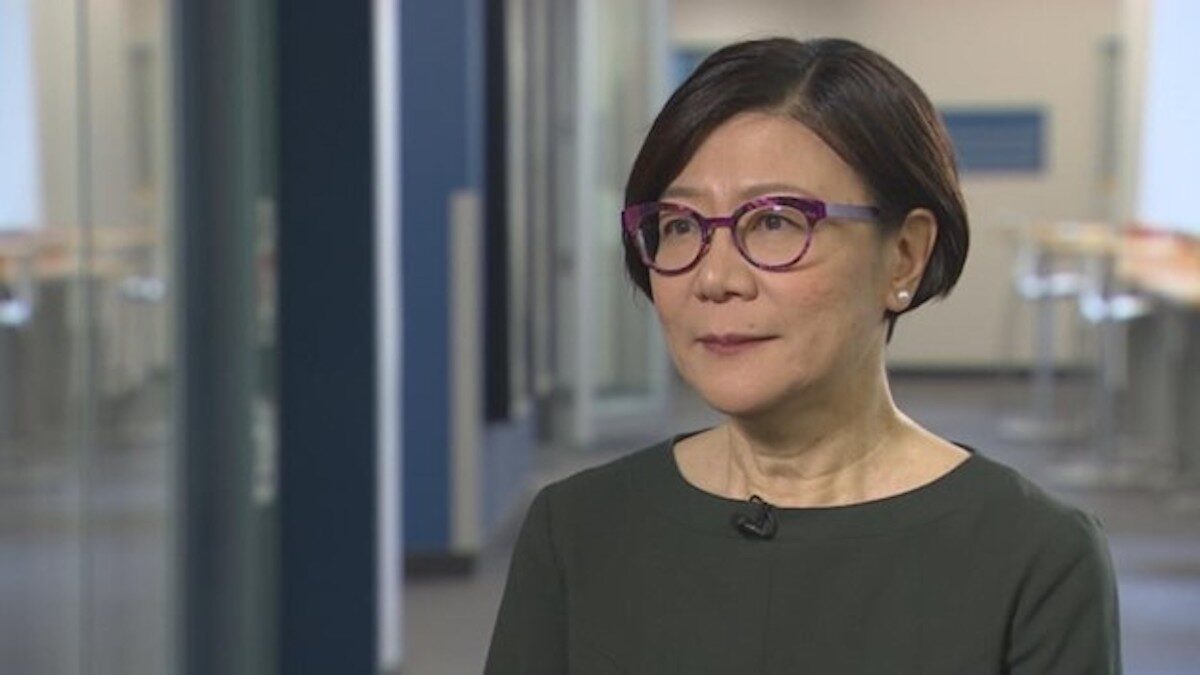 TORONTO — A new survey is revealing high levels of concern about racism among younger Asian Canadians.
The survey by the non-profit Angus Reid Institute, conducted in partnership with University of British Columbia between May 11- 17, surveyed 631 Canadians who identified themselves ethnically as Chinese, East Asian and Southeast Asian along another 1,877 Canadians of other ethnicities.
Shachi Kurl, president of Angus Reid Institute, says, "the most significant takeaways relate to the fact that younger Canadians of Asian descent are among the hardest hit by anti-Asian discrimination in Canada."
This emerged from the poll, as nearly half (47 per cent) of Asian Canadians surveyed identify discrimination aimed at them to be a problem in their own communities.
The study found that a majority (58 per cent) of Asian Canadians say they have experienced at least one of a range of situations related to anti-Asian discrimination in the last year, while more than one-in-four (28 per cent) report exposure to these situations "all the time" or "often".
The poll shows that not all Asian Canadians have experienced the same level and intensity of bigotry. According to the institute's own Anti-Asian Discrimination Index (AADI), respondents of Asian (including Chinese) descent fall into one of three categories: Hardest Hit (31 per cent), the Exposed (35 per cent) and the Unaffected (35 per cent).
Older Asian Canadians, 55 and up and in higher income brackets are more likely to be among the Unaffected while the Hardest Hit are more likely to be younger (18 to 34) and lower income.
Not comfortable
Ikue Mori has been living in Toronto for the last seven months, but she is not comfortable going out for a walk in the park alone.
"I did not care that I am Asian, before COVID-19. But now, I worry about what other people think," says Mori, who is a Japanese international student.
A few years ago, Mori was living in Nova Scotia taking classes. She returned home to Japan before the pandemic began, but moved back to Canada to attend school in Toronto. She didn't have the same fear of discrimination then that she does now.
Mori says it is stressful to even receive the cold shoulder from cashiers at the grocery store or baristas right now.
"I don't have experience of hate crimes. But I saw many in the news," she says, referring to reports of anti-Asian hate crimes on social media since the pandemic began.
The survey showed 26 per cent of Asian Canadians between the ages of 18 and 34 have been called names or insulted or worse over the past one year. In comparison, 18 per cent in the 35 to 54 age range and 19 per cent of those 55-years or older faced similar experience.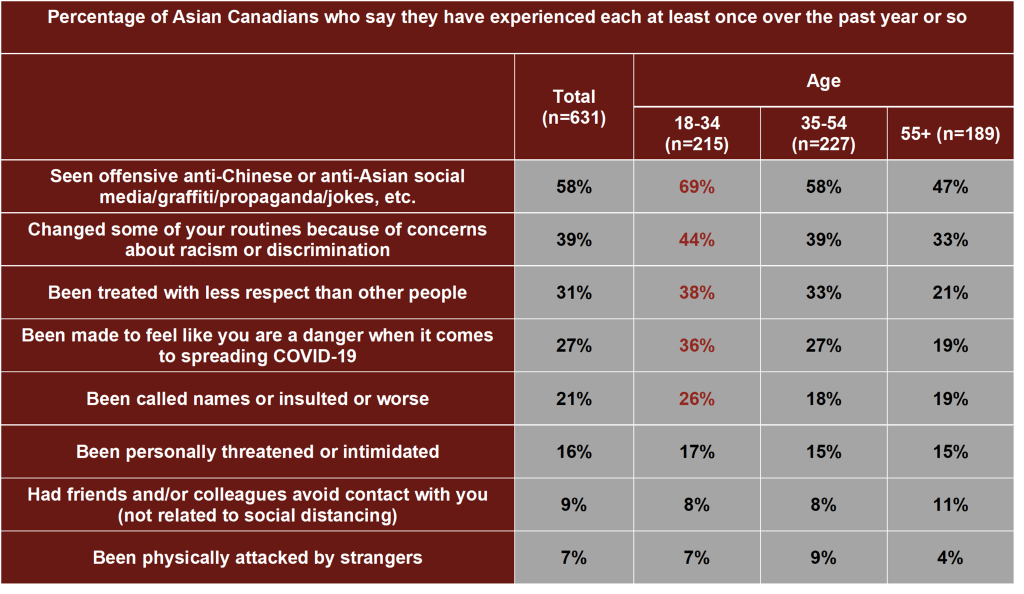 "When you're older, you may be working in a more professionalized environment, you may have more control over your routine, you may not be working a frontline job or a job that brings you into contact with the public," says Kurl.
As a result, older Asian Canadians perhaps face less anti-Asian discriminatory incidents, she added.
"If you're higher up the ladder in your work, then your company may be far more intolerant to those types of experiences," Kurl says, "than if you are, say, working in retail, or working in a coffee shop, which many young people do."
Surprisingly, few Asian Canadians said the discrimination they experience is institutional. The vast majority (86 per cent) say they have not received poor or unfair treatment by institutional organizations such as local police, the health care system, banks or the justice system
Just like Mori, the impact of the the negative experiences lingers in the mind of many Asian Canadians. According to the findings of the study, 53 per cent of Asian Canadians said their reaction to discrimination over the past year "has been hurtful and stays with them."
Mistreatment acknowledged
The study also looked into the opinions of non-Asian Canadians about Asian Canadians. Although 50 per cent respondent said Asian Canadians face mistreatment from others because of their race, this view differs along regional, gender and age lines.
While Ontarians and British Columbians acknowledge the mistreatment, only 41 per cent Quebecers agreed to the statement. Besides, younger women between the ages of 18-34 are more likely to validate the statement, found the study.
Amy Go, president of Chinese Canadian National Council – For Social Justice, says she is not surprised by the findings.
"We are treated as foreigners — we do not belong here — our loyalty is being questioned," Go says.
She referred to the racial attack former Conservative MP Derek Sloan directed towards Canada's Chief Public Health Officer Dr. Theresa Tam last year.
Go also expressed her frustration with regards to the survey findings that showed one-in-five non-Asian Canadians think that Chinese or East Asian Canadians do not contribute to the broader community.
"It's as if we have to justify why we're here," Go said. "Since you are here, then you better make yourself of value."
"I think that is the very disturbing," she said, adding that these perceptions are historical and deeply entrenched in the society.