"Welcome to the group that we hope you will never have to use," reads the Facebook page of the B.C. & Alberta Emergency Livestock/Animal/Horse Evacuation Support Group.
The community group was created with the hope that ranchers, farmers and animal owners in Alberta and B.C. would not find themselves in situations where they needed to evacuate or relocate animals and property because of fire, flooding or other natural disasters.
But recently, the public page of close to 14,000 has been downright busy.
Everyday there are new posts, new messages, new pleas for help, water, hay, equipment, and cowhands for those trying to save their cattle, horses and animals from the wildfires scorching the B.C. interior this summer. 
There are a total of 267 separate wildfires burning across the province of B.C., and close to 50 per cent are classified "out of control," the Government of B.C. Wildfire Dashboard says. 
Although the threat of fire is not unusual for the province, this year's total number of fires is more than double that of last year, with more than 1,400 fires to date in 2021, compared to 670 recorded fires in 2020. 
Wildfires threaten ranchers' livelihoods
Although many communities have adjusted to the reality of living with wildfires during the summer, for those who own cattle, horses, ranches and property along the fire's path, these times are incredibly stressful and threaten their livelihood, says Rhonda MacDonald, a rancher and resident of Merritt, B.C.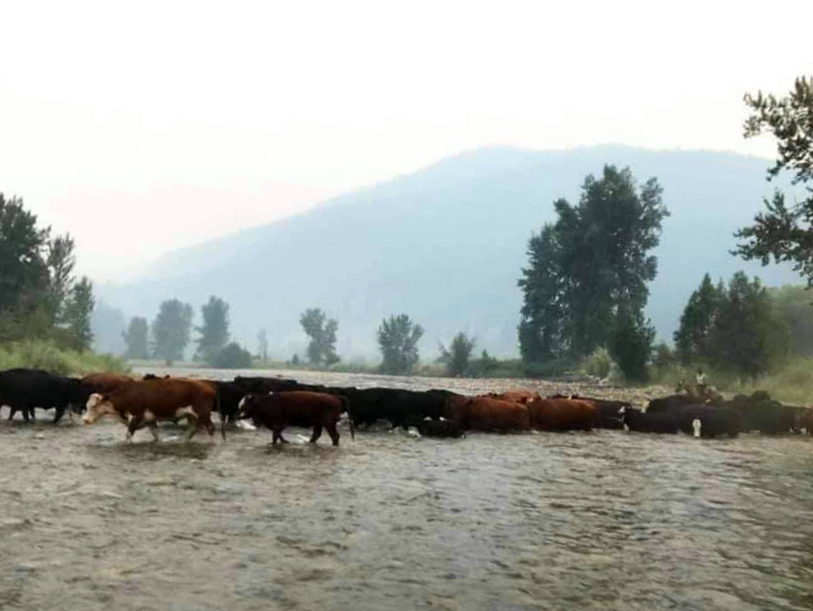 MacDonald and her husband, who have raised cattle for more than 20 years, found themselves in a tough spot at the end of July when they needed to round up their 170 head of cattle who were grazing in the mountains.
During the summer, the couple leases 100,000 acres (40,000 hectares) of Crown land for their herd to graze. The animals wander up the mountains during the summer and return home in the fall, says MacDonald, something which put them in the direct path of the fire that destroyed the town of Lytton, earlier this summer.
"We needed help," says MacDonald. "Just my husband and I couldn't do it. We know where most of them are, but to get more than 170 heads off the mountain with two people, it's steep, it's brushed, it's a next to impossible task.
"And this range is new to us, so we don't have any infrastructure up there, such as corrals or anything to put them into, so we have to take them all the way home and some of them are 18 kilometres away from home, and it's hard, it's a hard thing to do for two people."
It was when the B.C. Wildfire Service informed the couple that the fire was encroaching upon their cattle that they knew they had to act before it was too late. 
"It is our livelihood," explains MacDonald. "If our cattle burn up in the fire it's not only the loss of a livelihood that comes with that, it's the years of a breeding program. We picked out the bulls to breed the cows … we go through our calves every year and we pick out which (ones) we feel are best for our herd … there's generations of cattle out there"
"And then there's also the humane factor. You just don't want to see any animal burn up in the fire."
On July 27, MacDonald took to Facebook for help, posting on her personal page, as well as the B.C. & Alberta Emergency Livestock/Animal/Horse Evacuation Support Group. 
She said the response was "overwhelming". 
The next day, to her surprise, 17 of the community's best cowhands showed up at her door at 5:30 a.m. to help her family ride through the increasingly smoky terrain and collect their cattle — a show of community support for which the MacDonalds are extremely grateful.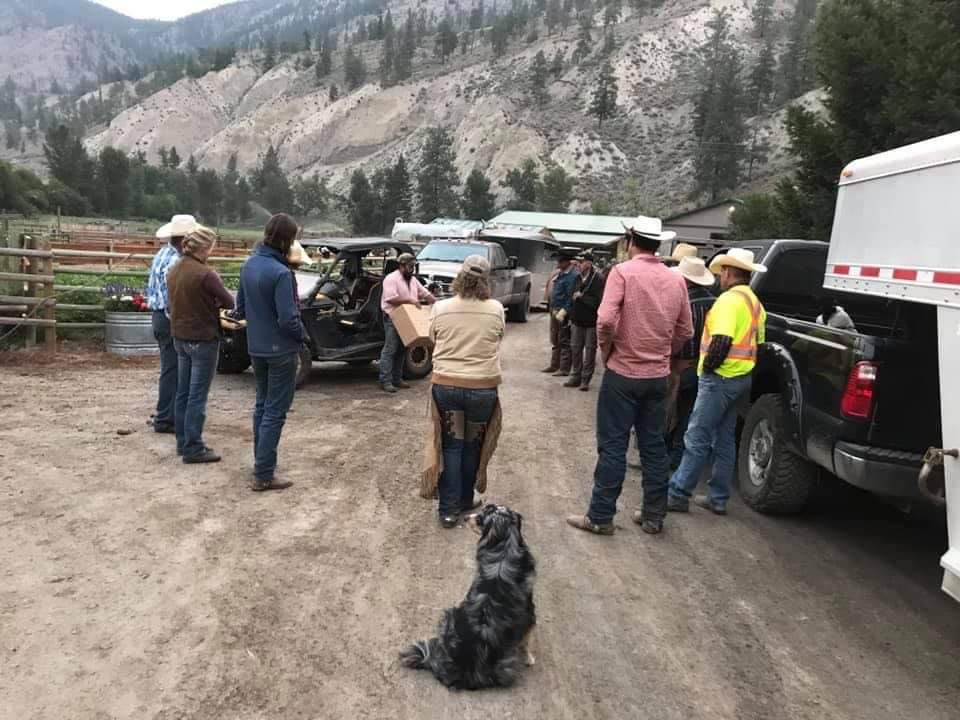 "There's definitely a danger factor up there," says MacDonald. "Aside from the fire. It's steep, rough country, it's not a danger-free job at the best of times and people who we didn't even know were willing to come from quite a distance away and bring their trucks and their trailers and their horses and their good working dogs."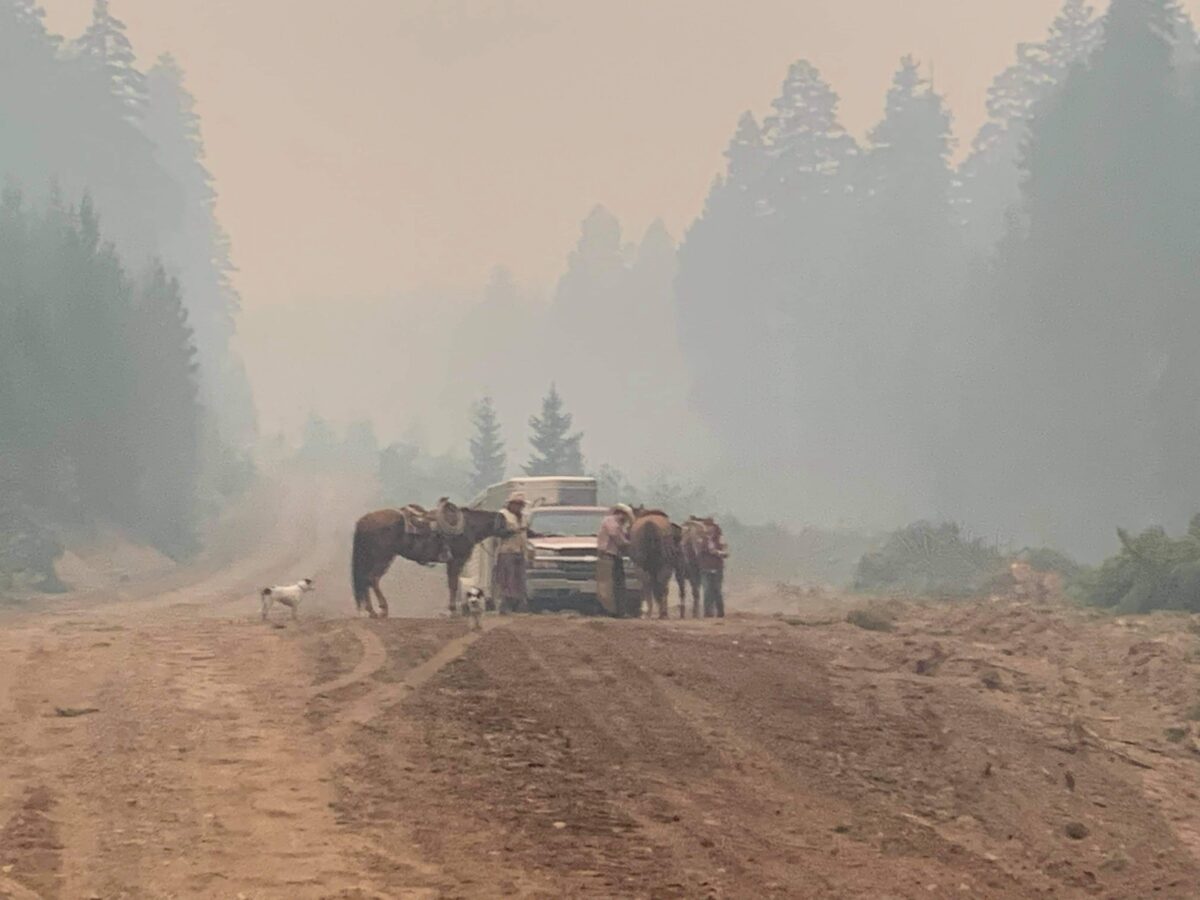 Following the cattle drive, MacDonald says about 40 cattle are missing, a significant portion of their herd. Since the end of July, the fire has also started to move in closer, with MacDonald saying that it is only four kilometres away from her home.
"It's a little bit nerve-racking," says MacDonald, adding the area is under an evacuation order.
"It's not only the wildfires. It is climate change as a whole. I realize everything goes in cycles, but you have to be kind of blind to not realize that there's a climate change factor to this. … It seems that when we do get weather events, they're more severe, and the wildfire can be attributed to the drought. At the end of June, we were 52 degrees in our house. We've been in the mid-40s before, but we've never reached the 50 mark."
"Horrific" Fire Season
Following weeks of pressure to respond to the increasingly devastating fire season, B.C. Public Safety Minister, Mike Farnworth, under Premier John Horgan, declared a provincial state of emergency on July 20 to support the wildfire response. 
"For those who are living through yet another horrific fire season, this is a graphic reminder of how climate change is with us, not just intermittently, but all the time," said Horgan during a June 21 press conference at the Southeast Fire Centre in Castlegar, B.C. 
The numbers of fires, although they range in severity and cause, have also seen hundreds of thousands of hectares burned, over 650,000 hectares burned this year compared to over 14,000 hectares burned in 2020.
"Our 10-year running average of area burned used to be closer to a million hectares (across Canada) in late 1960s, early 1970s, and so it's more than doubled since then, primarily due to human-caused climate change," says Michael Flannigan, B.C. research chair in Predictive Services, Emergency Management and Fire Science at Thompson Rivers University.
"Another thing to keep in mind is that extremes drive the fire world. ... For example, three per cent of fires in Canada burn about 97 per cent of the area burned. So, a relatively small number of fires like the Lytton fire, Sparks Lake fire, the White Rock Lake fire right now are causing most of the area burned and most of the impact."
The bottom line is we have to learn to live with fire and smoke, says Flannigan, who notes that the three ingredients of fire — fuel (vegetation), ignition (lighting and humans), and dry, hot windy weather — are extremes that are not going to go anywhere anytime soon.  
"We'll always have those three ingredients," says Flannigan. "We can't do anything about it until we do something globally about climate change."
"Putting climate change aside, which is a larger issue that has a significant impact on fire, I think the way we manage fire, it's changing, but it needs to change across the board."
He says a relatively new approach to fighting fires, one which can be compared to a hospital triage system, employed by Ontario, Manitoba, Saskatchewan, and parts of B.C., makes decisions about which forests are most important to preserve and which unwanted fires need the allocation of resources.
In addition to employing a better system, Flannigan says, in the future, we could see communities needing better infrastructure such as evacuation centres and fire shelters as well as fire education and response plans.
"We're going to see this intersection between fire and society," says Flannigan. "There's going to be more fire. And unfortunately, there are going to be more communities impacted."
---
More Stories