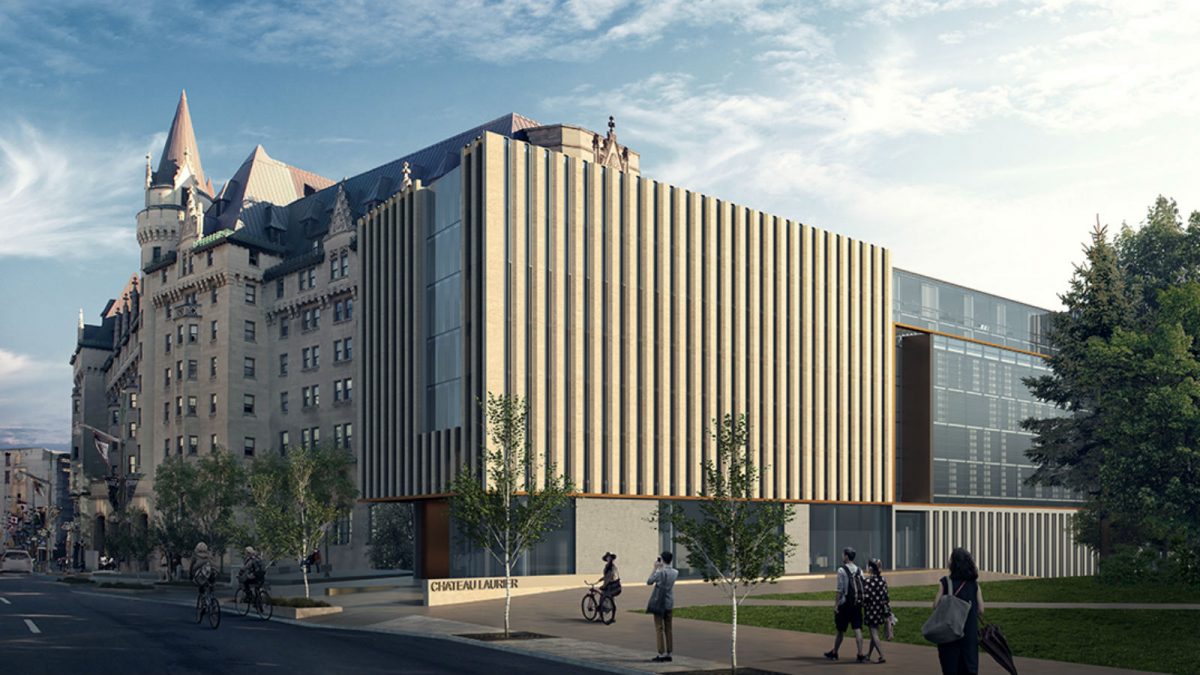 The latest proposal for the addition to the historic Château Laurier Hotel has been sent back for more work by the city's urban design review panel.
The owner of the century-old hotel, Larco Investments, wants to expand the footprint of the build to add more long stay rooms and meeting spaces.
The new plan, presented earlier this month, has two asymmetrical pavilions connected by a glass curtain framed in bronze.
The proposal, however, did not meet all three requirements set out by the City of Ottawa in its conditional heritage permit for the project.
The addition to the Château Laurier has been subject of protests and concern from the community and city officials since the first plan was proposed three years ago.
Last June, the city set out its three conditions to ensure the addition is "visually compatible with the existing Château Laurier".
The conditions are:

• "Increased use of Indiana limestone to reduce its contrast and create a more visually cohesive relationship with the Château;
• Break-up of the uniformity of the north façade using elements and forms that relate to the Château;
• And modification of the design for visual compatibility with the historic hotel, by referencing such elements as patterns, details and proportions of the Château Laurier.
The latest design met the first two conditions, but it failed to meet the third and was once again deemed incompatible with the historic building.
According to a news release by Heritage Ottawa, the third condition is non-negotiable, and the addition must be physically and visually compatible with the historical original. Larco Investments now must rethink their design with all three conditions in mind and try again.
Meanwhile, city staff are preparing a site plan report for a decision by planning committee this spring.
If approved by the city, Larco then must seek the NCC's blessing for the development. The city's committee of adjustment must also make a decision on the minor variance application before construction can start.
Related: Architecture students hope to bring a "spark of energy" to Château Laurier addition
---
More Stories