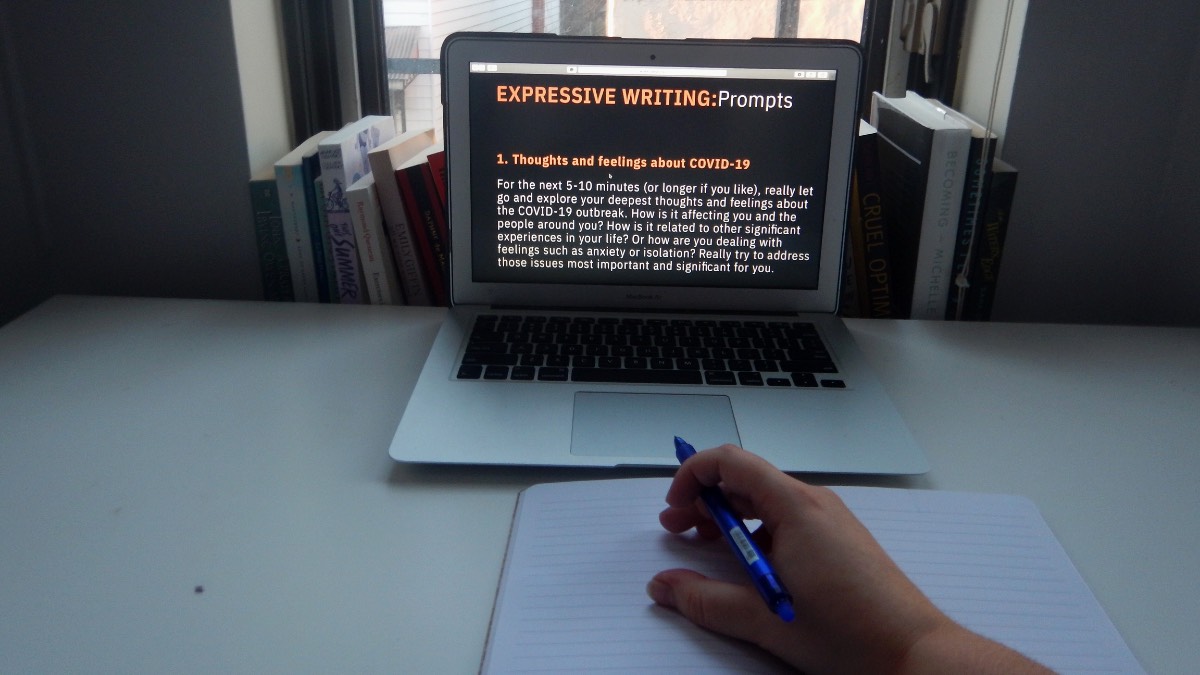 For many Canadians, the onset of the COVID-19 pandemic meant a return to old hobbies and pastimes. Hetal Jariwala, an Ottawa resident, finally had time to return to journaling, a self-care method she'd neglected because of her busy schedule as a software developer.
Journaling, a form of expressive writing, is a tool used in therapy. Over the last few decades it has been studied for its ability to build resilience and reflection skills in patients. It's also thought to have numerous health benefits.
Jariwala, 31, says journaling helps reframe her mindset, so that when problems arise she feels more capable of handling them during the isolation the pandemic has brought on.
"The nice thing that I find, is that if I write it down I don't feel as alone as I used to feel before," says Jariwala. "Instead of finding another person to help me with a problem, I can help myself."
This isn't uncommon, says Ottawa registered psychotherapist (qualifying) Natalie Guenette. "Journaling and confronting our thoughts and feelings can be empowering and can build confidence for someone. It can help us see that we're able to deal with a situation, and to manage the different feelings that the situation causes." 
Postive Affect Journaling
Positive Affect Journaling (PAJ) asks an individual to answer prompts about positive experiences. The implications of PAJ during COVID-19 are still being examined, but it makes sense that the coping mechanism could work when applied to COVID-19 stressors and anxiety, says Dr. Brandon Auer, who co-authored a 2018 pilot study on PAJ.
Its individual nature opens journaling to anyone. "It's something that people can use on their own, when they feel like it, and when they actually need it," says Auer. "It's really low effort, really low risk and potentially high reward."
The Pandemic Project from the University of Texas at Austin has taken the idea further and is providing an database of COVID-19-specific journaling prompts.
Jariwala journals every Friday night and uses the time to reflect on her achievements, gratitude, physical fitness and process her emotions.
Auer's 2018 study found that patients who practised PAJ three times a week noticed improvements in their mental health, as well as an increased perceived resilience. PAJ may also ease perceived physical pain. Benefits can be felt by writing only once a week for around 20 minutes.
"There's also a number of physical effects of expressive writing. It can lower blood pressure, can improve cardio-metabolic outcomes, just a whole host of benefits both physical and mental," he says.
Journaling during COVID-19
Jariwala says journaling has especially helped her during COVID-19, as it has allowed her to see the bigger picture when the days start to blur together.
She says it was an obvious choice to journal again during the pandemic. "I felt alone, I wasn't going out much; I was interested in documenting it sometimes. Since I'd done it before, I knew that whenever I feel sad it's a way to release my emotion, so I used it as a tool."
Auer says that journaling might be especially helpful to older demographics, for whom he says isolation can cause terrible cognition outcomes. The act of writing challenges the brain and can help keep it clear and active. Participants in Auer's study ranged from ages 21 to 80.
With the winter leading to reduced sunlight exposure and more time spent inside, Auer predicts journaling could be quite helpful in a person's self-care.
"Isolation, not interacting with one another is hard. Being able to do things that take the place of our typical social interactions is something that is certainly helpful, and certainly can't hurt."
Auer and Guenette are careful to note, however, that journaling is only one of many tools for coping during the pandemic, and people should seek professional help if necessary.
"I would also suggest that people take care of themselves by maintaining a good work-life balance, keeping in touch with their loved ones … making sure that we engage in activities outside, to break that isolation," says Guenette.
---
More Stories